The Face Planner's owner, Emma Dobbie, on her new Scottish Italian skincare brand
It features ingredients from her family estate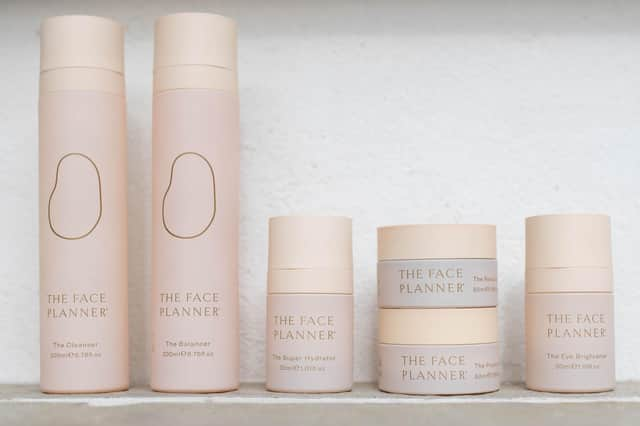 Emma Dobbie, owner of a new skincare brand, The Face Planner, tells us about her business.
Tell us about The Face Planner
In 2020, I slowed down in my busy career in finance in New York to think about what was important. I always had an entrepreneurial itch and a passion for skincare. I felt if I could build a business selling a product that I felt passionate about, I would be able to make it a success. I'd watched my family whisky business, Isle of Raasay Distillery, develop with a focus on provenance. We have a family estate in Tuscany and I felt inspired to bring a slice of this magical place to customers by sourcing ingredients there. I was also getting ready for my wedding in April 2022 and couldn't find a simple and effective skincare plan. I joined forces with dermatologist Dr. Catherine Borysiewicz to develop the six individual products and plans and launched in early 2023.
I was born and raised in Edinburgh until the age of 17 when I went to University in Bristol and studied Politics and Spanish. I've lived and worked in Madrid, London and New York, and for Citibank for nine years before taking the leap.
Which is the hero product?
The Super Hydrator, with a complex of double-level hyaluronic acid, vitamin C and tetrapeptide-9 to hydrate and brighten.
We work with a fantastic lab in Italy that is pioneering in using plant extracts to treat skin conditions. We're finding ways to use byproducts from the olive oil and wine production processes at our Italian estate. The original 1804 olive press and mill are still in place and we produce cold-pressed unrefined extra virgin olive oil every year. It's one of the world's best kept beauty secrets. Greek Olympians bathed in olive oil, Roman kings were anointed in it, and queens and Egyptian royalty applied it as an early anti-ageing solution. Sophia Loren famously added a few capfulls to her bath.
Olives, lavender, citrus fruits and grape varieties for wine, among others. By incorporating the knowledge of Borysiewicz, we complement these with active ingredients, such as hyaluronic and lactic acid. I aim to develop the Italian link further by offering retreats at our brand home. Our first is sold out.
Tell us about the packaging/smells?
I couldn't bring plastic-packaging to market in 2023. We are working towards refillable options, but in the meantime, our made-in-Italy glass bottles are easily recycled, and plastic components are made from post-consumer recycled plastic. Our Ultimate Plan (all six products) and Christmas gift boxes are made from FSC certified cardboard and sustainable dyes. All products (apart from The Eye Brightener) have an Italian grapefruit and citrus scent.
Comments
 0 comments
Want to join the conversation? Please or to comment on this article.