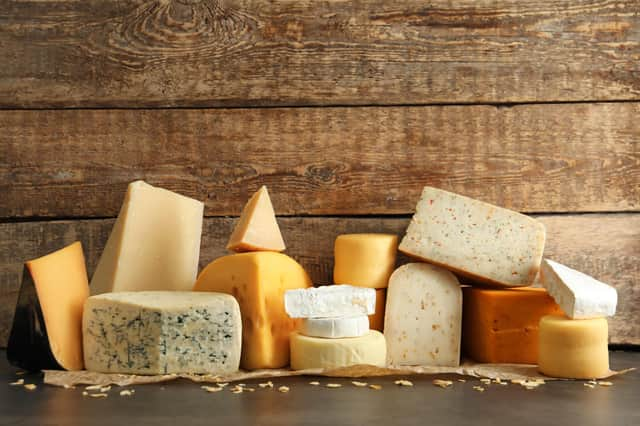 The versions that smell of mushrooms, ammonia or the festering socks at the bottom of a laundry basket.
There are the salty blues, wobbly burrata, and the gummy goat cheeses, like Elrick Log, that tick to the roof of your mouth like a dental mold.
The cheddars and their crunchy calcium lactate crystals, a nice slab of Minger or Baron Bigod, or the camembert that tries to ooze under the fridge door on its belly.
I've eaten plenty of fancy dinners but I'd swap most of them for a fromage plate. I hate that it usually comes at the end of the meal, when you're already full. It should be the focal point.
I'm sure there are plenty of vegetarians who've teetered on the brink of veganism, but for the existence of cheese.
Although the IJ Mellis artisan numbers are obviously best, in desperate times I will resort to the guilty pleasures of a Baby-Bel, or Dairylea Triangle. I'm not proud, though I draw the line at a Cheese String or one of those shrink-wrapped squares.
I'm nonplussed about Emmental or any of the nutty ones. And it'd be a hard pass on the Sicilian casu martzu - the one that's full of live maggots, even if they do say that it's an aphrodisiac.
I don't think I've ever craved this dairy product as much as I do now. That may be because protein requirements increase with age.
The urge is such that, sometimes I feel like getting divorced, then remarrying, since I'm sad that we ordered a regular cake at our nuptials. It took place before the advent of those three-tier versions, made entirely of wheels of cheese. You'd find me in a cupboard, during the reception, guzzling vast wedges like Gus Gus in Cinderella. I'd have to hide, since my other half is phobic about goat's cheese, and doesn't like blues or stinkies either.
He's an unapologetic Emmental fan. The chalk to my cheese.
When it comes to accoutrements, I'm a purist. I like this foodstuff neat, and can do without fancy crackers or quince jelly.
Just give me a nice big cube - Rubik's-sized, rather than sugar - and I'm happy.