Totally Shredded, Edinburgh Leisure: Our experience at the Capital's frantic new fitness class
This fast-paced session takes place at Leith Victoria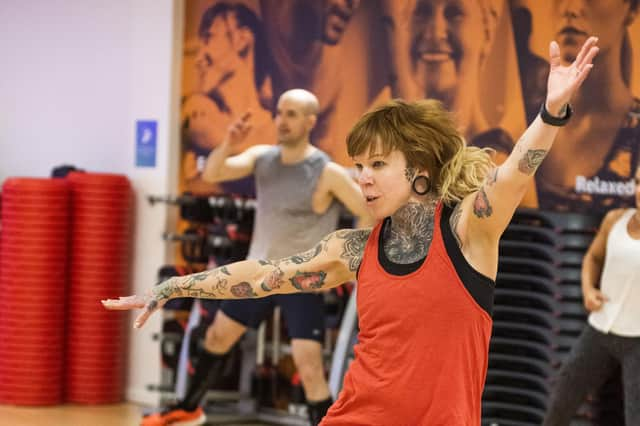 I'm not sure what the opposite of Totally Shredded is.
It might be completely blobby. Anyway, that's how I'm feeling, when I visit this class.
It's just launched onto the timetable at the Capital's sports and leisure provider, Edinburgh Leisure, and is running at Leith Victoria's fitness studio weekly on Wednesdays at 5pm.
Although this regimen was created by Dean Heitman back in 2013, this is the first time I've seen it available anywhere. I'm always happy to have something different to mix up my usual routine of yoga and Les Mills sessions. I tend to stick to what I enjoy, but challenges are what really improve your fitness. That's what they tell me, anyway.
Although Totally Shredded is just 45 minutes, it is pretty intense.
They describe it as "a combination of HIIT, combat, cardio and plyometric training, all done to drum and bass, funky house, garage and dancefloor Nineties music".
This leads me to immediately Google the word "plyometrics". It turns out that they are exercises designed to exert maximum force in short time frames. Think squat jumps. Gulp.
My first session is taught by instructor Roz Collins, who also takes Konga, Zumba and Pound classes. She obviously has a following, as the studio is rammed and everyone seems ready to enthusiastically sweat.
She is high energy, and so is the music. It has a beat that could be described as frantic. If I was dancing, I'd just be flailing around to a soundtrack that includes remixes of Shawn Mendes, Calvin Harris and Dua Lipa, and Post Malone songs. The speed works though. It's like your heartbeat starts pumping in time and you get itchy feet.
We hardly need any introduction, as each of the routines is simple. The first includes a bob and weave movement, then there's a boxing jab cross, hooks, high knee runs that look a bit like a sailor doing the horn-pipe, and knee repeaters. We do these three or four times then, after round one, there's a break of a few seconds, meaning there are plenty of excuses to grab a sip of water, before we move onto the next element.
The exercises get harder gradually, so you barely notice that you're now incorporating those horrible squat jumps into a set. At various times, we also find ourselves doing reps of jacks, upper cuts, numerous squats, and running on the spot.
There's no mat work, but we do have a good stretch.
I checked the six pack in the changing rooms afterwards, but nothing had appeared yet. Still, I would be happy to commit to some more concentrated shredding, if all classes were as fun as this.
Fitness Class Only membership at Edinburgh Leisure starts from £43.50 a month at your chosen venue, other payment options available, see www.edinburghleisure.co.uk
Comments
Want to join the conversation? Please or to comment on this article.