There is trouble afoot. Two scruffy-looking cavachons are bounding around, and one of them is licking somebody's face.
I'm at a sold-out class from Scotland's first Puppy Yoga business, which is owned by Edinburgh-based Lydia Lamont, 23.
The idea of Doga – yoga with your dog – was first coined in the early Noughties, and it's said to have been invented by New York native, author and yogi Suzi Teitelman. I suppose this is an evolution of that theme.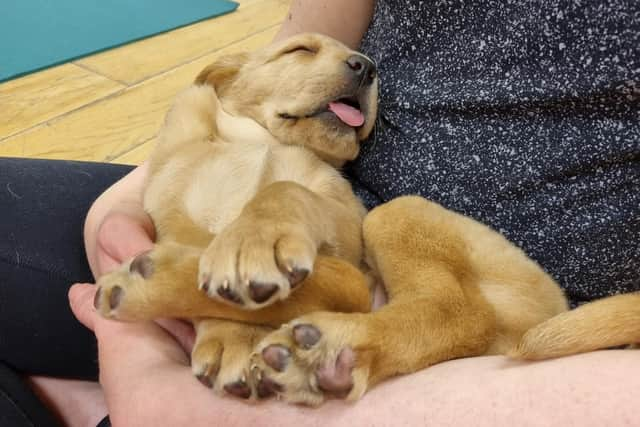 After graduating in computer science at the University of Edinburgh last year, Lamont tried a puppy yoga class in London, and decided to bring the concept here. I suppose the market was cornered when it came to Pygmy Goat Pilates, which takes place at Bellcraig Farm in Fife, and we already have chihuahua and cat cafes in the Scottish capital.
Lamont has relationships with various ethical breeders, and is keen to stress the animals' welfare is paramount. They're all older than eight weeks and there are rules for participants. Outdoor clothing is left at the door, and you have to sanitise before you go into the studio.
This session is taking place at the Eric Liddell Centre, with a proportion of the admission proceeds going to the charity, but Lamont pops up at other venues in the city too.
I have been counting down to this day.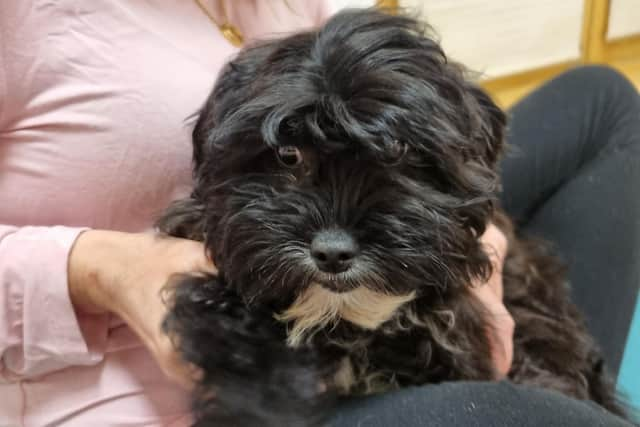 It seems that everyone else has too. I can sense the anticipation while we wait outside. Everyone has to be over the age of 16 and most of the guests are 20-somethings. It's like we're in the queue for a Harry Styles album signing.
Although they've already run sessions with golden retrievers, cockapoos and shihpoos, while hotly anticipated dachshund classes are impending, our group will be hanging out with golden Labradors and those urchin-like cavachons.
There's a collective 'aw' when we enter the space. The labs are at peak cuteness, with ripe peachy bellies, oversized paws and fuzzy wattles. There are around six of them, all from the same litter, and they are gallous.
I've come with my colleague Janet, and I'm jealous that they immediately seem drawn to her. Mind you, she has two cats at home and her daughter works at Nando's, so the heady fragrance of chicken and moggy might be the appeal.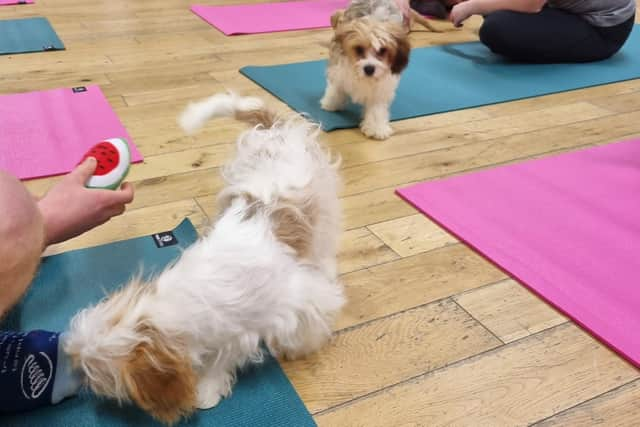 We both especially love the palest and most chilled pup, who is almost white, with ginger eyelashes. We name him Malcolm, and he keeps making a bee-line for us. Well, Janet.
According to Lamont, some of these pups already have homes organised, but there are a few that aren't spoken for. In previous classes, there has been a bit of matchmaking, and participants have committed to a permanent pet.
Or, the pup has claimed them, in the same way as Malcolm has chosen Janet.
When she's lying on her mat, he happily sits on her stomach, like a gormless lion on its prey.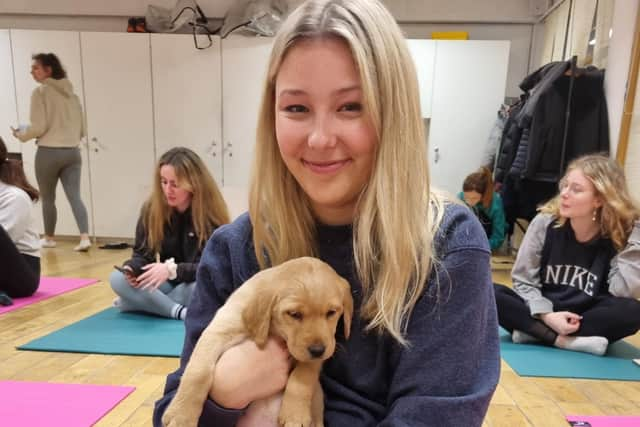 There is a lot of snoozing. Not only from the clients, but also the pups, who will suddenly segue from 120mph to full sleep mode. Once unconscious, they lie pancake flat on the brightly-coloured mats, with legs splayed out like butterflied chickens.
There are also a few oopsies. It was not unexpected. These are cleaned up by either the minders cum wranglers, who wear branded Puppy Yoga hoodies, or the long-suffering yoga teacher.
The cavachons are a bit older than the others, around 12 weeks, so we're warned they might be a bit "bite-y". Indeed, an adorable black and white moptop, with an emo fringe, seems to savour the taste of my hair, and they are all extremely keen on my discarded socks, which I end up hiding.
The other two from this litter are the mischievous ones. They don't stop to be petted. Instead, they appear to be in full showing-off mode. We cheer when one of them leaps like a spring lamb, and they play with the tennis ball and other toys – a banana and a lobster – that are provided.
According to Lamont, this is their second class appearance, and they were very shy at the first one. The sessions allow them to socialise with humans and they're certainly no shrinking violets now. There's a big difference between these energetic pups and the younger contingent.
We're so distracted that we almost forget this is an actual yoga class.
There is 30 minutes of practice interspersed with play time, and we're worked pretty hard, with an enjoyable Vinyasa Flow that's suitable for beginners. It seems the poses have been chosen so there's less potential for accidental puppy squishing.
One participant is cradling a Labrador, and can't move for the entirety of the session. Another has a similar problem, with a fuzzy body parked on his mat like a basking seal. Janet is accosted by a rampant posse of furballs, as she attempts a warrior one.
I enjoy the combination of canines and exercise. There is somewhere else to focus your attention, if you're being snubbed.
When it's time for us to leave, we practically have to be booted out by the minders. Ironically, this must feel like wrangling cats.
I'm a bit emotional. However, as promised, my dopamine levels are sky high and my face hurts from smiling.