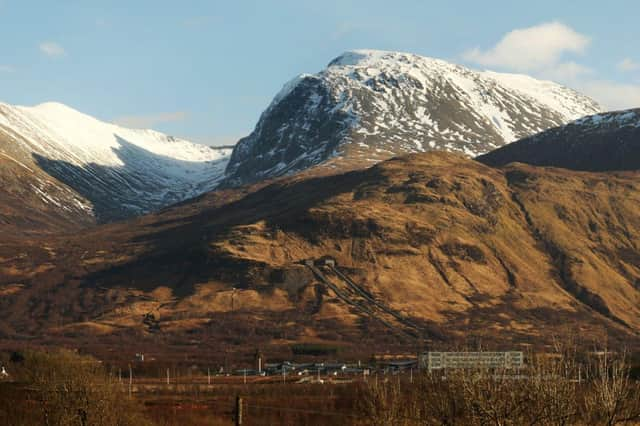 To qualify as a Munro a mountain peak must be a minimum of 3,000 feet (915 metres) in height, with a total of 282 in Scotland making the grade.
They stretch from the northernmost Ben Hope, in remote Sutherland, to the most southerly, Ben Lomond on the bank of the loch of the same name.
There are thought to be less than 7,000 people who have bagged all 282, with those who finish the epic challenge winning the title of 'compleatest'.
Here are all 282 – and how high they are.
5. Sgòr an Lochain Uaine – 1258m
7. Aonach Beag (Nevis Range) – 1234m
9. Càrn Mòr Dearg – 1220m
11. Beinn a' Bhùird – 1197m
13. Beinn Mheadhoin – 1182m
15. Stob Choire Claurigh – 1177m
19. Beinn Bhrotain – 1157m
21. Derry Cairngorm – 1155m
22. Sgùrr nan Ceathreamhnan – 1151m
23. Bidean nam Bian – 1150m
24. Sgùrr na Lapaich – 1150m
26. Geal-chàrn (Alder) – 1132m
29. Creag Meagaidh – 1130m
30. An Riabhachan – 1129m
32. Càrn nan Gabhar – 1121m
35. Càrn a' Choire Bhòidheach – 1118m
36. Meall Garbh (Ben Lawers) – 1118m
38. Aonach Beag (Alder) – 1116m
39. Stob Coire an Laoigh – 1116m
40. Stob Coire Easain – 1115m
42. Tom a' Chòinich – 1112m
44. Sgùrr nan Conbhairean – 1109m
45. Meall a' Bhùiridh – 1108m
46. Stob a' Choire Mheadhoin – 1106m
48. Beinn Èibhinn – 1102m
49. Mullach Fraoch-choire – 1102m
51. Sgùrr a' Mhàim – 1099m
52. Sgùrr Chòinnich Mòr – 1094m
53. Sgùrr nan Clach Geala – 1093m
56. Beinn a' Chlachair – 1087m
57. Beinn Dearg (Ullapool) - 1084m
59. Sgùrr a' Choire Ghlais – 1083m
60. Beinn a' Chaorainn (Cairngorms) – 1082m
61. Beinn a' Chreachain – 1081m
62. Beinn Heasgarnich – 1078m
65. Stob Coire Sgreamhach – 1072m
66. Bràigh Coire Chruinn-bhalgain – 1070m
67. An Socach (Mullardoch) – 1069m
68. Meall Corranaich – 1069m
70. Sgùrr Fhuaran – 1067m
71. Cairn of Claise – 1064m
72. Bidein a' Ghlas Thuill (An Teallach) – 1062m
73. Sgùrr Fiona (An Teallach) – 1060m
74. Na Gruagaichean – 1056m
75. Spidean a' Choire Lèith (Liathach) – 1055m
76. Stob Poite Coire Àrdair – 1054m
77. Toll Creagach – 1054m
78. Sgùrr a' Chaorachain – 1053m
79. Glas Tulaichean – 1051m
80. Beinn a' Chaorainn (Glen Spean) – 1050m
81. Geal chàrn (Laggan) – 1049m
82. Sgùrr Fhuar-thuill – 1049m
83. Càrn an t-Sagairt Mòr – 1047m
84. Creag Mhòr (Glen Lochay) – 1047m
87. Cruach Àrdrain – 1046m
88. Beinn Iutharn Mhòr – 1045m
89. Meall nan Tarmachan – 1044m
90. Stob Coir an Albannaich – 1044m
92. Sgùrr na Cìche – 1040m
93. Meall Ghaordaidh – 1039m
94. Beinn Achaladair – 1038m
95. Càrn a' Mhàim – 1037m
96. Sgùrr a' Bhealaich Dheirg – 1036m
98. Càrn Dearg (Loch Pattack) – 1034m
102. Càrn an Rìgh – 1029m
104. Sgùrr a' Mhaoraich – 1027m
105. Sgùrr na Ciste Duibhe – 1027m
107. Sgòrr Dhearg (Beinn a' Bheithir) – 1024m
108. Mullach an Rathain (Liathach) – 1023m
109. Aonach Air Chrith – 1021m
110. Stob Dearg (Buachaille Etive Mòr) – 1021m
111. Ladhar Bheinn – 1020m
112. Beinn Bheoil – 1019m
113. Càrn an Tuirc – 1019m
114. Mullach Clach a' Bhlàir – 1019m
115. Mullach Coire Mhic Fhearchair – 1019m
116. Garbh Chioch Mhòr – 1013m
117. Cairn Bannoch – 1012m
119. Beinn Udlamain – 1010m
120. Ruadh-stac Mòr (Beinn Eighe) – 1010m
121. Sgùrr an Doire Leathain – 1010m
122. Sgùrr Èilde Mòr – 1010m
124. Beinn Dearg (Blair Atholl) – 1008m
125. Maoile Lunndaidh – 1007m
127. Càrn Liath (Creag Meagaidh) – 1006m
128. Beinn Fhionnlaidh (Càrn Eige) – 1005m
129. Beinn an Dòthaidh – 1004m
130. Sgùrr an Lochain – 1004m
131. The Devil's Point – 1004m
132. Sgùrr Mòr (Loch Quoich) – 1003m
133. Sàil Chaorainn – 1002m
134. Sgùrr na Càrnach – 1002m
135. Aonach Meadhoin – 1001m
136. Meall Greigh – 1001m
137. Sgòrr Dhònuill (Beinn a' Bheithir) – 1001m
139. Sgùrr Chòinnich – 999m
140. Stob Bàn (Mamores) – 999m
141. Ben More Assynt – 998m
144. A' Chailleach (Fannichs) – 997m
145. Glas Bheinn Mhòr – 997m
146. Spidean Mialach – 996m
148. Càrn an Fhìdhleir (Càrn Ealar) – 994m
149. Sgòr na h-Ulaidh – 994m
150. Sgùrr na Ruaidhe – 993m
151. Spidean Coire nan Clach (Beinn Eighe) – 993m
152. Càrn nan Gobhar (Loch Mullardoch) – 992m
153. Càrn nan Gobhar (Strathfarrar) – 992m
154. Sgùrr Alasdair – 992m
155. Sgàirneach Mhòr – 991m
156. Beinn Eunaich – 989m
159. Creag Leacach – 987m
160. Druim Shionnach – 987m
162. Inaccessible Pinnacle – 986m
164. Sgùrr Mòr (Beinn Alligin) – 986m
165. Ben Vorlich (Loch Earn) – 985m
167. Mullach na Dheiragain - 982m
168. Creag Mhòr (Meall na Aighean) – 981m
169. Maol chinn-dearg – 981m
171. Stob Coire a' Chàirn - 981m
172. Beinn a' Chochuill – 980m
174. Stob Coire Sgriodain – 979m
175. Beinn Dubhchraig – 978m
177. Meall nan Ceapraichean – 977m
178. Stob Bàn (Grey Corries) – 977m
179. A' Mharconaich – 975m
180. Càrn a' Ghèoidh – 975m
181. Càrn Liath (Beinn a' Ghlò) – 975m
182. Stùc a' Chròin – 975m
183. Beinn Sgritheall – 974m
185. Sgùrr a' Ghreadaidh – 973m
186. Meall Garbh (Càrn Mairg) – 968m
187. A' Mhaighdean – 967m
188. Sgòrr nam Fiannaidh (Aonach Eagach) – 967m
189. Ben More (Mull) – 966m
190. Sgùrr na Banachdich – 965m
191. Sgùrr nan Gillean – 964m
192. Càrn a' Chlamain – 963m
196. Beinn nan Aighenan – 960m
197. Stùcd an Lochain – 960m
198. Beinn Fhionnlaidh – 959m
200. Bruach na Frìthe – 958m
202. Càrn Ghluasaid – 957m
205. Sgùrr nan Coireachan (Glenfinnan) – 956m
206. Stob Dubh (Buachaille Etive Beag) – 956m
207. Stob na Bròige (Buachaille Etive Mòr) – 956m
209. Am Faochagach – 954m
210. Beinn Liath Mhòr Fannaich – 954m
211. Beinn Mhanach – 953m
212. Meall Dearg (Aonach Eagach) – 953m
213. Sgùrr nan Coireachan (Glen Dessary) – 953m
214. Meall Chuaich – 951m
216. Beinn Bhuidhe - 948m
217. Sgùrr Mhic Chòinnich – 948m
218. Creag a'Mhàim – 947m
220. Beinn Tulaichean – 946m
222. Meall Buidhe (Knoydart) – 946m
223. Bidein a' Choire Sheasgaich – 945m
224. Càrn Dearg (Monadhliath) – 945m
225. Sgùrr na Sgìne – 945m
226. Stob a' Choire Odhair – 945m
227. An Socach (Braemar) – 944m
228. Sgùrr Dubh Mòr – 944m
229. Ben Vorlich (Loch Lomond) – 943m
231. Beinn a' Chròin – 942m
232. Càrn Dearg (Corrour) – 941m
234. Luinne Bheinn – 939m
236. Mullach nan Coirean – 939m
238. Beinn Sgulaird – 937m
239. Beinn Tarsuinn – 937m
240. Sròn a' Choire Ghairbh – 937m
241. A' Bhuidheanach Bheag – 936m
243. Meall a' Chrasgaidh - 934m
244. Beinn Chabhair – 933m
246. Maol Chean-dearg – 933m
247. The Cairnwell – 933m
248. Meall Buidhe (Glen Lyon) – 932m
251. A' Chailleach (Monadhliath) – 930m
254. Meall nan Eun – 928m
257. Eididh nan Clach Geala – 927m
258. Beinn Liath Mhòr – 926m
259. Beinn Narnain – 926m
260. Geal Chàrn (Monadhliath) – 926m
261. Meall a' Choire Lèith – 926m
262. Seana Bhràigh – 926m
263. Stob Coire Raineach (Buachaille Etive Beag) – 925m
264. Creag Pitridh – 924m
265. Sgùrr nan Eag – 924m
266. An Coileachan – 923m
267. Sgùrr nan Each – 923m
268. Tom na Gruagaich (Beinn Alligin) – 922m
269. An Socach (Affric) – 921m
273. A' Ghlas-bheinn – 918m
274. Creag nan Dàmh – 918m
275. Meall na Teanga – 918m
276. Ruadh Stac Mòr – 918m
277. Sgùrr a' Mhadaidh – 918m
279. Geal-chàrn (Drumochter) – 917m
280. Beinn a' Chlèibh – 916m
281. Beinn Teallach – 915m