Scott's Porage Oats Man: Who is he? Why was he replaced? Game of Thrones ties explained
For almost a century and a half, Scott's Porage Oats have been one of Scotland's best loved brands, yet the dashing Scotsman or porridge's 'poster boy' remains a mystery to many.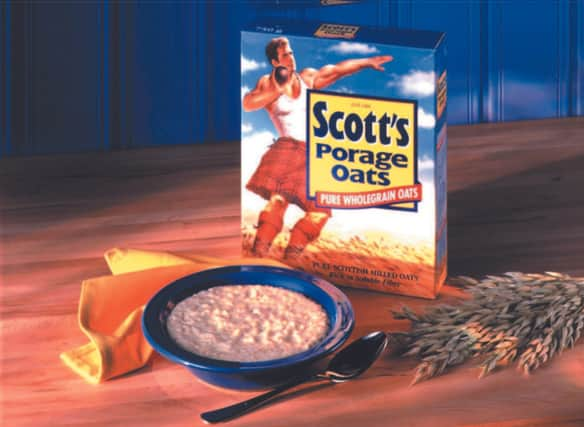 As the company confirms on their Facebook page: "Scott's Porage Oats have been milled in Scotland since 1880." Iconic Scottish products like Scotch, Irn-Bru and Haggis aside, it makes sense why this porridge is one of the most famous brands of the nation given that it has withstood the test of time going on a century and a half.
That said, as The National reported last year: "Scots have been eating porridge for 5500 years, according to new research which traced the national dish back to Stone Age settlers in the Outer Hebrides."
So, a propensity for porridge is apparently just one of many Scottish quirks. The success of Scott's Porage Oats runs deeper than that, however. In the classic tartan kilt attire closely associated with the Scottish Highlands, the brand benefitted from the branding of a dashing Scotsman who is throwing the shot put; a sport that features in the Highland Games.
Handsome, strong, and 'quintessentially' Scottish, it is of little surprise that this 'poster boy' proved popular in upholding the brand. Yet, in recent years, the product's marketing team have offered a 'makeover' to the design that was widely criticised by consumers. It also reignited the question of who is the Scott's Porage Oats man (and who was he replaced by?)
Here is everything we know about the face of Scott's Porage Oats, when he was replaced, and the brand's impact on wider pop culture including big franchises like Game of Thrones.
Who is the Scott's Porage Oats man?
Scott's Porage Oats ran a popular advertising campaign in the UK from the late 1990s to early 2000s in which Rory McCann, best known for portraying "The Hound" on the hit HBO series Game of Thrones, donned a kilt and became known as the "face" of the brand.
In the 2010 advertisement another familiar face assumed the role. This was Thom Evans; a Scottish Rugby Player. However, these two were only used in the porridge's adverts and, in fact, the handsome Scottish model on the box dated back way before their appearances.
Reportedly, it was based on Jay Scott; a champion of the World Highland Games who lived on Inchmurrin Island (Scottish Gaelic: Innis Mhearain) within Loch Lomond. As written on the Scotsman Food and Drink: "6ft 2in Jay Scott enjoyed worldwide fame in the 1950s and 1960s as a Highland Games heavyweight champion, his prodigious talents even attracted the attention of Hollywood bombshell Jayne Mansfield.
"Rumour has it, though, that he didn't know his image was being used by the porridge company.
"According to son Rob, the first his dad knew about his picture being on the cereal packet was when a friend spotted it in a shop.
"And, at the time, there were rumours that he didn't receive any payment from the oats company for the use of his image.
"I think he only got a one-off payment when he approached them," says Rob."
When was the model changed?
Much to the displeasure of buyers, in 2021 the Scott's Porage Oats design was changed. That year, the Daily Mirror wrote: "Scots are up in arms after a traditional porridge brand revamped its packaging and dumped its iconic cover man for a younger model."
They continue: "Gone is the muscular, square-jawed image of Highland Games legend Jay Scott…
"In its place is a slimline, pouting version who looks as if he could be hailing a taxi while taking a call."
On top of changing the tartan and text from "original" to "old-fashioned", it was also noted that the new model had less muscular definition on his pectorals.
Why did Scott's Porage Oats choose this?
Better Retailing reports that the portfolio and innovation brand manager for Scott's Oats, Heather Doyle, said: "Over the last year, we've seen consumers continue to appreciate authentic brands and products.
"Scott's is loved for its established Scottish heritage and simple, high-quality product.
"Our Oats have been milled in Scotland since 1880 and this is something we wanted to celebrate.
"The new look will help to give our traditional image a modern twist for added stand-out on shelf but also shares more of our personality."
How did buyers react?
Despite the launch of Scott's Porage Oats' design revamp being done, reportedly, to celebrate the product's "Scottish heritage and authenticity", the sentiment was widely not echoed by consumers with a resounding "och aye the no."
Noting a reduction in visible muscle mass, some buyers criticised the new model for looking more 'feeble' in comparison. Others, observing a difference in age as the new design appeared younger than the original, spoke of 'ageism' and their concern that it undermined their older clientele.
Nevertheless, Scott's said: "While the design has evolved over the years, we have always stayed true to the Scottish spirit of the brand.
"We've had some great feedback on our latest design inspired by recent images of Scottish shot-putters in the Highland games."
Comments
 0 comments
Want to join the conversation? Please or to comment on this article.