Number One's Private Dining Room, Edinburgh, review - The Balmoral's new tasting menu spot for celebrities
This new addition to the restaurant has just opened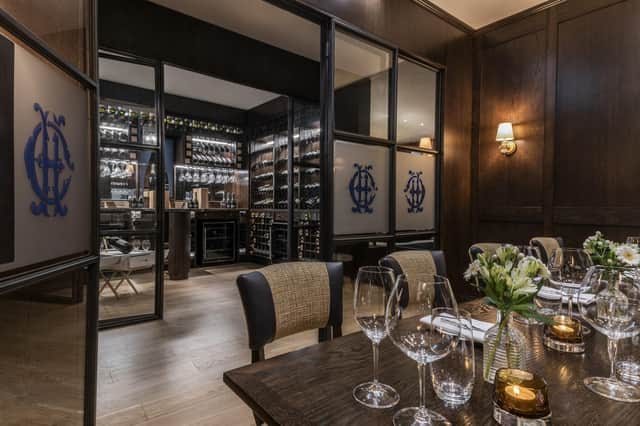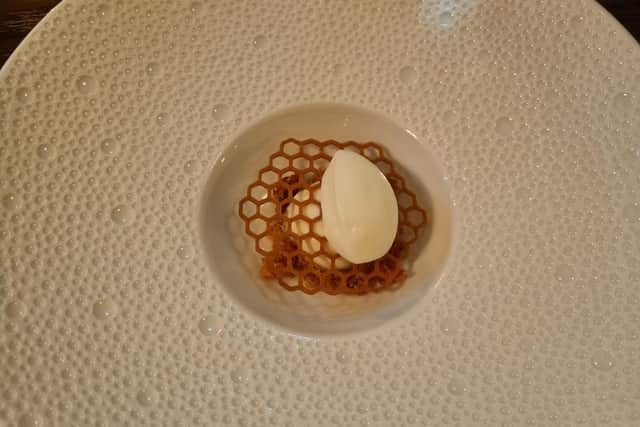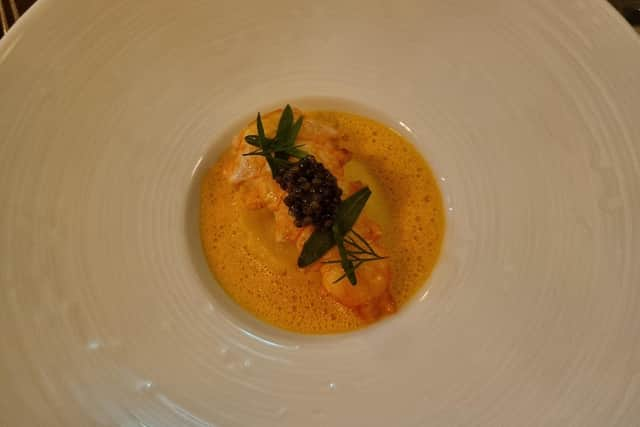 How much? Dinner for two, excluding drinks, £230
The worst thing about eating out is other diners.
I don't want to see humans noshing, couples huffing with each other, or labels poking out of the back of dresses. I'm joking. I LOVE it. People-watching is one of the best things about restaurants.
My other half tells me not to stare as often as he says not to talk with my mouth full.
Sometimes, I'm so absorbed, I forget that they can see me too.
Still, there are times when you need a little privacy for your tête-à-tête. That's especially when you're a VIP or star, like moi, I say, in a Miss Piggy style. Five-star hotel The Balmoral, who have just taken on a new general manager, Andrew McPherson, has had its fair share of celebrities over the years, including, recently, somebody in the know told me, Judi Dench.
For them, and everyone really, there's their new Private Dining Room, with the monogram of their house Champagne, Charles Heidsieck, on the doors. Apart from that feature, the space is comfortable and neutral. It is available 'on enquiry', seats up to ten people and is opposite their wine cellar - an ambient crypt for dusty bottles, each waiting for their cork to be popped.
Among other things, they'll be doing vino and caviar tastings across both rooms.
As the new space is a sort-of antechamber in the corridor between the lounge and restaurant, which sadly lost its Michelin Star last year, there's nobody to interrupt your chats.
Their former head chef was Mark Donald, who has gone onto great things at The Glenturret Lalique, and now they have Matthew Sherry, who was previously at the - now sadly defunct - Castle Terrace Restaurant and has been here for two years.
I haven't visited since Donald's day. Now, the food is slightly simpler, though still as beautiful.
If you've booked the private dining room, they can give you a bespoke menu, or the standard seven-course tasting number for £115pp (add £85 for tasting wines, or £135 for prestige wines).
I tried that, on the last few days of their summer offering. That seemed apt - a last hurrah - especially since the season teased that she was leaving, but now the sun is cheekily poking its head around the door again.
Highlights of our meal included an Isle of Skye langoustine and a single ravioli, both in a rich puddle of marbled bisque, with a dot of N25 Oscietra caviar on the top that was black and glossy like a bramble.
Another course consisted of a bowlful of Isle of Wight tomatoes, in red and yellows as bright as Skittles, and garnish of pickled red onions rings and baby basil leaves.
I felt like the Aberdeen Angus sirloin would definitely cure my anaemia, thanks to three neat slabs of pink flesh, and a small heap of soft short rib on the side. Medication never tasted so good. There were also some leafy veggies, including baby gem, that were charred and topped with a knobbly crust.
The puddings also stood out, and not only because there were a pair of them. They don't call me Gaby Two Desserts Soutar for nothing.
Apparently, they have hives on the roof of the hotel. Their resident bees have trackers on them, so they can see where they go, and this lot especially love to hang out round Arthur's Seat. I imagine these monitors as tiny dog collars, but it's a bit more technologically sophisticated than that, they say. Their Balmoral Honey pudding features the hiking bumbles' output in a buttery yoghurt, with a honeycomb shaped tuile, for a few bites of balmy sweetness.
It was so good that I'll forgive them for not having a chocolate-y pud, and instead giving me the gorgeous Leadketty Farm strawberries in a sort-of pink panna-cotta, with pale pineberries, Liliputan Gariguette strawberries and a Valrhona and vanilla ice-cream.
Lovely. I'm not a huge fan of tasting menus these days. I'm too fidgety, but this flowed and had as much balance as Simone Biles. Thus, they retained my undivided attention for every course.
So, if you're a celebrity, who doesn't want me to gawp at you all evening, moi would totally book the Private Dining Room.
Comments
 0 comments
Want to join the conversation? Please or to comment on this article.