Netflix comedy stars Aunty Donna come to Glasgow as part of their first UK tour
We chat to a member of this Australian comedy troupe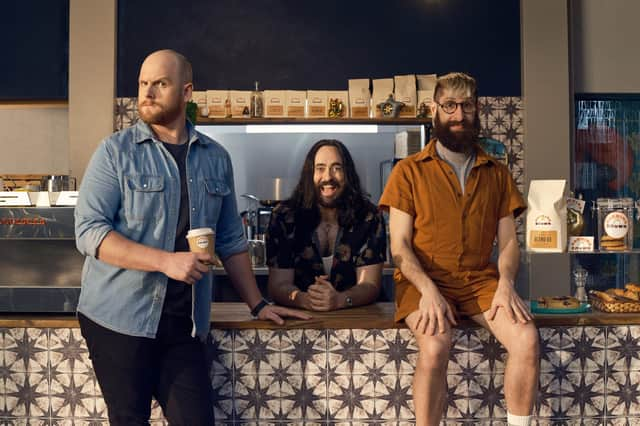 Glaswegians must have a very daft sense of humour.
That's because Antipodean comedy group, Aunty Donna, is due to perform in the city on September 11, for the opening night of The Magical Dead Cat Tour to the UK and Ireland. However, the tickets sold out so fast they had to quickly add another Glasgow date, September 12, to their itinerary, which also includes the US and Canada.
Before they hop over to the Northern Hemisphere, the trio - Broden Kelly, Zachary Ruane and Mark Samual Bonanno, who got together in 2011, when they were at the University of Ballarat Art Academy - are supposed to be in rehearsals before opening the show in Melbourne.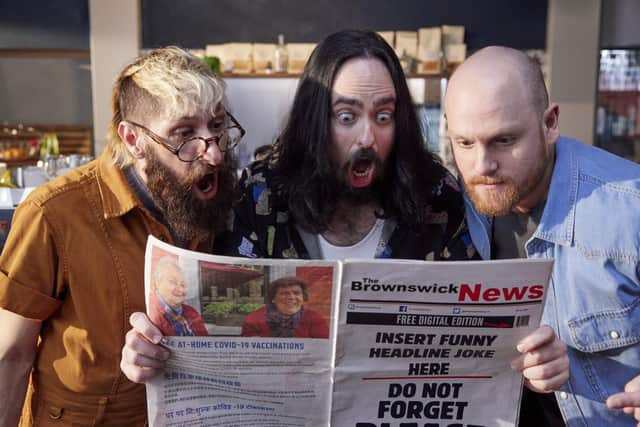 Unfortunately, one of the gang has Covid, so they're hoping he recovers fast.
Perhaps that's why only Bonanno is free to chat to me, on a long distance call from Australia. In a way, I'm quite glad it's just him. If their brilliant, high-energy, surreal and absurdist Netflix show, Aunty Donna's Big Ol' House of Fun and ABC's Aunty Donna's Coffee Cafe are anything to go by, the whole trio might be too much for me to handle on a Wednesday morning.
Bonanno is stoked about the Glasgow sell-out.
"It blew us away. We had no idea what the reception would be like. Maybe because they don't get us as often, they're hungry and really excited," he says. "That has always felt like the biggest difference in the UK. They understand that we live far away and that coming over is a bit of a trip. That's really cool".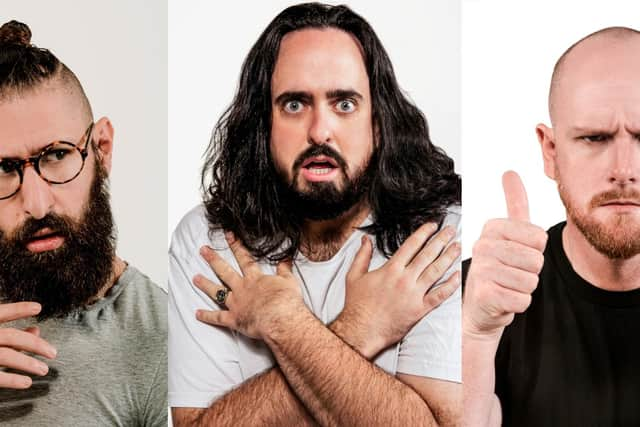 It's been about six years since the posse were last in Scotland. They used to be regulars at the Edinburgh Festival, from 2014 until 2017. Back then, they were playing small venues. Now, they pack theatres that seat a few thousand. What does Bonanno recall of their last time in the Capital?
"I mostly remember it being summer and freezing my arse off," he says.
Despite the fact that much of this actor and comedian's career now involves recording podcasts and YouTube videos, he's not nervous about getting back on a live stage.
"Not so much anymore. We've been doing it for such a long time," he says. "The Edinburgh Festival was different because at least 50 per cent of the crowd have taken a punt on you, so you have to introduce yourself, but on tour, with a show like this, it's all love, people are just so happy to be there. And that kills any nerves, which is really lovely. I hesitate to say blessing, but I guess you would say it's a blessing. We're walking into a warm room. So all my anxieties almost instantly go out the window".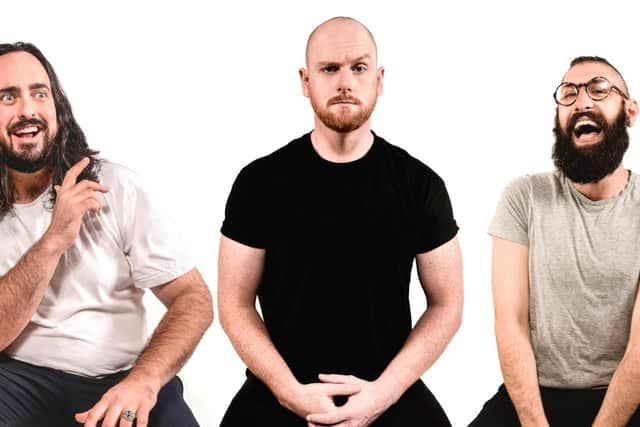 Their show will mainly include some new sketches, but also a couple of familiar classics. I'm hoping for a rendition of my personal favourite - their song, Everything's a Drum, which appears on their Netflix show. However, Bonanno tells me that the most common catchphrase that's shouted at him on the street, usually from passing cars, is "pud", which is a reference to their classic Always Room for Christmas Pud number.
Although they sometimes toy with props and costumes in those screened sketches, there won't be many of those on stage.
"Well, we'll be wearing clothes, but our whole thing is very, very stripped back," says the comedian. "We only ever use a prop if it's absolutely necessary for the joke and we feel it's important. Otherwise, we try to be as minimal as possible because that's the sort of theatre that we grew up really liking and what we trained in".
That's fine. We only want to see the stars anyway. However, Bonanno is keen to point out that Aunty Donna is more than just the threesome and has less visible members. These are writer and director Sam Lingham, director Max Miller and composer Thomas Zahariou. As he says, "We all riff and improvise and the work is very much shared".
They're now 13 years into Aunt Donna and, though the high-octane humour remains relatively unchanged, they've had to adapt in some ways.
"We've been given more opportunities to try different platforms. Experimenting with the podcast is truly free form. We go in with nothing, or start with one very small idea, and then we just try to improvise for 30 minutes to varying degrees of success," says Bonanno. "Doing TV like a Netflix sketch show is kind of long form, and the series we just did in Australia is more of a sitcom. So our comedy has evolved in the sense that we've adapted it to different formats. But really, our motto from the start has been 'whatever's funniest'. We're not driven by what's the hot topic right now or what song is popular on TikTok. We've always done whatever we've wanted".
There is no straight man in Aunty Donna. They're all equally doolally. They're also unique in that trios are an unusual dynamic. In contrast, there are many comic duos out there, from French and Saunders, to The Mighty Boosh and Flight of the Conchords.
The threesome format reminds me of boy bands. In that spirit, do they find that fans, who include celebrities RuPaul and Neil Patrick Harris, have a favourite member?
"Do you mean which of us is the Harry Styles of the group?" says Bonanno. "Me. Absolutely. I think it's because I'm also the most handsome. I know this is print, so please convey my tone, like 'he said sarcastically' or something," he says, sarcastically. "Obviously people have their favourites and I don't mind when they say Broden is. That's fine. I find that really exciting. The difficulty is when people are like, 'that one is my favourite, but you're the worst of all'".
I'm pretty sure they're loved equally.
Comments
 0 comments
Want to join the conversation? Please or to comment on this article.