Winter Car Cleaning 2023: These tips will keep your car spotless and avoid a potential fine of up to £1,000
Maintaining a clean car isn't just for show - it can help you avoid a potentially-costly fine too.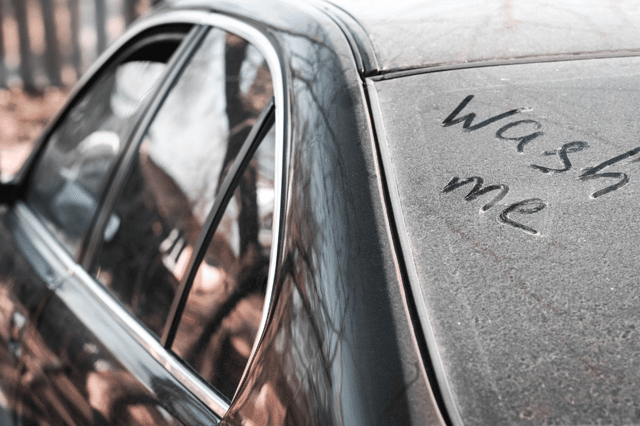 Winter is nearly upon us, meaning dropping temperatures, rain, snow, ice and storms are inevitably on the way.
It's at this time of year that our cars take the brunt of dirt and debris, with muddy shoes and coats creating stains on the interior while driving through muddy puddles can result in the windscreen and lights becoming covered.
And it's not just for cosmetic reasons that you should be concerned about the state of your vehicle - driving a dirty car could potentially be against the law.
The Highway Code adviser "lights, indicators, reflectors, and number plates MUST be kept clean and clear' and is backed up by a law stating: "No person shall use, or cause or permit to be used, on a road a vehicle unless every lamp, reflector, rear marking and device is in good working order and, in the case of a lamp, clean."
So, leaving your car mucky could get you an on-the-spot fine of anywhere between £30-£100, rising to £1,000 should you appeal and go to court.
If you don't fancy taking the brunt of the mud this winter, the van hire experts at Vanarama have provided their top five cleaning tips for your car this.
Here's what they had to say
Check your headlights and windscreen for mud and residue every week
By checking your headlights and windscreen at least once a week, or more regularly if there's been particularly bad, muddy weather, you will be able to spot any build up on your headlights before it gets dangerous. Unclean headlights can be hazardous, and you'll be able to avoid any unpleasant on the spot fines of £30-£100 for not driving in a vehicle that is fit for use.
Use toothpaste to clean mud off your headlights
Yes, your everyday toothpaste can be used on headlights to make them especially clean and get rid of especially stubborn mud and dirt. When they start to get foggy, remove all the excess dirt and grime with warm soapy water and a cloth, then apply a small amount of your toothpaste using a (spare) toothbrush and gently rub until you see the dirt disappearing. Once finished, wipe over with your warm soapy water and cloth, and the headlights will be good as new. 
Keep your washer fluid topped up to avoid fines for a muddy windscreen
Along with the previously mentioned fines, the same section of the highway code explains that "windscreens and windows MUST be kept clean and free from obstructions to vision". Mud from the roads can build up on our windscreens especially with commuting to work and driving on motorways where spray from nearby cars is common. Mud can also leave a film like sheen across windscreens making them even harder to see out of, so make sure to keep your windscreen clear to avoid any unwanted £1k fines. 
Use laundry detergent to clean the interior of your vehicle
Knowing British weather, rain in the upcoming Christmas season will be inevitable. Visiting family and friends more frequently and who are live far away means more time in the car, especially with children and muddy paws. You can keep the interior of your car sparkling clean by using the laundry detergent you have in your cupboard at home. 
Always test this on a small, inconspicuos part of your upholstery first to make sure that it doesn't discolour your seats. Use around 15ml of laundry detergent to 100ml of warm water in a bucket with a soft cloth, and gently dab away at any stubborn muddy stains to make sure your car interior is good as new. 
Give your car a thorough deep clean once a month through the autumn and winter period
As well as checking your windshield, number plate and headlights regularly and after driving in particularly muddy weather, it's good practice to set aside a day at the end of each month to really give your car the clean it needs. Take the time to deep clean and hoover the inside of your car to get any spots of dried mud up, and this can also prevent the growth of bacteria and germs on the interior.
Comments
 0 comments
Want to join the conversation? Please or to comment on this article.