Scotland's new First Minister: Who is Humza Yousaf? Scotland's first First Minister from minority ethnic background
SNP leader Humza Yousaf has been voted in by MSPs as Scotland's youngest First Minister and the first from a minority ethnic background.
First elected in 2011 at the age of just 26, and now 37, Mr Yousaf rose through SNP ranks to become the first non-white and first Muslim Cabinet minister in the Scottish Government, when he became justice secretary in June 2018.
The 37-year-old succeeds Nicola Sturgeon, who formally tendered her resignation to the King on Tuesday morning after announcing her intention to stand down last month after more than eight years in the post.
Mr Yousaf became health secretary shortly after the May 2021 Scottish Parliament election, in the midst of the then-ongoing Covid-19 pandemic.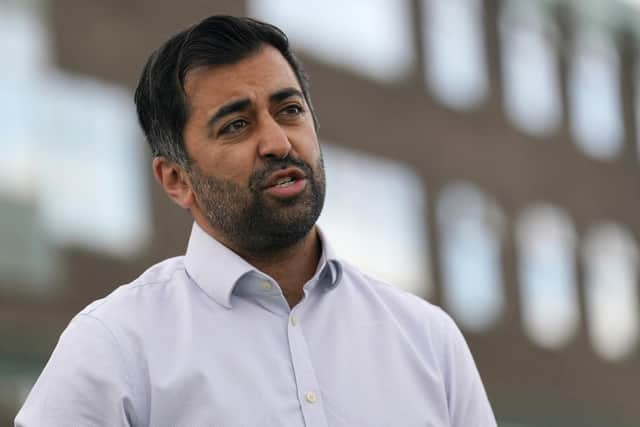 "I am firmly committed to equality for everybody, because your rights are my rights regardless of who you are," Mr Yousaf recently said.
"My starting point is that I've been a minority in this country for my whole life. I have understood that you have to fight for your rights, but my rights don't exist in a vacuum or an isolation. They only exist because other people's rights exist too."
What is Mr Yousaf's personal background?
Mr Yousaf had a privileged upbringing, attending Glasgow's Hutcheson's Grammar School, which today charges between £10,710 and £13,806 a year. Back in 2017, before he became a father and step-father, Mr Yousaf was asked whether he would send his children to a private school, like his parents did.
"I'm never disparaging of my parents for sending me to a private high school," Mr Yousaf told Holyrood Magazine. "It was their choice, I didn't have any say in it and I suspect Anas [Sarwar, who attended the same school] didn't have any say in it either, or [former Scottish Labour leader] Richard Leonard, for that matter, who also went to private school."
Mr Yousaf was first married in 2010, but divorced in 2016. In 2019, he married psychotherapist Nadia El-Nakla, with whom he has one child and one stepchild.
The pair hit the headlines when they accused Little Scholars day nursery in Broughty Ferry, Dundee, of refusing to give their two-year-old daughter a place while accepting children with western-sounding names.
In November 2021, the Care Inspectorate said it had upheld the couple's complaint. But earlier this month, the pair announced they had dropped legal action against the nursery, which has always denied the claims.
Despite facing the challenges of early adulthood in public, Mr Yousaf has occasionally shown he does not have a thick skin.
After being filmed falling from a scooter he used in the Scottish Parliament after rupturing his Achilles tendon playing badminton, Mr Yousaf tweeted out: "All for media scrutiny and never shy away from it. Just not sure there is [a] need or purpose to tweet out a video of me falling over while injured.
"If anyone else had fallen over while on crutches, a knee scooter, or in a wheelchair, would your first instinct be to film it and tweet out?"
The video received more than 10,500 likes on Twitter.
What policies has Mr Yousaf put forward during the election campaign?
The health secretary has pledged children aged one and two years old would be covered by more free childcare in Scotland if he wins the race to become the country's next first minister.
Mr Yousaf said he would use his first Budget to expand free provision, with a goal of offering 22 hours a week throughout the year.
Mr Yousaf has also softened his position on the Gender Recognition Reform Bill as the leadership contest has gone on.
He has said he would only challenge the UK Hovernment block on Scotland's gender reforms if legal advice suggests it would be successful.
On independence, Mr Yousaf has insisted he can deliver it within five years if he becomes first minister.
Thee SNP leadership hopeful has also made it clear he would be willing to raise tax for high earners to fight poverty if he wins the battle for Bute House.
Comments
 0 comments
Want to join the conversation? Please or to comment on this article.