SNP leadership contest: Humza Yousaf says he will 'review' price of alcohol under minimum unit pricing scheme
Humza Yousaf has confirmed he would consider raising the 50p base rate of Scotland's minimum unit pricing (MUP) for alcohol, to reflect "emerging evidence, inflation, people's incomes and alcohol affordability".
The health secretary confirmed he would continue to keep the rate "under review" if elected as SNP leader. He reconfirmed his position after evidence published this week showed while MUP had reduced Scotland's alcohol deaths by around 150 a year, the effectiveness of the policy was waning due to sustained high inflation.
The question of whether to raise the scheme's base rate – set at 50p per unit of alcohol – has been raised by several pro-MUP academics and campaigners, including Dr Sadie Boniface, head of research at London's Institute of Alcohol Studies.
Dr Boniface said: "With inflation levels high as they currently are, and the health benefits of minimum pricing now clearer than ever, uprating the price level will be an important consideration as the policy is reviewed with the sunset clause later this year."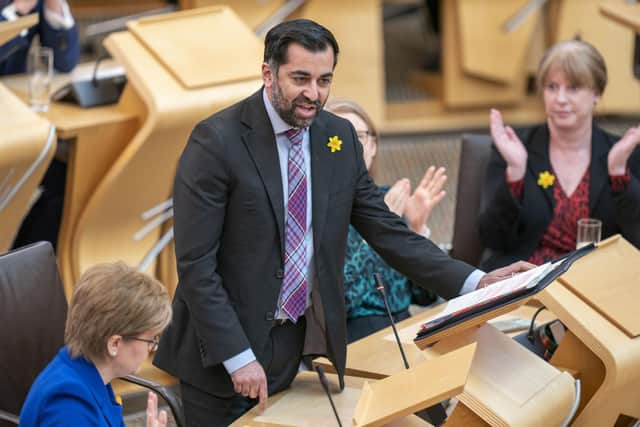 All three SNP leadership candidates were asked by Scotland on Sunday whether they supported the permanent implementation of MUP, and whether they would commit to raising the base rate, either in line with inflation or some other metric.
In response, both Yousaf and leadership rival Kate Forbes committed to renewing MUP, while Ash Regan's team did not respond. The Scottish Parliament is due to vote before May 1 next year on whether or not MUP will continue.
On potentially raising the base rate in line with inflation or another metric, Yousaf told Scotland on Sunday he would "continue to keep the level under review", but Forbes did not answer the question.
Yousaf said: "The SNP's minimum unit pricing policy is having a positive impact in tackling alcohol-related harm in Scotland, especially in our most deprived communities.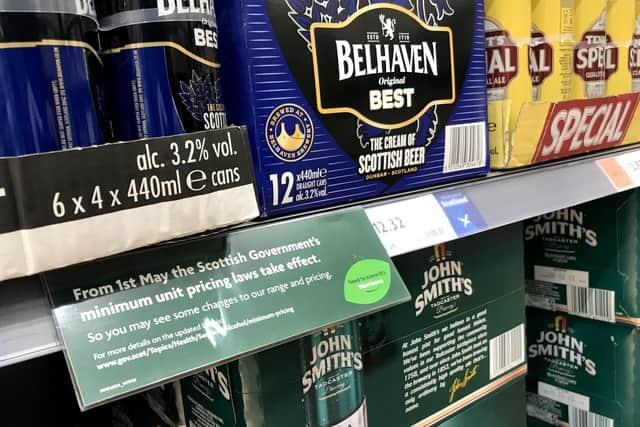 "As Scotland's first minister, I will build on the SNP's legacy of bold and progressive policies, like minimum unit pricing, and I will continue to keep the level under review to reflect emerging evidence, inflation, people's incomes and alcohol affordability."
Forbes said: "If I am elected Scotland's first minister, my government will renew the minimum alcohol pricing legislation. Health inequalities cannot be adequately addressed unless we do more to tackle poverty in Scotland at the individual, but also community level.
"We need to ensure people are taken out of poverty, but also that they live in safe, well-resourced communities. This is a huge challenge, but will be my government's priority."
Researchers this week published findings that MUP has led to a 13 per cent reduction in alcohol-related deaths in Scotland.
Scientists from the University of Glasgow, the University of Queensland and Public Health Scotland found "significant reductions in alcohol-specific deaths" since the introduction of MUP, particularly "among those from the most socio-economically deprived areas in Scotland".
Over the two years and eight months following the implementation of MUP, there was a 13 per cent reduction in deaths from alcohol consumption in Scotland. This is compared to an estimate, using data from England, of the deaths that would have occurred had the legislation not been implemented. It is equivalent to avoiding around 150 deaths a year.
The research, published in The Lancet, shows a 4.1 per cent reduction in hospitalisations for conditions wholly attributable to alcohol consumption, equivalent to avoiding 411 hospitalisations a year, on average.
Researchers also found significant reductions in deaths wholly attributable to alcohol consumption were greatest for men and for those living in the 40 per cent most socio-economically deprived areas of Scotland. The report has led to fears the effectiveness of MUP could be hampered by inflation.
Dr Boniface, who is also a visiting researcher at King's College London, said: "The minimum price level of 50p per unit was determined by the Scottish Parliament after extensive modelling of the impacts and consultation with stakeholders.
"The initial modelling study informing that decision was in 2009, and has been updated several times since, looking at the effect of minimum unit prices ranging from 25p to 70p per unit. Higher prices had bigger effects on alcohol consumption and harm.
"Since the outset, health organisations have raised the issue of a need for an uprating mechanism to account for inflation, so that the same health effects can be achieved. The implementation of MUP was delayed for five years because of legal challenges by some alcohol industry organisations.
"The Scottish Government decided to introduce MUP at 50p per unit as this had been the level found to be justified by a series of court judgements.
"Many health organisations have continued to argue that the minimum unit price should be uprated in the future. In 2021 – so before inflation levels increased dramatically – Scottish Health Action on Alcohol Problems and Alcohol Focus Scotland estimated that the minimum price would have to be uprated to 62p to maintain the effect modelled in 2012.
"They suggested that a level of 65p would be appropriate. This level was close to that proposed and since introduced in Ireland."
Public Health Scotland has been funding several studies looking at the effectiveness of MUP. Last year, one report concluded MUP had been "effective" at lowering consumption, after finding a 3 per cent fall in the volume of alcohol sales over a three-year period.
Another study, conducted by The University of Sheffield and Figure 8 Consulting, found although there was a marked increase in the prices paid for alcohol by people with alcohol dependence and those drinking at harmful levels, there was "no clear evidence found of any change in consumption or severity of dependence" for those same people.
Similarly, a separate study found MUP had no impact on the drinking behaviours of children and young people, although they were aware of the price increase.
Comments
 0 comments
Want to join the conversation? Please or to comment on this article.