NHS Scotland waiting times: Humza Yousaf's Government misses huge target as waiting times increase
During his time as health secretary, Humza Yousaf pledged to "eradicate" waiting times – but the Scottish Government has already missed a huge target, new figures show.
Humza Yousaf's target to "eradicate" NHS waiting times has been missed, new figures have revealed, leading to calls for his new health secretary to urgently publish a recovery plan as thousands wait more than a year for treatment.
In July last year, the then-health secretary Mr Yousaf announced "some of the most ambitious targets in the UK", including a pledge to eliminate waits of one year or more to see a nurse or a doctor as an outpatient by March 2023.
However, data released by Public Health Scotland has shown that as of March 31, a total of 31,498 outpatients had ongoing waits of more than 52 weeks.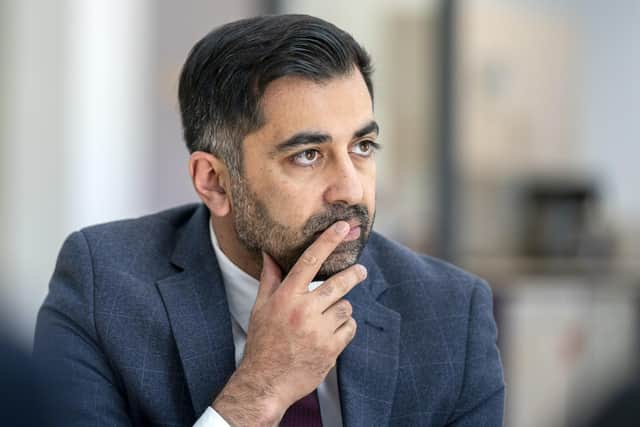 When the target was first announced, there were 37,321 outpatients waiting one year or more, showing a decrease of 5,823, but still way off Mr Yousaf's "eradication" target.
The figures, which date from Mr Yousaf's last month as health secretary before he officially succeeded Nicola Sturgeon as First Minister, show there were 779,533 Scots on an NHS waiting list – the equivalent of one in seven people.
This is the highest point on record and an increase of 175,890 compared to mid-2021, shortly after Mr Yousaf took over as health secretary. It is a rise of almost 7,000 from December 2022, when 772,887 were waiting for treatment.
As of March, 479,725 patients were waiting for an outpatient procedure, 147,241 patients were waiting for an inpatient procedure, and 152,567 were waiting for a diagnostic procedure.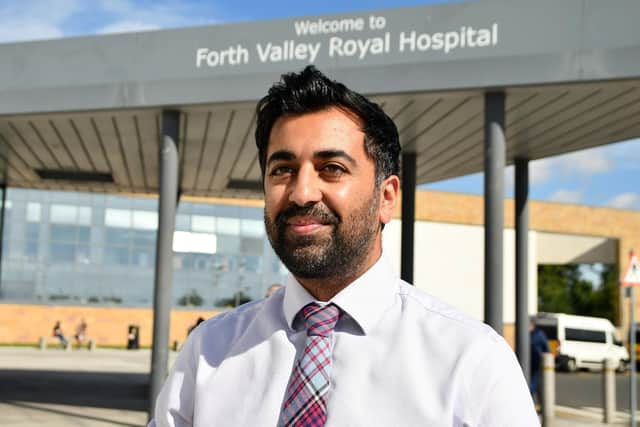 Mr Yousaf also pledged to eradicate waiting times of more than 18 months for inpatients in most specialities by the end of September 2023, and waiting times of one year for inpatients by the end of September 2024.
Both the Scottish Conservatives and Scottish Labour have called on the new health secretary, Michael Matheson, to urgently publish a recovery plan for NHS Scotland to hit Mr Yousaf's remaining waiting times targets.
The Scottish Tories shadow health secretary, Dr Sandesh Gulhane, said the "horrific" figures "underline the legacy" of Mr Yousaf's "disastrous stewardship" of NHS Scotland.
"It is disgraceful that close to 800,000 Scots are languishing on an NHS waiting list – and things are only getting worse," he said.
"We know that if patients suffer lengthy delays for appointments or crucial diagnostic tests, the greater the risk is to their health. In the worst-case scenarios, these delays lead to needless deaths. Humza Yousaf's flimsy NHS recovery plan isn't worth the paper it was published on.
"He has left an almighty mess for Michael Matheson to clear up. Instead of focusing on pushing for another divisive independence referendum, the SNP's relentless focus should be on driving these waiting times down.
"Michael Matheson should start by publishing a real recovery plan built on a modern, efficient and local NHS. That is the least suffering patients and dedicated frontline staff deserve from the SNP Government, who have failed to get a grip of these backlogs time and time again."
Scottish Labour branded the spiralling waiting times a "national emergency", with the party's health spokesperson Jackie Baillie saying "it should worry us all that the First Minister left behind such a catastrophic legacy" as health secretary.
"Despite the tireless efforts of NHS staff, record numbers of Scots are stuck languishing on NHS waiting lists and thousands have been left anxious and in pain for over a year," said Ms Baillie.
"Blame for this national emergency lies squarely with Humza Yousaf and his failed NHS recovery plan, which saw waiting lists spiral after the pandemic.
"Michael Matheson must fix the mess he inherited and deliver a real plan to help our NHS recover from the damage inflicted first by the pandemic and then by his predecessor."
Alex Cole-Hamilton, the leader of the Scottish Liberal Democrats, said "all signs point to an NHS writhing in crisis". "The Cabinet secretary must be decisive and act now before things get any worse in the winter," he said.
"Anything less is an insult to doctors, nurses and patients waiting in pain. Scottish Liberal Democrats have repeatedly called for a burnout prevention strategy and a staff and social care assembly, but these have been ignored time and time again.
"We can only hope Michael Matheson does not take the same reckless approach as his predecessor. Staff and patients have been suffering for far too long to entertain yet more nonsense from this government. They deserve far better than this."
Mr Matheson defended the figures, dating from his now-boss's tenure as health secretary, saying "we must recognise the enormous impact the pandemic has had on our health service". He highlighted the strain NHS Scotland was under during the "worst winter in the history of the NHS".
"The pausing of non-emergency treatment inevitably led to further planned care delays and an increase in waiting times," he said.
"Despite that, we have seen an increase in the level of activity for new outpatients and inpatient/day cases in the quarter to end March 2023, and the highest level of activity in any quarter since the start of the pandemic. We have also seen sustained increases for outpatients and for inpatients.
"While there is more still to do, there has also been a continued reduction in long waits over 18 months, as well as a significant reduction in long waits over two years since targets were announced last July.
"The Scottish Government continues to work closely with NHS boards to maximise capacity and reduce the length of time people are waiting for appointments and treatment.
"Challenges remain and there are still unacceptable waits in some specialities. But we remain committed to delivering sustained improvements and year-on-year reductions through maximising capacity across Scotland, enhancing regional and national working and the redesign of services of care.
"The national treatment centres will also provide significant additional capacity for orthopaedics, ophthalmic and diagnostic treatment.
"We have already opened two national treatment centres this year – Fife in March and Highland in April – with Forth Valley and the second phase of the NHS Golden Jubilee opening later this year."
Comments
 0 comments
Want to join the conversation? Please or to comment on this article.