NHS hospital crisis Scotland: Numbers waiting more than day in emergency departments now 250 times higher than four years ago
New figures show 3,949 patients spent a day or more in an accident-and-emergency (A&E) department in the six months up to June – more than a 250-times increase since 2019.
The number of Scots waiting more than a day in accident-and-emergency (A&E) is now 250-times higher than it was four years ago, damning figures have revealed.
Figures obtained by the Royal College of Emergency Medicine (RCEM) show 3,949 patients spent a day or more in A&E in the six months up to June. That compared with 15 patients during the same period in 2019.
Dr John-Paul Loughrey, of RCEM Scotland, said the figures were "completely unacceptable".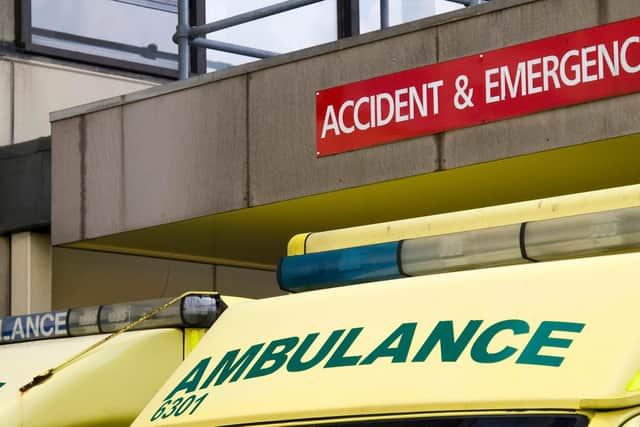 "While the data themselves are not surprising – every day we see appalling numbers of people facing long waits for care – what is shocking is the speed and scale of the increase in these waits in just a few years," he said.
"No-one should wait for 12 hours in an A&E, let alone 24 hours. It is completely unacceptable. Long waits are distressing for patients, especially the vulnerable, the elderly and those facing a mental health crisis.
"We know delays are associated with patient harm and increased mortality. The Government cannot ignore the fact that 24 hours in A&E has become reality and emergency care is not functioning as it should."
Dr Loughrey said the winter plan laid out by the Scottish Government last week was "disappointing", owing to the fact there was no spending pledged for increasing hospital beds or retaining staff. He called for "meaningful action" to avoid the issues experienced last winter.
Health secretary Michael Matheson said performance at A&E was "not where it needs to be" and that work was ongoing to bring numbers down.
"Our winter plan will support boards to maximise capacity to meet demand and our £12 million expansion of Hospital at Home will ensure people receive care at home or as close to home as possible, where clinically appropriate, to help reduce pressure on our emergency departments," he said.
"Hospital bed occupancy continues to be a major factor impacting on performance. To address this, the delayed discharge and hospital occupancy action plan is being implemented at pace, delivering actions we know work to ensure patients receive the right care in the right setting.
"As a result, our significant investment of over £15m, an additional 1,000 nurses, midwives and allied health professional from overseas have joined NHS Scotland in the last two years to bolster our existing workforce this winter.
"Our £50m funding for the Scottish Ambulance Service will help tackle increased demand and support ongoing recruitment – this investment will help reduce the need for people to go to hospital."
Dr Lailah Peel, from the British Medical Assocation Scotland, said it was "frustrating and upsetting to see these figures laid bare", but the figures were "of no great surprise".
"The pandemic may have accelerated things, but the deterioration of the current situation in A&E and across our NHS is not new, and the BMA amongst others, have warned about the repercussions of not adequately investing in health and social care, long before 2020," she said.
"The problems that we are seeing acutely are at the front door, but these problems are a symptom of a wider system failure. Hospitals are beyond capacity, we are often at many sites operating on a one-in, one-out basis, primary care and social care are in crisis, patients are waiting longer for procedures and requiring more care and management at home, which in turn puts pressure on community care.
"We knew this was coming, our ageing population trends predicted this, and sadly adequate action wasn't taken."
The revelations come as the latest figures showed the proportion of people waiting more than 12 hours at A&E is at its highest level since March. In the week to October 22, 5.8 per cent of people – a total of 1,281 – attending Scotland's emergency departments waited more than half a day.
The figure rose from 4.1 per cent the previous week. The last time it was higher was in March when 6.5 per cent of people waited that long.
In the same week, 65.1 per cent were seen and subsequently admitted, transferred or discharged at emergency departments, dropping from 66 per cent the week before.
The statistics represent the worst since May, when 64.3 per cent were seen within four hours in the week up to May 14, and it has only risen above 70 per cent in a single week once. The proportion of people seen within eight hours (12.6 per cent) was also the worst since early April.
Comments
 0 comments
Want to join the conversation? Please or to comment on this article.