NHS winter crisis: Top carers respond to Scottish Government's 'wholly inadequate' plan for winter
Top carers have responded to the Scottish Government's "wholly inadequate" plan for winter with "dismay", as they accuse ministers of ignoring their concerns
The two major representatives of Scotland's carers have voice their "dismay" at the Scottish Government's winter NHS plan, saying it is "wholly insufficient" to prevent another winter crisis.
Ahead of the next winter, an extra £50 million of funding is being given to the Scottish Ambulance Service (SAS) to boost staffing ahead of what health secretary Michael Matheson said would be an "extremely challenging" winter for the NHS.
Mr Matheson said the money would help the service recruit a further 317 frontline staff, with 18 new clinicians also to be taken on for a call centre hub where they can help to triage patients. He also pledged up to £12m would be spent to expand the Hospital at Home service, which allows people to be treated at home instead of in busy hospitals.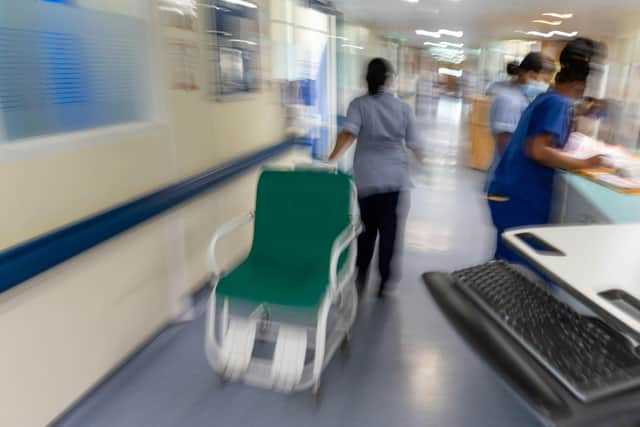 However, a joint letter, published by Rachel Cackett, the chief executive of the Coalition of Care and Support Providers (CCPS) and Dr Donald Macaskill, the chief executive of Scottish Care, accuses the Government of ignoring their concerns.
"Both of our organisations have attempted to convince both the Scottish Government and [council umbrella body] Cosla that the plan was wholly insufficient to address the deep crisis facing our members and a system that is meant to uphold the rights of individuals who require care and support," the letter reads.
"We have tried to be constructive in those discussions to which we have been invited, but have certainly not been engaged in any way as equal partners in finding solutions for a system in which our members deliver key public services for some of our country's most vulnerable individuals and families.
"This document reflects that. The marginal changes made to an early draft following our strong criticisms do not allay the fundamental concerns we shared."
In particular, the letter highlights "a deeply disturbing direction" for social care providers contained within the winter plan, which states: "Where necessary, local systems will prioritise social care and support services for those who need it most and are considered to be at a critical or substantial risk level."
Addressing this directly, the letter from the chief executives reads: "In the current climate, where we already see social care budgets being depressed to the detriment of people and, indeed the wider system, we fear this will be read as carte blanche to remove or reduce funding for many people who need support. This cannot be allowed to happen.
"We hope that the Cabinet secretary and Cosla leaders will clarify their intentions in including this statement and do significantly more to underline their commitment to a thriving social care system for which they wish to share accountability through a National Care Service."
A Scottish Government spokesperson said: "The planning for this winter started earlier than ever before. It is the culmination of the huge amount of planning and preparatory work, which has been underway across the whole system for several months.
"We have worked tirelessly with Cosla and our valued partners in the social care and social work sectors over the past months to ensure actions, which will help address short-term issues are included within our winter planning.
"In 2023/24, funding of more than £19 billion is provided for health and social care, to support recovery and secure sustainable frontline services, including more than £1.7bn investment in social care and integration. Funding for social care has increased by over £800 million compared to 2021/22 – well ahead of the trajectory to meet our commitment to increase funding for social care by 25 per cent over the life of the Parliament.
"Scottish Care and CCPS are valued partners and we will continue to collaborate with them to support the delivery of high quality social care services throughout the winter period."
Comments
 0 comments
Want to join the conversation? Please or to comment on this article.