Drugs deaths: Scottish minister admits deaths are 'still too high' as figures rise in nine councils
Figures show risks around drug deaths have increased for those Scots in the most deprived areas
Scotland's drugs minister has stressed the number of people losing their lives as a result of drug misuse is "still too high" after official figures showed the death toll dropped last year to its lowest level since 2017.
Data from National Records of Scotland (NRS) showed there were a total of 1,051 deaths due to drug misuse in 2022, a year-on-year decline of 279, or 21 per cent. It is the second year in a row that drugs deaths have fallen, although the total for 2021 dropped by just nine from the record high seen in 2020, when 1,339 people died.
However, Scotland continues to have the worst drug death rate in the UK and the rest of Europe. The total number of deaths remains starkly high compared to a generation ago; after adjusting for age, there were 3.7 times as many drug misuse deaths last year compared with 2000.
Elena Whitham, minister for drugs and alcohol policy, welcomed the 21 per cent fall in deaths, stressing the "tide is turning." She said it demonstrated that harm reduction and evidence-based policies rolled out by the Scottish Government was "starting to work on the ground".
But Scottish Labour's health and drugs policy spokeswoman Jackie Baillie said: "The fact that we are still seeing such shockingly high levels of drug deaths in Scotland is a national tragedy. That progress is being made is welcome, but for many it will be too little too late."
Scottish Conservative leader Douglas Ross said the latest numbers indicated some progress from an "utterly catastrophic base", but pointed out Scotland remained the drugs-death capital of Europe by an alarming distance.
After steep rises in the drug deaths figures between 2013 and 2020, the latest statistics represent a broadly positive development for the Government. But the datasets released by the NRS illustrate the dangers of presuming the hard-won progress is being made uniformly across the country.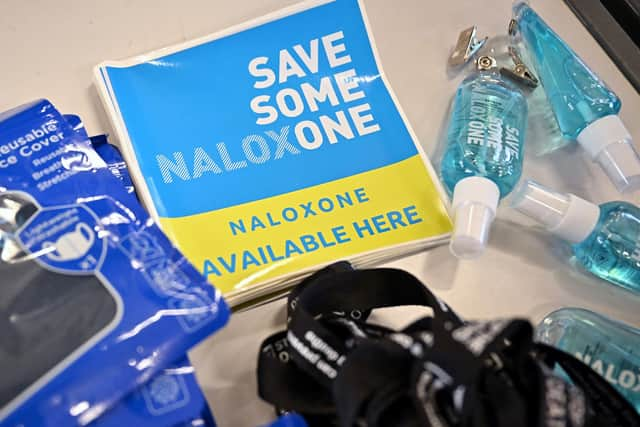 The statistics show that despite the overall fall in deaths, those people living in the most deprived areas of the country are at increased risk of losing their lives due to drug misuse. In 2022, they were 15.9 times more likely to die than people living in the least deprived areas; the previous year, the rate stood at 15.3.
Indeed, despite the nationwide downturn in drug deaths, nine local authorities – more than a quarter of all councils – recorded an increase in fatalities during the period in question. The spike was particularly pronounced in Inverclyde, where there was an 81 per cent jump in deaths, up from 16 to 29.
Asked about the figures, Ms Whitham told The Scotsman she wanted to "drill down into the detail," adding: "Where we do have outliers in places like Inverclyde, it's important for me to work with the alcohol and drug partnership leads in those areas to try and understand what's happened over the past year, and where better we can support them with their response."
The NRS data also shows that while the overall number of deaths was down, the decline was far more pronounced among men – down 26 per cent – compared to women, down just 10 per cent. Ms Whitham, speaking on a visit to the Back on the Road project in Glasgow, which helps those who have suffered addiction into work, said she wanted to do more help women who use drugs.
"Women who use drugs, especially mothers, are among some of the most stigmatised individuals in our society, and they're worried about coming forward, because they're worried about losing custody of their child," she explained.
The Glasgow City Council area had the highest rate of drug misuse deaths over the period 2018 to 2022, at 44.4 deaths per 100,000 people, closely followed by Dundee City, where the rate was 43.1. In contrast, in East Renfrewshire, the rate was 9.5 per 100,000 people and 11.1 in Aberdeenshire.
Opioids, such as heroin and methadone, were involved in 867 (82 per cent) of the deaths in 2022, the data showed. Meanwhile, benzodiazepines, such as diazepam, were implicated in 601 deaths, while cocaine was involved in 371 fatalities. There were 476 drug misuse deaths where controlled, new, psychoactive substances were implicated, with some deaths having involved more than one type of drug.
Ms Whitham said she still wanted to pursue the decriminalisation of possession of drugs for personal use, an idea opposed by the UK Government, which controls the regulation of drugs. "I think we can't stop pursuing decriminalisation of drugs for personal supply, as well as ensuring that our drugs laws are brought into the 21st century," she said. "We need to make sure that we have a network of drug checking facilities and safer consumption facilities across the country, as well to reduce harm for people that are continuing to use drugs."
The Scottish Drugs Forum warned Scotland's response to the ongoing public health emergency was "inadequate", and there was a "long, long way to go". The organisation urged ministers to implement an emergency plan above and beyond the £250 million so-called 'national mission' package of measures introduced two years ago to tackle the crisis.
The Royal College of Physicians of Edinburgh said while the figures were encouraging, they did not represent a "trend", and pointed to previous data that highlighted an increase in the number of drug deaths in the final three months of last year.
Belinda Phipps, chief executive at With You, a charity that supports people experiencing addiction problems, said: "With the right support, all 1,051 of the people who died through drug use in 2022 could still be alive today. The reasons behind this public health crisis are deep-rooted and complex, but drug-related deaths are not inevitable in Scotland, and we must not stand back and accept them."
Comments
 0 comments
Want to join the conversation? Please or to comment on this article.