'The travel bug stayed with me': British Council chief relishing return to Scotland to help the nation go global
Director comes home after dozen postings across Africa, Europe and South America
Peter Brown has only been back in Scotland for two months, but he has been impressed with what he has found so far.
The newly-appointed Scotland director of the British Council gave a glowing endorsement of the work of the nation's higher and further education institutions, as well as the "creativity and innovation" he has witnessed in the cultural sector.
In an exclusive interview with The Scotsman, Mr Brown said there was much to celebrate, in contrast to the more gloomy impression many have at the moment, amid ever shrinking budgets and increasingly bitter industrial action.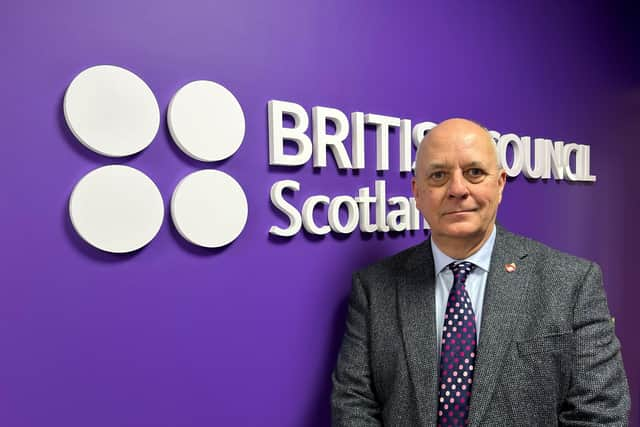 "I've been through in Glasgow, I've been up in Stirling, I've been up in Dundee, and I actually see a really sort of ambitious, vibrant education and culture sectors," he said.
"When I go to something like the Royal Conservatoire of Scotland through in Glasgow, it's astonishing stuff they are doing.
"When I go to Stirling to talk about cultural relations and so on, I see a really vibrant university there.
"So, I think, I see in the education sector a group of universities and colleges who are ambitious, who want to internationalise, who are keen to develop these research collaborations and partnerships or so on, who give international students a really positive experience as well."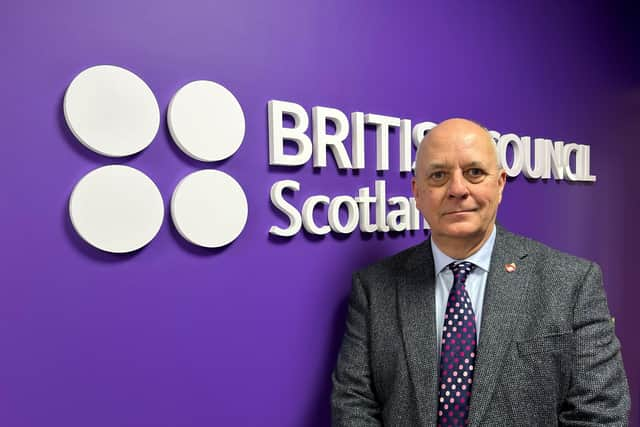 The internationalisation of higher education will be among the topics up for debate as close to 400 key figures from around the world arrive in Edinburgh today for the Going Global conference, organised by the British Council.
"The demand for higher education globally is growing exponentially. That is fantastic. At the same time, we've got these issues of equity, sustainability and scalability in many contexts," said Mr Brown.
"What this conference is about is interrogating these concepts and themes, and coming up with ideas."
The conference is returning to its roots, having started life in Edinburgh in 2004.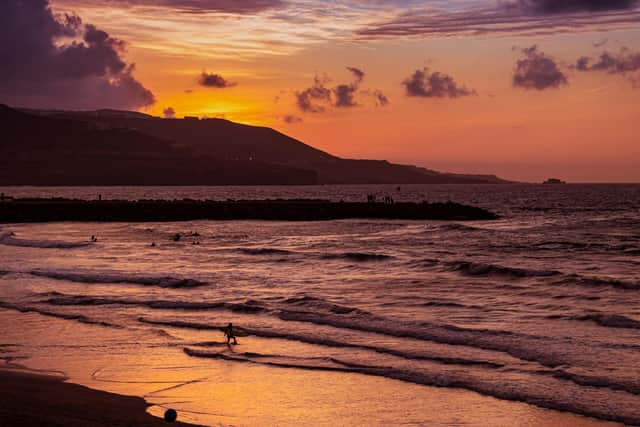 Mr Brown has also enjoyed a homecoming since taking the Scotland director post in September.
Born in Musselburgh, the 61-year-old grew up in Dunfermline, before studying at St Andrews and Heriot-Watt universities.
His interest in other cultures dates back to his days at Dunfermline High School, where he chose to study German language and literature over physics and chemistry.
"Between fifth and sixth year of school I went to Germany for the first time to work in a fast-food restaurant basically. And that's when I got the taste to travel," he said.
At university, Mr Brown continued his studies of German language and literature, which included a year abroad in Hamburg.
After graduating, he started teaching English as a foreign language, before landing a job in 1989 with the British Council, where he has been ever since.
The British Council considers itself to be the UK's international agency for cultural relations.
"What we are about is connections - we're building connections between the UK, and in this case Scotland obviously, and the rest of the world through English, education and arts and culture," he said.
Mr Brown's first job for the British Council was in Bilbao in 1989, followed by a move to be assistant director of studies in the Canary Islands, where he met his wife Carmen Hernandez-Garcia, who is from Gran Canaria.
By the time the couple moved to Edinburgh in September this year, they had notched up a dozen postings in 10 different countries, across three continents, bringing up two children along the way.
From the Canary Islands, Mr Brown moved to Venezuela, then Hungary, Nigeria, Mozambique, Brazil, back to Venezuela, then Uganda, Ethiopia and most recently Serbia, where he covered the western Balkans from Belgrade.
"The brilliant thing about the British Council, from that personal perspective, is that each experience is different," he said.
"You are learning something new in every country, you're learning a different language and a different culture. The job is different. The travel bug stayed with me."
On the surface, promoting British culture might not seem like the easiest job in a country like Serbia, where the Nato bombings from a quarter of a century ago will remain fresh in the memory of many.
But Mr Brown, who started in the Balkans on the day the Serbian Government declared a state of emergency in response to the Covid-19 pandemic, said the work of the British Council was well received.
He highlighted a scheme called "21st Century Schools", which was funded by the UK Government and delivered by the British Council along with various partner organisations.
"That programme reached one million children across the western Balkans in 4,000 schools," he said.
"What it did was develop the kids, working through the school leaders and the teachers, develop their problem solving and critical thinking skills, and their coding skills – a programme that is really benefiting the schools and families in the region.
"When you are working in that sort of area, the collaboration with the British Council is absolutely positively seen, there's no doubt about it."
The British Council established an office in Scotland in the aftermath of World War II, and it recently moved to the ninth floor of Edinburgh's Canning Street, with panoramic views of the city's skyline.
Mr Brown is relishing the chance to return home, along with his family and Serbian dog Milo.
"It's great to be back here. All of my experience until now has been working for the British Council outside the UK, so working these connections, building the understanding and the trust and so on, but from that perspective, linking whatever country I'm working in to the UK, in different ways," he said.
"So it's really interesting to come back to Scotland, to come home and work at that from the other angle as well – in this case building the connections between Scotland and the rest of the world in arts and culture, and education."
Comments
 0 comments
Want to join the conversation? Please or to comment on this article.