The heads of Scotland's higher and further education institutions were told by the Scottish Funding Council (SFC) on Tuesday the money announced in December's Budget was now "not available". They were reportedly informed the Scottish Government needs the cash to meet other priorities.
The move, which emerged amid rising fears about the impact of the spending squeeze on the sector, was branded "completely inexplicable" and a "total betrayal". Opposition MSPs demanded ministers "urgently" explain the decision to Parliament.
Professor Dame Sally Mapstone, convener of Universities Scotland, said she was "extremely disappointed" by the decision. "The Scottish Government heralded £20m additional revenue investment in higher education as good news when they announced the Scottish Budget on December 15 last year," she said.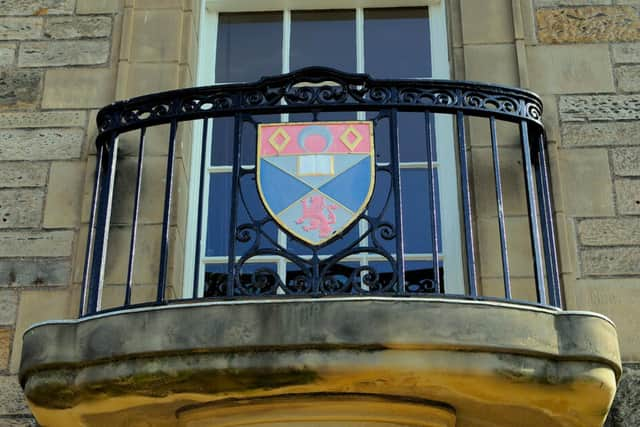 "It was far from what was required to meet students' increasingly complex needs, or to sustain Scotland as a powerhouse of research and innovation, but it was a welcome step in the right direction.
"It is therefore dismaying when almost half a year later we are told that higher education is being deprioritised by Scottish Government, despite the Scottish Parliament having voted for a Scottish Budget that provided for a £20m cash increase in investment in higher education. This will compromise our capacity to contribute to the nation's recovery.
"The Scottish Government needs a plan for universities, staff and students. It cannot keep expecting to have world-class universities on the cheap."
Last month, Dame Sally had warned that a flat cash funding settlement, amid high inflation, was leaving the sector facing "managed decline".
In December, Deputy First Minister John Swinney had announced £26m for colleges and £20m for universities.
"We must have a skills, training and research environment that enables our people and businesses to realise their potential," he said.
Universities and colleges had been awaiting the £46m promised in the Budget, but concerns had been growing in private amid a lack of detail from the Government about when it would arrive and what it was to be used for.
Higher and further education minister Graeme Dey dodged questions when he was quizzed about the money at Holyrood last week.
The promise was ditched on Tuesday as college lecturers begun a fresh campaign of industrial action short of strike, consisting of a resulting boycott and work to rule, in pursuit of fair pay.
Shona Struthers, chief executive of Colleges Scotland, said she was "deeply disappointed and dismayed" by the U-turn from the Scottish Government.
"Removing the equivalent of £1m from each college is completely inexplicable – colleges are already cash strapped, making cuts to courses and winding down parts of their offer due to a lack of funding, not a lack of ambition from colleges or demand from students or employers," she said.
"Since December last year, numerous ministers and Cabinet secretaries have repeatedly assured the college sector and Scottish Parliament that this funding was coming in 2023/24. Yet, less than five months on from the Government's Budget announcement, this promised money has now been withdrawn.
"Ministers are relying on colleges to provide hundreds of thousands of students with training and education each year, but with less and less funding. It simply can't be done any more."
Scottish Conservative education spokesman Stephen Kerr called on ministers to urgently explain their rethink.
"This is a total betrayal of our education sector – once again it simply does not wash that education is the SNP's top priority when cuts like this are the reality," he said.
"Millions in funding that had been earmarked for our college and university sectors has now been brutally snatched away from them by the SNP. At a time when our college and universities are already under severe financial pressure, losing this money that they will have budgeted for the year ahead is a hammer blow to them.
"With this near-£50m cut in funding, the SNP have delivered a bombshell for those involved in our education sector and put the future prospects of many college and university students at risk."
Labour's Pam Duncan-Glancy said: "After throwing further and higher education into chaos by failing to provide answers over money, the SNP Government has now decided to withdraw £46m in funding altogether. This is a complete betrayal of Scottish students and staff who work in education here.
"Education secretary Jenny Gilruth has followed in the footsteps of her predecessor Shirley-Anne Somerville and left Scotland's colleges, universities and students, high and dry. With industrial relations on their knees and students under more and more strain, it's clear the SNP has given up on staff and students and ceased to do the basic work of government. It's high time they acted before more students and staff are failed."
A Scottish Government spokesperson said it was facing the most challenging financial environment since devolution, adding very difficult decisions across portfolios have had to be made.
"As a result of these pressures, the additional uplift of £26m for colleges and £20m for universities announced as part of the 2023/24 Budget can no longer be provided this year," he said.
"This decision does not affect the core settlement for the sectors. SFC has already announced indicative funding allocations for colleges and universities on April 13, 2023.
"The Scottish Government continues to spend nearly £2 billion a year on Scotland's universities and colleges through the SFC alone. Research and innovation funding for universities has increased, with additional funding allocated for high priority maintenance across college estates."