Scottish education directors see no 'logic' in SNP teacher numbers pledge and warn it is leading to heavier council cuts
A Holyrood committee has heard some teaching posts are being 'falsely' retained
Education chiefs have said they can not see any "logic" in the SNP's promise to maintain overall teacher numbers and warned the policy is leading to "heavier" cuts on other vital services as budgets are squeezed.
MSPs heard on Wednesday the Scottish Government's commitment means some councils are having to "falsely" retain teachers in some areas where the posts are not deemed essential, such as communities where the school roll is falling.
Ahead of the 2021 election, the SNP pledged to recruit 3,500 additional teachers and classroom assistants. Ministers have since told councils they will claw back funding if teacher numbers are not maintained.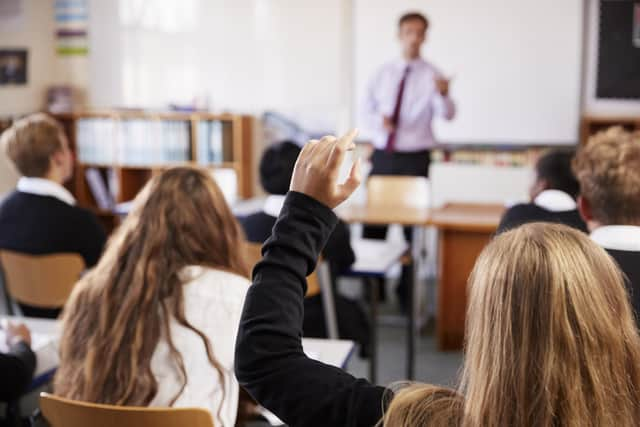 However, despite the promise, the number of full-time equivalent teachers in Scotland fell by 122 to 53,459, between 2021 and last year.
Dr Douglas Hutchison, president of the Association of Directors of Education in Scotland (ADES) and executive director of education at Glasgow City Council, said maintaining teacher numbers posed a "challenge" for local authorities.
Giving evidence to Holyrood's education committee on Wednesday, he said: "It's difficult to see the logic of it if you are in a local authority with a declining roll, compared to if you are in, you know, West Lothian with an increasing roll and building new schools.
"You are almost having to falsely keep teachers that are supernumerary because you have to focus on absolute teacher numbers. I just struggle to see the logic of it.
"Pupil-teacher ratio, I can understand. But if you've got a falling roll and you are forced to keep teachers, then the opportunity costs then become clear."
Councils across Scotland are expected to make more than £300 million in cuts this year, raising fears for jobs and basic services. Meanwhile, non-teaching school staff in much of the country are preparing strike action next week.
Dr Hutchison said: "If we are protecting teachers, then the burden of savings falls on others, like support for learning workers, educational psychologists, home-school liaison workers, technician support services, admin staff in school offices.
"There are a range of people without whom education can't function, and if we protect one group, albeit a very important and very valued group, then the burden of savings falls heavier on others within education.
"And if that's true of education, it's true more generally of councils, because education depends on other council services in order to operate, and the burden of savings falls significantly more heavily if education is protected.
"Obviously as director of education I'm happy if education is protected, but I also recognise the impact that has on other services."
A Scottish Government spokesperson said: "Councils have been provided with an additional £145.5m in this year's budget to protect increased teacher numbers, because we know this is linked to improved educational outcomes for our young people.
"There can be no stronger intervention in closing the poverty related attainment gap than the excellent learning and teaching which is provided by our skilled teaching workforce.
"The education secretary has discussed the national picture on recruitment with Cosla, and she looks forward to working with our councils on the issue of recruitment and retention – noting that it is they who employ our teachers and not the Scottish Government."
Comments
 0 comments
Want to join the conversation? Please or to comment on this article.