The Scottish Government is also set to legislate to force local authorities to provide a minimum number of school hours a year, which will prevent councils from cutting class time to save money.
Councils were provided with around £145 million by the Government intended to maintain teacher and support staff numbers while providing places for probationer teachers.
However, reports in recent weeks have warned individual councils could be set to cut the number of teachers by as many as 800, such as in the case of Glasgow, and the school week to save money and protect other services.
The intervention by education secretary Shirley-Anne Somerville follows weeks of warnings from Nicola Sturgeon that councils should use the additional cash for the intended purpose rather than to balance the books.
It also comes as Scotland's largest teaching union, the EIS, confirmed an escalation to the ongoing strike action involving teachers, which has seen months of disruption to pupil's education.
Teachers will specifically target the constituencies of senior SNP and Scottish Green ministers and MSPs in March, including that of Ms Sturgeon, the union announced, as it continued to demand a higher pay deal, which has to date been rejected as unaffordable by the Government.
Speaking in Holyrood as part of a ministerial statement on Tuesday, Ms Somerville warned reductions to teacher numbers and the length of the school week would damage the Government's attempts to "substantially eliminate" the attainment gap by 2026.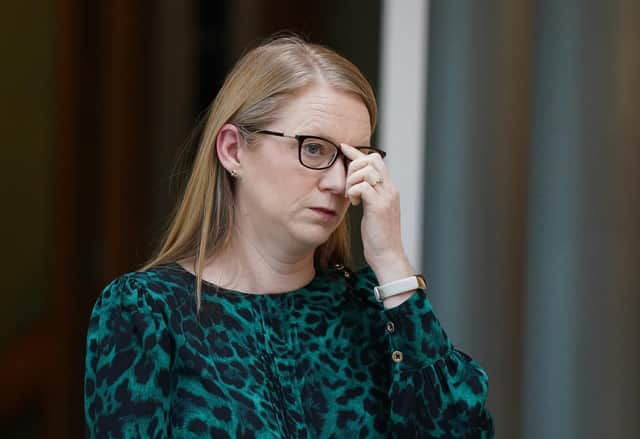 She said: "A key element of continuing this positive progress is to ensure there is no reduction in the fundamentals of education delivery, including the number of teachers or support staff, and the amount of time children spend learning in schools.
"My immediate concern is the threat that the numbers of teachers and support staff may start to fall in the next financial year as a result of council budget decisions. I wish to avoid such an outcome."
The education secretary said if any of the £145.5m earmarked for teachers and support staff in the next financial year was spent elsewhere, the Scottish Government would "withhold or recoup" funding.
Ms Somerville also announced plans to legislate for a minimum number of school hours a year to stop councils cutting class time to save money, using ministerial powers – subject to MSP approval.
She told MSPs: "Now I know this decision may not be welcomed by local government, but I have a very clear commitment to improve Scottish education, which we are making good progress on, and I am firmly of the view that we will not do that by having fewer teachers or support staff, or less time in school.
"It is vital that we can maintain increased teacher numbers in the context of the difficult budgetary choices currently faced by both local government and the Scottish Government, while we work towards the delivery of our commitment to increase teacher numbers by 3,500 by the end of this Parliament."
Despite claiming she did "understand" the pressures faced by councils, Ms Somerville refused to set out where councils should cut budgets to save the money now formally ringfenced.
However, the SNP minister did accuse Scottish Conservative MSP Pam Gosal of not coming forward with suggestions of where the Government should find money to fund education policy when the opposition member said the threat would lead to cuts elsewhere in the education budget for schools.
Scottish Conservative education spokesperson Stephen Kerr said the announcement "destroys what little good faith still exists between councils and the Scottish Government". The announcement, he said, would lead to deep cuts that would impact on children, from things like swimming classes, after-school clubs and school meals.
"The Cabinet secretary is responsible for making our country a poorer place to be a child and a young person," he said. "She won't fight for them. All the evidence tells us that she doesn't fight for children and young people's interests around the Cabinet table."
Michael Marra, the Scottish Labour education spokesperson, labelled the statement "woeful". He said there was "blind panic in the Government and chaos in council chambers", adding "it offers zero clarity to parents, pupils, teachers or to taxpayers".
Mr Marra said council chief executives had told members it was not possible to re-draw their budgets at this stage of the financial year. Budgets are set to be finalised across local government in the coming weeks.
Ahead of the announcement, council umbrella body Cosla accused the Government of U-turning on previously agreed "flexibilities" for local authority budgets, arguing the attainment, health and wellbeing of children and young people would be impacted by the cuts that would now fall elsewhere.
Cosla's presidential team said: "It is not the case that local government wants to cut any of our services. We have to work with the budgets we have and unless there is more funding, we are forced to make democratic decisions on priorities for the communities we serve.
"On the one hand our budgets have been cut in real terms, and on the other hand the Scottish Government is intervening with additional policies which means significant cuts will have to be made in other areas that support children, young people, families and our communities.
"These latest asks and the Government's narrative demonstrates a Government who does not fully value and respect local government's role. Asks of this nature are addressing a symptom, not the cause."
This type of financial threat has been made before by the Scottish Government, with deputy first minister John Swinney in 2015 attacking local authorities over staffing in classrooms, warning only those who promised to protect teacher numbers would be able to access a then-£41m funding pot.
Want to hear more from The Scotsman's politics team? Check out the latest episode of our political podcast, The Steamie.