Service fears as Scottish councils wield axe to make £300m of savings this year
Union warns 'cash-starved' councils can't provide statutory services
Councils across Scotland are set to make more than £300 million in cuts this year, sparking warnings from a leading union that some will not be able to provide even basic services.
Local authorities across the country are facing a combined two-year shortfall of £1.12 billion by 2025/26, despite widespread efforts to make savings in an attempt to balance the books.
An analysis by the BBC's shared data unit found that 29 Scottish councils intend to make savings in 2023/24. The savings are worth a combined £302.2m, with the steepest cuts being made by Aberdeen City Council, which has identified £43.4m of savings, the equivalent of eight per cent of its net budget.
It is followed by Glasgow City Council, which is making £31.3m in revenue savings. Highland Council plans to make savings of £22.2m, followed by East Dunbartonshire (£20.6m), and Aberdeenshire (£18.6m).
Glasgow is forecast to have the highest cumulative shortfall (£196m) by 2025/26, although that forecast will likely have changed since the budget was set, with the £196m figure not taking into account pay negotiations and budget decisions agreed in recent months.
A spokesman for the council said that like many ordinary households, it was dealing with "exceptionally difficult financial circumstances," and stressed that in the course of setting the council budget, members were required to bridge a spending gap of just over £49m, which was achieved via the savings, as well as a contribution from reserves, and a council tax increase.
Other councils facing significant cumulative shortfalls by 2025/26 include Shetland (£109m), Highland (£86.7), Edinburgh (£69.2m), and Falkirk (£55.5m). Based on the largest savings per person, Orkney is top of any council across the UK, with cuts amounting to £311 for every person on the archipelago. It is followed by Aberdeen City (£191 per person), East Dunbartonshire (£189), and Shetland (£184).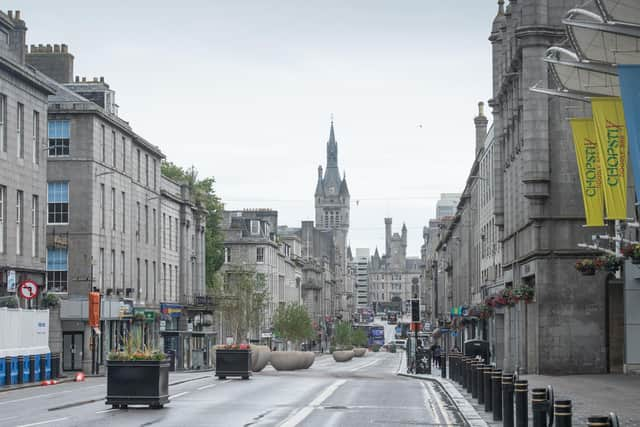 The analysis also shows that across Scotland, councils are also planning to use £211.8m of reserves in 2023/24. As a proportion of net budgets, Shetland Islands Council is set to use the most reserves in order to plug funding gaps. Its planned use of £36.7m in reserves amounts to nearly a quarter (24 per cent) of its net budget.
In a statement, the council said that its budget continued to be set at a higher level than is sustainable, and required to be supported through an "unsustainable draw" of its held reserves. However, it added that it was in the "relatively unique" position of having substantial levels of historic reserves. Highland Council intends to draw on £23.2m of its reserves, followed by North Lanarkshire (£17.6m), Orkney (£17.4m), and Renfrewshire (£8m). They are among 25 councils in Scotland that plan to dip into their reserves this year.
Mike Short, head of local government at Unison, warned that council finances were in the "direst of straits," with central government "squeezes" on budgets meaning that "services either vanish or are scaled down dramatically"
"Cash-starved councils have had to go cap in hand to ministers for emergency support or raid already depleted reserves in a desperate attempt to balance the books," he said. "This is not a sustainable situation. Local authorities simply don't have the funds to provide even statutory services.
"Council employees have had enough. Pay rises haven't kept up with the cost of living. And staff want to take pride in their jobs and run good quality services for local residents. This is no longer possible. It's no wonder so many are quitting for pastures new.
"As staff leave, there's no money to replace them, which piles on the pressure for those remaining. In social work, staff shortages have led to excessive workloads, putting vulnerable families at risk."
It comes after the GMB Scotland announced that non-teaching school staff in 10 council areas will go on strike for two days next month, imposing further pressure on cash-strapped councils.
The areas affected are Aberdeen, Clackmannanshire, Comhairle Nan Eilean Siar, Dundee, East Dunbartonshire, Falkirk, Glasgow, Orkney, Renfrewshire and South Ayrshire. GMB Scotland's members rejected a pay offer of 5.5 per cent earlier this year.
The BBC analysis found that across the UK, the average council now faces a £33m predicted deficit by 2025/26, a rise of 60 per cent from £20m just two years ago. The 190 authorities surveyed said they would need to find £5.2bn to balance the books by April 2026 - even after making £2.5bn of cuts this year. The average planned savings per analysed council are £13.9m, a 36 per cent increase since the last study in 2021/22, when the average stood at £10.2m.
Mr Short stressed it was vital that money was provided to councils in order to allow lifeline services to be delivered. He added: "Decent, well-resourced public services are essential. They're a driver of economic growth and the fabric holding communities together. Cuts are a false economy as the dreadful experiment with austerity has more than shown. It's time for a fair funding settlement, both for now and future years."
In a statement, the Scottish Government said: "The Scottish Government acknowledges the fiscal challenges facing councils but despite a decade of UK government austerity measures, local government revenue funding is 2.6 per cent higher in real terms than it was in 2013/14.
"The Scottish Government has increased the resources available to local government in 2023/24 by more than £793m, a real terms increase of £376m, or 3 per cent, compared to the 2022/23 budget figures."
Comments
 0 comments
Want to join the conversation? Please or to comment on this article.