Jenny Gilruth backs standardised model for reporting school violence across Scotland
The education secretary said the current postcode lottery was 'problematic'
Education Secretary Jenny Gilruth wants a new standard to be introduced across Scotland for recording violent incidents in schools.
The SNP minister told The Scotsman that currently there were "lots of disparate approaches" between councils, which has made it "problematic" when trying to judge the scale of any increase in disruptive behaviour.
Ms Gilruth said ending the postcode lottery would be "challenging", however, because of the varying levels of access different councils currently pay for in order to access data systems.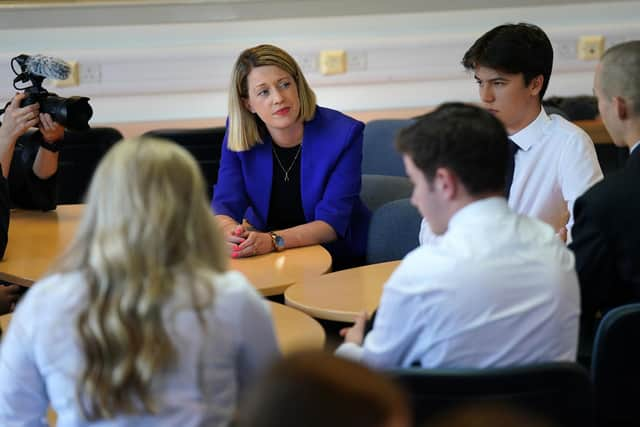 Potential changes to incident reporting will be discussed at an upcoming "series of summits" on school violence, which is due to get under way next month.
A spate of high-profile incidents has led to widespread demands for action to address growing concerns about school violence in Scotland.
Teaching unions have called for a culture change when it comes to reporting incidents, with some authorities accused of operating a "Byzantine system", which can lead to under-reporting.
Freedom of information (FOI) request responses from Scottish councils to The Scotsman show how many senior officials have been unable to find reliable data on violent incidents.
In one local authority, emails from education bosses reveal how they struggled to respond to media requests relating to classroom disorder.
One official told colleagues: "If an FOI comes in it will be difficult to extract the data needed. The old system had its problems but we could extract relevant data with ease.
"The raw data I have at the moment is that there have been over 2,000 pupil incidents this academic year... I don't believe that to be correct."
At another council, officials appeared to have provided the wrong information in response to an FOI request on classroom violence.
"The 960 reported (incidents) was incorrect. The correct total should have been 643. The reason for the error was that the data involving some individual incidents was recorded over several rows," they said.
Last week, a survey of parents showed 59 per cent said that their child had been impacted by a violent incident at school.
However, in an exclusive interview with The Scotsman, Ms Gilruth said it was still not possible to be certain whether violent behaviour had increased.
She said the government must wait until a major study is published in November.
"I don't think we can say that we know that it has gone up. What we can say is that we know there has been a number of high profile incidents that we are all aware of," she said.
"I think sometimes there is an element of sensationalising around about when things have happened.
"I think they always happened in schools. When I was at school it happened but people didn't have phones to record these kind of things.
"There would be fights in the playground, certainly, but it wouldn't end up online because the internet didn't really exist in the same way, which makes me sound terribly old.
"So I think there has always been behavioural challenges in our schools but what I am picking up is that there has been a change in the type of behaviour since the pandemic.
"Distressed behaviours in our young people who can't cope or actually who really needed the stability of school during the pandemic and not having that in their lives has created, or layered on, additional chaos and uncertainty.
"They come back to school and are asked to sit-down, to behave to listen, and they find that really difficult because those rules and that structure hasn't existed in their life for such a long time.
"So I think that's part of it. I think we've seen a number of different extreme examples in recent times that haven't necessarily been well responded to, and I think the teaching workforce needs to have support from their employers on this."
The education secretary, who has been in post since March, said the Behaviour in Scottish Schools Research (BSSR) would provide the "granular detail" required.
"I think there have been some FOIs from opposition parties to councils, (but) that doesn't always give you the accurate national picture because different local authorities gather the data in different ways, which is problematic. Which is why BSSR is really the touchstone in all of this," she said.
"I've committed to having a summit obviously in November but then a series of summits starting in two weeks time in September, working with HMI (education inspectors), who carried out a thematic inspection, and are looking at how events are recorded in schools on SEEMiS (an education management information system), which is very interesting because there are lots of disparate approaches to how events are recorded.
"That's not great because we don't get an accurate picture from that. So we need all of our councils to look at how we can, I think, bring a level of standardisation to that, which will be challenging because different councils pay for different services on SEEMiS."
She added: "We don't have a standardised approach to it. I think we probably need to get there."
A spokesperson for council umbrella body Cosla said local authorities take safety in schools "extremely seriously".
She added: "The safety and well-being of everyone who uses council facilities is of paramount importance. Schools should be safe and welcoming places for children, young people, staff and the wider community.
""However, that said, councils are never complacent when it comes to safety and always strive for improvement.
"All councils will have reporting mechanisms in place for recording incidents, and we have recognised recent findings from Education Scotland's thematic inspection on bullying.
"This is an issue which is considered regularly at the Scottish Advisory Group on Relationships and Behaviour in Schools, which is co-chaired by Cosla and Scottish Government.
"We look forward to taking part in the forthcoming Scottish Government summits to consider these issues further with our partners across the education system."
Comments
 0 comments
Want to join the conversation? Please or to comment on this article.