School violence Scotland: Survey shows 59% of Scottish parents say their child has been involved in violent incidents at school
The findings have emerged ahead of an upcoming school violence summit
Almost six out of ten parents in Scotland have a child who has been involved in an incident of violence or challenging behaviour at school, a survey has found.
The National Parent Forum of Scotland revealed the results of its survey after hearing from 1,092 parents and carers across the nation.
The survey showed 59 per cent of respondents had a child who had been involved in an incident, 61 per cent said the school did not communicate "appropriately" with them about what had happened, and 59 per cent said the incident had not been dealt with in a "timely and complete manner".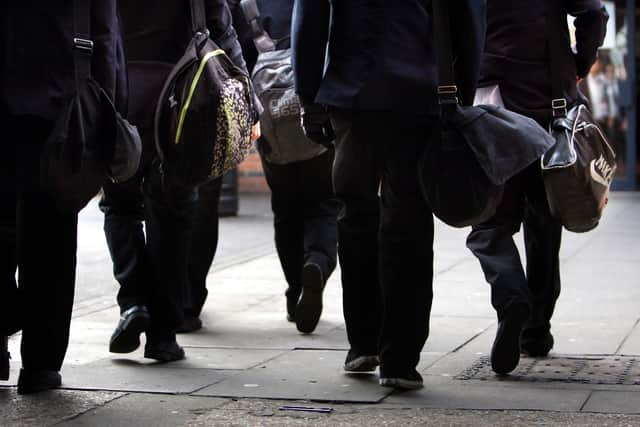 The results have emerged ahead of a summit on school violence, which is expected to get under way next month.
Education secretary Jenny Gilruth ordered the summit amid concern at a number of high-profile episodes.
The parent forum's survey, which was carried out over two weeks in June, also showed 94 per cent felt that violent or challenging behaviour "undermines the learning experience for children".
A total of 83 per cent said media coverage had not exaggerated the scale of the problem. Only 49 per cent felt their child was safe at school and more than two-thirds of respondents said the school involved did not have adequate staffing or support to monitor behaviour and enforce policies.
Asked how often their child mentions fights or violence in school, 10 per cent said "daily", 20 per cent said "weekly", 16 per cent said "a few times each month", 14 per cent said "a few times every term", and 15 per cent said "a few times each year".
One respondent said: "A lot of behaviours would be lessened or maybe wouldn't even occur if the school environment (including the staff) was more nurturing and trauma-informed."
Another wrote: "There are no consequences now. Children are not scared with a 'phone call home'. Staff are not permitted to take action strong enough to deter such behaviour."
The forum said the feedback from the survey would be used to inform its contributions to "upcoming conversations around school behaviour, as well as forward policy discussions".
The Scotsman revealed last month how education chiefs in parts of Scotland had privately confirmed a "sharp" rise in attacks on school staff, with officials saying "almost all" the increases were linked to pupils with additional support needs (ASN).
The summit is expected to hear from young people, parents and carers, schools, local authorities, unions and campaigners to try to identify ways to tackle the problem.
The Scottish Government has previously said: "The education secretary has taken a lead role on behaviour and relationships in our schools since her appointment, recognising that behaviour and relationships in our schools have changed since the pandemic.
"Wider impacts, such as the ongoing cost-of-living crisis, are also playing a part as has been identified through the National Conversation on Scottish Education.
"Children and young people must have every opportunity for successful learning that is unhindered by disruptive behaviour. It is also important that teachers and school staff are able to work in a safe, welcoming and supportive environment.
"That is why the education secretary has announced a behaviour summit, which will involve a number of partners, including teacher representatives."
Comments
 0 comments
Want to join the conversation? Please or to comment on this article.