Unseasonable weather heaps misery on retailers as Scottish sales tumble
An early summer rebound in Scottish retail sales fizzled out last month, new figures today reveal, as the weather took a turn for the worse and the economic pain intensified.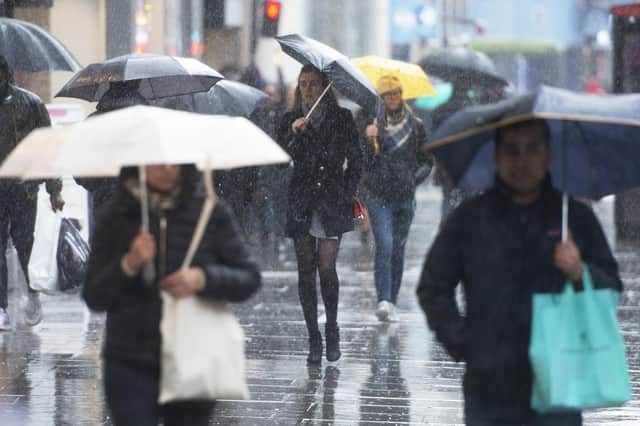 Releasing its latest sales monitor, the Scottish Retail Consortium (SRC) said real term sales had fallen by 3 per cent in July, compared with the same month a year earlier. That marks an abrupt reversal following positive figures in June, when heavy discounting and summer holiday preparations had boosted takings. Ewan MacDonald Russell, deputy head of the SRC, said: "Sales sharply fell in July as the miserable economic news combined with unseasonable weather to heap misery on shops.
"Summer food ranges were ignored as customers turned away from seasonal specials in favour of warming traditional foods. It was worse on the high street as fashion retailers saw hopes of sunshine spending splurges washed out with the unseasonable weather meaning summer clothing lines were subject to early discounting."
The latest figures showed that total food sales increased by 9.1 per cent last month versus July 2022, though much of that will have been driven by the effects of inflation. Total non-food sales rose by a meagre 0.9 per cent.
MacDonald Russell added: "With the wider economy stumbling under the dual burden of high inflation and rising interest rates, this may not be the last month of disappointing sales in the near future. With that in mind politicians need to be realistic on what policy measures they bring forward in the coming months, as it's certain any further costs will be passed onto hard pressed consumers."
Paul Martin, partner and UK head of retail at KPMG, which helps to produce the monthly sales monitor, said: "A damp and blustery July prompted Scottish shoppers to seek shelter indoors and tighten their purse strings. We're seeing a substantial increase in promotions as retailers look to attract shoppers and maintain market share. Consumers mindful of prices are shopping more selectively, impacting retail margins and profitability. Consumers and retailers alike are finding that they are having to get used to doing more with less as conditions remain incredibly challenging."
Comments
 0 comments
Want to join the conversation? Please or to comment on this article.