Stephen Ingledew OBE interview: Scotland a 'role model' for UK fintech community
Artificial intelligence can be a power for good if embraced constructively, one of the leading voices in the financial technology sector insists, as he takes up a new appointment to support the growth of fintech UK-wide.
Stephen Ingledew OBE, chairman of FinTech Scotland, the industry cluster body founded at the start of 2018, becomes one of two initial non-executive directors at the Centre for Finance, Innovation and Technology (CFIT) - set up to unblock barriers to growth for financial technology and position the UK as a global leader in financial innovation. As well as being executive chair of FinTech Scotland, Ingledew is one of the founders of the FinTech National Network, which facilitates collaboration across all UK regional fintech clusters.
Commenting on his high-profile appointment to the CFIT board, the financial technology veteran hails Scotland as a "bit of a role model" for the fintech community. "We've done really well here bringing together entrepreneurs, companies, academia and the public sector - all working together," he says. "This creates a very innovative eco-system that leads to new businesses that can then grow. Having set up Fintech Scotland in 2018 to deliver positive economic outcomes through financial innovation, I have first-hand experience of driving collaborations across diverse stakeholders and organisations and can bring my expertise to the team as we, jointly, lead the charge for fintech innovation across the UK."
FinTech Scotland recently confirmed that it was on track to hit its targets for economic growth a year on from publishing an "innovation roadmap" in a bid to drive a fourfold increase in job creation over the next decade. In March 2022, the organisation released a research and innovation blueprint, identifying priorities for the UK to accelerate its fintech ambition through research and development (R&D) and targeted innovation. Over a ten-year period, the goal was to deliver an additional 20,000-plus fintech-related jobs as well as produce an increase in economic gross value added (GVA) through fintech innovation from £500 million to more than £2 billion.
It comes as more of us embrace digital banking and use apps to manage a range of services such as day-today payments, investments and pensions.
Ingledew, who was awarded an OBE in the 2023 New Year Honours list for services to the UK financial technology sector, says fintech has reached out to more people than traditional banking but concedes there is a "level of digital exclusion which needs to be addressed". He says: "Fintech has helped many people who have been cut off in some communities or just don't want to go into a physical branch. There is a level of digital exclusion in general but often that's down to people not having the right devices. The government has been really awful at providing students and teachers with the right equipment and if they had the right gear they wouldn't be excluded. Exclusion is a broader issue. In Scotland there are a quarter of kids living in poverty and that's outrageous."
The CFIT was established in early 2023 following a recommendation in the Kalifa Review of UK Fintech. At the centre, Ingledew will set up and chair the remuneration and nomination Committee, responsible for overseeing the nomination of board members and executive directors, ensuring that they have the appropriate balance of skills, experience, independence and knowledge. CFIT is also appointing former head of Klarna UK, Alex Marsh, as a non-executive director.
Ingledew keeps returning to collaboration as the key growth driver, both in Scotland and across the wider UK. He is adamant that home-grown fintech businesses have the capability to grow and scale into global concerns.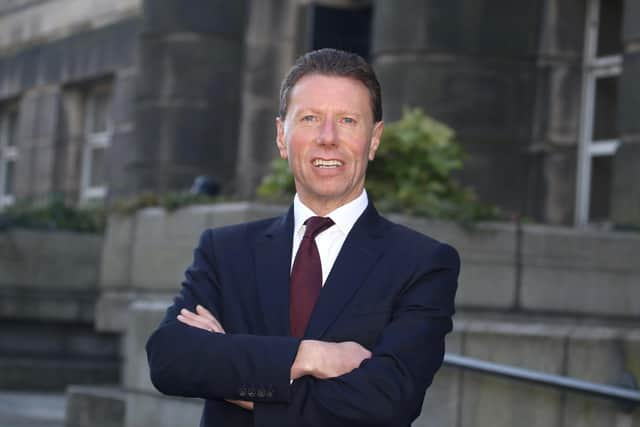 "What we need to do is help more start-ups to scale up. And to scale they need the markets, they need the accessibility, working with bigger companies. We do a lot of work with our colleagues across the UK because Scotland as a market is really quite small. Once you build a business across the UK you can move into the likes of the US and the Far East," he adds. "You've got to make sure you help the businesses start up in Scotland but then scale by helping them develop their presence elsewhere. Of course, you will always get some businesses that will be acquired - that's inevitable as part of the economic cycle."
There has been much debate over the role that artificial intelligence (AI) will play in the technology sector, and wider society, in the coming years, amid warnings that the widespread roll-out of machine-based intelligence and autonomy presents a profound risk to humanity. Ingledew points to similar concerns in the past surrounding the growth of the internet and the world wide web and believes AI can offer considerable benefits.
"When the internet came on the scene we were asking the same question: threat or opportunity? And, of course it's a bit of both," he reflects. "The internet has been a great enabler but it's led to some other things that are not so helpful. AI is not new but all of a sudden it's come into the news. When I started out about 40 years ago aspects of financial advice were starting to be automated and it's developed more and more over time.
"The more that technology including AI can take on the more mundane and boring stuff, then it allows humans to concentrate on skills and qualities, such as creativity and intuition. It's more about how you can use machines in a good way. It's not so much about those people coming through now, it's those in their 40s and 50s that want to carry on working who need to develop some data and technology skills that include the role of AI."
Comments
 0 comments
Want to join the conversation? Please or to comment on this article.