Reaction: broadcaster STV's FY profit jump amid 'tough' backdrop receives good reception
Glasgow-headquartered broadcaster STV has tuned into increased full-year profits as its diversification strategy gains momentum but income dialled down slightly on the back of lower advertising revenue.
The London-listed firm in 2022 saw revenues retreat 5 per cent to £137.8 million, and said total advertising revenue was as highlighted in a trading update in December only down 2 per cent from a record 2021 to £110m, although digital revenue, for example, was up 7 per cent at £19m. Adjusted operating profit grew 2 per cent to reach a record £25.8m, while pre-tax profit jumped 11 per cent to £22.2m. Adjusted basic earnings per share fell to 42.3p from 45.6p, and its board is proposing a final dividend of 7.4p, bringing the full-year amount to 11.3p, a 3 per cent year-on-year uplift.
In terms of highlights, STV said its diversification is paying off, noting that its STV Studios arm "continues to scale rapidly", with 30 new commissions and now 11 returning series, three major new returnable drama series currently in production for Apple, BBC and C4, and 2023 set to be a breakthrough year with more than £50m of commissions already secured for delivery, more than double the 2022 level.
On the digital side, STV cheered its "favourable" new ITV partnership, which was announced in December and will "propel" the next phase of its streaming growth, and added that its STV Player registered users have exceeded the 5 million target one year early, while there have been more than 1,000 deals through the STV Growth Fund since launch in 2018, allocating just under £20m.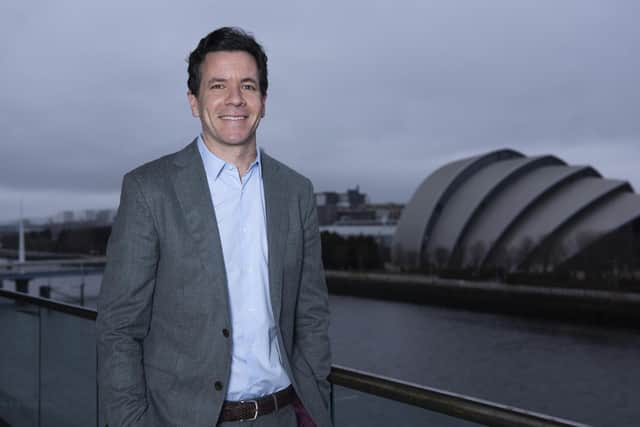 Regarding its 2023 outlook, the broadcaster sees advertising as being affected by ongoing economic uncertainty – with the total down around 15 per cent in the first quarter as forecast – but "expected to remain resilient".
Vibrant
Chief executive Simon Pitts hailed 2022 as "another year of growth for STV", adding: "Our diversification strategy, focused on driving growth in digital streaming and content production, continues to accelerate, with digital profit up 9 per cent and Studios profit up 6 per cent. Nearly 40 per cent of STV's earnings now come from these new growth areas as we reduce our reliance on traditional television and create a vibrant, future-facing media business.
"Our audience position remains unrivalled, with STV being Scotland's most popular peaktime TV channel for the fourth year in a row and our viewing share the highest since 2009," he added. Mr Pitts also hailed the growth of STV Studios, stating: "This will be a breakthrough year as we deliver three major new dramas for Apple, BBC and C4, and make meaningful progress towards our goal of becoming the UK's leading nations and regions production company."
Panmure Gordon analyst Johnathan Barrett said: "While the environment is tough, STV has continued to make progress and even grow profits modestly (+2.4 per cent) when delivering a 4 per cent beat. Looking forward, 2023 won't be easy from a macro perspective (and we do edge down forecasts), but the company is on track to achieve its key goals of growing its digital and Studios businesses and driving diversification of revenues and profits. This is raising the quality of earnings and the potential growth rate in our opinion."
Comments
 0 comments
Want to join the conversation? Please or to comment on this article.