Quartet of Scots firms honoured in Deloitte's prestigious 2023 UK Technology Fast 50 list
Four Scottish companies have been included in a list of the fastest-growing tech firms in the UK compiled by Deloitte, in a move deemed "well-deserved" recognition.
The professional services giant has unveiled the winners of the 2023 UK Technology Fast 50 awards, whose sponsors include growth capital investor BGF and ranking the 50 fastest-growing tech firms based on average revenue expansion over a four-year period. Those selected have a collective average four-year growth rate of 5,473 per cent, total revenues of £801 million in 2022/23, and almost 15,000 staff in the UK, and Scottish-based companies have ranked 143 times over the awards' 26-year history, including two top spots.
The Original Fit Factory aims to improve the wellbeing journey for everyone, encompassing fitness, wellness, nutrition, apparel, and events to 10 million users across 77 countries. Launched in 2016, the company now also has offices in Las Vegas and Dubai. Founder and group chief executive David Weir said: "We have always been on a mission to make a healthier way of living easier and more accessible, with innovative technology at our core. It's so rewarding to be acknowledged as one of the fastest-growing technology companies in the UK."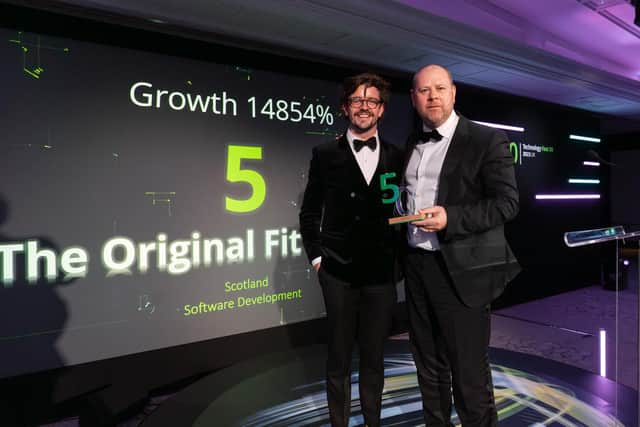 Scottish online advertising company Good-Loop ranked third for this year's Women in Leadership category, while Edinburgh-based Roslin Technologies received a Rising Star award. This year, the awards include a new category, CleanTech, recognising climate technology companies for their contribution to the UK's net-zero target, and Utopi was among the five businesses awarded in this category.
The firm specialises in energy consumption monitoring and impact capabilities, using smart technology to collect live data from multi-tenant buildings, such as student accommodation, which is then reported back on easy-to-read dashboards, allowing residents and building-owners to help decarbonise their property. Since launching in 2019, it has grown to 52 employees, and now operates in more than ten countries across Europe, while it is eyeing expansion in the US market.
Chief executive Jonathan Burridge said: "Over the last two years, we've collected more than 4.1 billion environmental data points, now growing by more than 25 million each day… Being shortlisted as one of the UK's fastest-growing technology companies is testament to the hard work of our expert team, and is another step on our mission to become the worlds number one ESG technology platform in the multi-tenant real estate sector."
Garry Tetley, tax partner and Deloitte Private leader in Scotland, said: "The remarkable growth we've seen among this year's Fast 50 winners underscores the enduring strength of the UK's technology sector, solidifying its position as a premier destination for global venture capital investments. I'm very pleased that four Scottish businesses have received well-deserved recognition in this year's ranking. While businesses continue to navigate a turbulent economic landscape, the UK's technology sector remains a symbol of resilience, talent, innovation and competitiveness."
Comments
 0 comments
Want to join the conversation? Please or to comment on this article.