Multi-million-pound funding boosts for Glasgow-based sensor-focused start-up and Edinburgh fintech firm
A Glasgow-based healthtech start-up behind "transformational" sensor technology has secured an investment of just under £2 million as it targets what it views as global demand.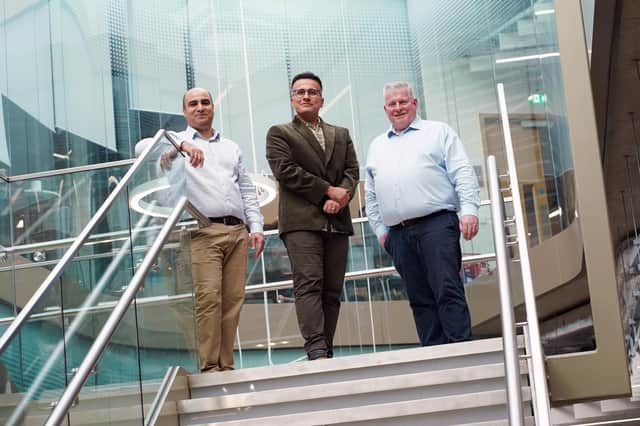 Neuranics was founded in 2021 as a joint spin-out from the universities of Glasgow and Edinburgh, and it develops what it says are "pioneering" magnetic sensors integrated with semiconductor technology for health, fitness, and metaverse applications.
Neuranics says its patented technology uses scalable spintronics sensors powered by semiconductors to detect tiny magnetic signals from bodily organs such as the heart and arm muscles. It further specifies that its magnetocardiography sensors are easier to use than traditional electrocardiography equivalents, and improve the latency issues when used to control a robotic hand, or interact with virtual objects in the metaverse.
The firm adds that its chip-scale sensors are low-cost, scalable, low-power, and operate at room temperature, "as opposed to the current method of measuring magnetic signals characterised by large, complex, expensive, lab or clinic-based equipment".
Chief executive Noel McKenna said: "Our breakthrough technology will enable much better sensor resolution for human-machine interface, will have huge benefits for health and fitness devices, and also controllers in the metaverse. We see global demand for our technology, and we are already working with several tier one consumer electronics groups. We want to be the world's leading magnetic sensor company, selling our sensor chips or licensing our technology into hundreds of millions of products per annum."
Robert Higginson, partner at Par Equity which to date has invested more than £160m across 77 companies, said: "Rarely do we discover both a transformational technology and such a well-rounded team, with whom we can partner over the long-term to create a company capable of radically improving a broad range of use cases in a number of industry verticals. Neuranics's patented technologies complement many [others] developed by our portfolio companies and are a good example of Par Equity's tough-tech focus."
Meanwhile, growth capital investor BGF has completed a £4.5m investment in Stellar Omada, an Edinburgh-headquartered technology services company with clients in banking, pensions and investment-management, saying this includes some of the UK's largest banks and pension-providers.
The investment will also see financial services executive Mark Smith and BGF investor Richard Pugh joining the board of Stellar Omada, which will continue to be led by founder Colin Frame as chief executive and Royston Hoggarth as non-executive chair.
Frame said: "We are delighted to be partnering with BGF for our next phase of growth. We have ambitious plans for the future, focusing on continuing to drive growth with both existing and new customers. This investment will play a vital part in helping us achieving those goals."
Euan Baxter, investor at BGF, said: "Stellar Omada is on an exciting growth journey… We look forward to working with the company's experienced leadership team to support their ambitious growth plans and we are confident there is huge potential for the business to expand its already impressive footprint in Scotland and the UK."
Comments
 0 comments
Want to join the conversation? Please or to comment on this article.