Investors eye succession update at Irn-Bru maker AG Barr as half-year sales fizz
Investors will next week be looking for any update on Irn-Bru maker AG Barr's search for a new boss as the iconic soft drinks maker reveals half-year revenues in excess of £200 million.
The firm announced at the start of last month that its chief executive Roger White would be standing down after some 20 years in the post. White, who in 2004 became the Cumbernauld-based group's first boss from outside the Barr family, agreed with the board that he will, at a "mutually agreed date" in the next 12 months, step down from his role and retire from the company. Barr said at the time that a formal succession process had been started including an external search "to ensure a smooth leadership transition".
Tuesday's interim results statement could provide an update on the search as the group is expected to report revenues in the region of £210m, a figure it guided the market towards in August, which would mark a year on year increase of 10 per cent on a like-for-like basis, excluding the contribution from the Boost Drinks business acquired last December.
It pointed to underlying brand momentum, the benefit of higher pricing from early in the year and "particularly good weather" in June. There was no mention in the August trading update of industrial relations, after trade union Unite recently announced strike dates in a row over pay, sparking concerns over a possible shortage of "Scotland's other national drink".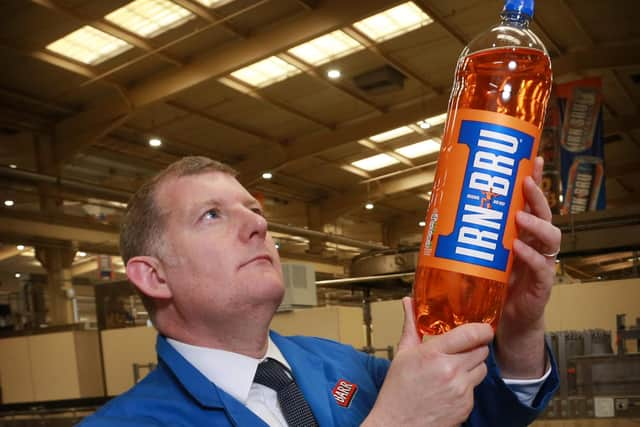 Aarin Chiekrie, equity analyst at investment platform Hargreaves Lansdown, said: "Long-standing CEO Roger White announced his retirement in August after 20 years at the helm. A change at the top is always a leap into the unknown so it will be interesting to see if next week's results provide any updates in the search for his successor. It was reported that the Irn-Bru maker's half-year revenue would climb up to around £210m. Profits are set to grow at a slower rate though, with heavy investment in production facilities continuing. This will hurt margins in the short term but should help to sweeten margins over the medium term as increased efficiencies boost profitability.
"A healthy net cash position was underpinning Barr's investment phase. It will be interesting to see just how quickly the group's burning through cash, with any significant drop likely taking further acquisitions off the table in the near term."
Ahead of the latest numbers, analysts at investment firm AJ Bell noted: "Analysts will look for further detail on growth across product segments and also the mix between volume and price. The firm is also having to adapt to changes in consumer tastes and trends. Since the end of lockdowns, mixers, juices and lemonade have declined in volume and value, to reflect the normalisation of home consumption, while on-trade volumes in bars and restaurants and hospitality venues have recovered steadily."
Barr said last month: "We exit the first half with strong brand momentum. We currently expect our full-year profit performance to be marginally above the top end of analyst expectations."
Comments
 0 comments
Want to join the conversation? Please or to comment on this article.