Interview: Scott Chassels, the Glaswegian MD of breakfast brand Fuel10K
Having moved back to his native Glasgow, health-conscious breakfast brand Fuel10k's MD Scott Chassels laughs about how his friends have shelves stocked with "collections of whisky, and I've got collections of cereal and porridge".
The firm, which aims to provide "tasty fuel for busy people", has been making major in-roads into its market since it was founded in 2012, and says its granola is now the fourth-biggest brand in the UK breakfast category overall, while its oat bars have seen sales jump by 156.7 per cent, for example.
Its range, which also includes high-protein drinks and muffins, has seen it achieve sales of nearly £19 million in its latest financial year, a year-on-year jump of more than a third, while it is on track to exceed £20m in the current period. It has also secured new listings with names including Costco, Greggs, Iceland and Waitrose, complementing existing stockists Sainsbury's, Tesco, Morrisons, Ocado, Asda, Co-Op, and Amazon.
The firm came into being as a result of a meeting at a trade show with a Tesco buyer looking for a granola product, and Chassels joined as MD in 2014, when turnover was about £3m. It marked his latest role in the food industry, having started out about two decades ago "selling Walkers crisps out a van" for the brand's then-owner PepsiCo. This was followed by stints at other major fast-moving consumer goods names Asda, smoothie maker Innocent, and Birds Eye, and then a smaller player called A2 Milk.
He says Fuel10k's unusual role as an independent operator in a breakfast market dominated by giants, with porridge peer Quaker being owned by PepsiCo, for example, means he has greater leverage in determining its offering than had he stayed on the path of the large corporate. "You can help influence where you spend the money, you can help influence what the products look like, and then you can help influence while those products are," he says, adding that it's "exciting for little old us", having proceeded so far with only relatively fractional investment, to still be going strong and "tiptoeing towards" being a medium-sized firm.
"I think the hardest number to get to in this industry is £10m turnover. And once you've got to £10m, you've got an established base of distributions, whether that's retailers or wholesalers, and you've got an established base of people who are buying you with relative frequency… It took us about ten years to get to £10m, and just over two years later, we'd added the second £10m. There's that real acceleration, and I think we're still on that acceleration, so that's quite exciting to see."
However, Chassels also states that a challenge for him in leading the firm, which has just under 30 staff and a management team that collectively has more than 100 years' experience, is how to transition from a small to a medium enterprise "without losing some of what we have".
Fuel10k, which is generally focused on consumers aged under 45, has been and is still focusing on making its offering healthier, say, by reducing the sugar levels of its products. It is also eyeing further launches at the start of next year as it looks to expand its existing business, which accounted for around 80 per cent of company's growth in its latest financial year, by 10 per cent, as well as adding some new business.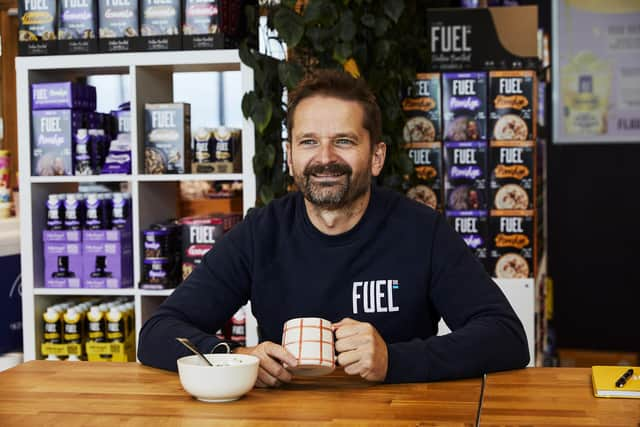 Another key ambition is to further sharpen its focus on being environmentally friendly, having already been recognised for its efforts in this regard by being awarded B Corp status in 2021, joining Scottish firms including Brewgooder, and which Chassels deems one of the proudest moments to date. "Because it frames a lot of what we're doing. And it felt like a really good achievement. But also, it's not the end, it's still just the start. And there are so many more things we can do."
Additionally, the business is working to tackle food poverty, having donated about 1.5 million portions of porridge to national food bank network FareShare in the last three years. That comes amid consumers still seeing their household budgets stretched, with grocery price inflation 12.2 per cent for the four weeks to September 3 of this year, according to data from market research specialist Kantar. The figure was down for the sixth month in a row, but "won't be a number to celebrate for many households – our data shows that 95 per cent of consumers are still worried about the impact of rising grocery prices, matched only by their concern about energy bills," it added.
However, the healthy credentials of a food item are gaining momentum when people look to fill up their baskets and stomachs, with 35 per cent of global consumers actively looking for products that benefit their health when grocery shopping, a GlobalData study found.
International expansion is an issue Chassels is considering. "I think there's so much for us to do and still achieve in the UK. But we can multiply our success by taking some of that into new territories." These include the German, Dutch, and Scandinavian markets.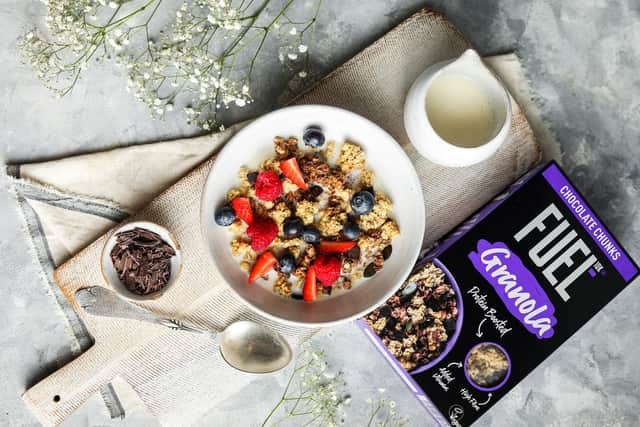 And would it consider giving up its independent status? He cites a theoretical scenario of an approach by an interested company, saying this could allow Fuel10k to "continue doing what we're doing on a bigger scale, so that we could try and get our products into either more stores and more territories, or drive more awareness". But on the other hand, "we really enjoy what we're doing and who we're doing it with, and the retailers we work with and the individuals that we've worked with inside the business – so it's it's an enjoyable ride that we're on".
Comments
 0 comments
Want to join the conversation? Please or to comment on this article.