She is a strategic advisor, non-executive director, and investor for start-up and spin-out companies, and is a co-founder and director of Mint Ventures, which formally launched its investment activities in 2021, and says it offers a fresh approach to raising early-stage capital by democratising angel investment for women.
It was created in response to research by partner organisation Women's Enterprise Scotland (WES) showing that access to finance was the top barrier for female entrepreneurs starting and scaling their businesses. WES has just launched its Women's Enterprise Scotland Awards 2023, with its chief executive Carolyn Currie saying it is "vital that we put the considerable achievements and the resilience of our women business leaders in the spotlight". The deadline for entries is August 18, ahead of the ceremony in Glasgow on October 26.
Participating in this deal allows us to improve gender diversity across the shareholder base, which is one of our key aims. There is a clear alignment between Mint Ventures' values and those of Heero, including a commitment to long-term gender diversity in the leadership team as well as a social, ethical – or in this case, a clear environmental – purpose to the company's mission.
Accessibility and education are core elements of the Mint Ventures proposition and we see this in Heero, as they support consumers in progressing to net zero by helping them to improve the energy efficiency of their homes. We also want to work with founders seeking non-financial "softer" support through advising and mentoring, which Heero has welcomed with open arms. The deal was led by The Tricapital Syndicate, a very experienced angel group with whom we have a lot of synergy.
Mint Ventures was launched in 2021 to address inequalities in the investor and investee landscape. Can you give more insight into how and why it was created and how you now define its key aims?
Through working in this sector for many years, it became increasingly apparent to me that science and technology start-ups are typically well-funded by existing angel groups, whereas businesses in other sectors often struggle to access the finance needed to develop and grow. These underfunded sectors include retail, food and drink, health, wellbeing and beauty, tourism and traveltech, femtech, and other digital app-based platforms, and are precisely where women are more likely to set up their companies.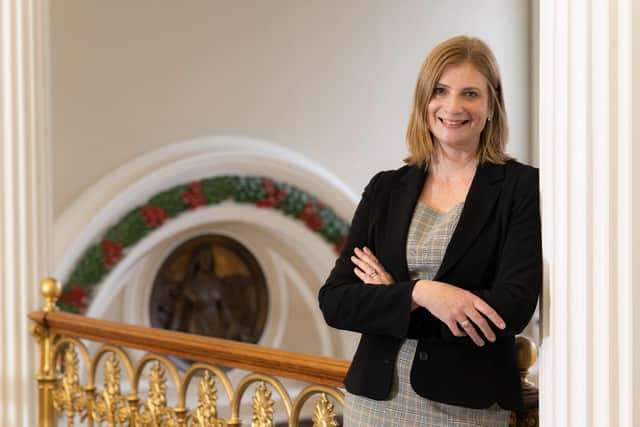 Part of the problem – as highlighted by The Alison Rose Review of Female Entrepreneurship – is that there are very few women angels making investment decisions. Mint Ventures came about as a way of addressing these challenges.
We are on a mission to make angel investing accessible to women who may never have previously considered it. We do this by welcoming women to join us as associate members and inviting them to go through a genderised training programme that demystifies angel investing and provides a toolkit for making investment decisions. After being a member of any angel group for six months, the Financial Conduct Authority regulations stipulate that you can legally self-certify as a sophisticated investor and start angel investing.
Mint Ventures completed a series of educational roadshows that were supported by Scottish Enterprise and the British Business Bank. Following on from our Women Backing Women roadshows in 2022, our regional roadshows this year were rolled out to smaller towns and cities within Scotland to make angel investment more accessible to professional women from different backgrounds.
The events were targeted towards both men and women to raise awareness of the challenges and to encourage collaboration in the ecosystem with professional intermediaries such as accountants, lawyers and wealth-managers. The short-term effect has been phenomenal, with many women signing up to have the opportunity to support young ambitious companies with their expertise and capital. Longer term, it is about continued education and reinforcing the messaging to allow women to consider whether angel investing is right for them.
Can you cite a female business leader you admire, and why?
Jenny Tooth OBE, executive chair of the UK Business Angel Association, is a complete inspiration. She has dedicated her career to changing the system and encouraging more women to become angel investors. We have seen many more women-focused angel groups develop over the last few years thanks to her support. She was instrumental in the value proposition stages of Mint Ventures and we are eternally grateful for that.
Mint Ventures has said the barriers to women becoming angel investors "are cultural, not financial". How would you like female angel investment to progress in the coming years and how can key barriers be addressed?
Professor Lynne Cadenhead, one of our co-founders, is a founding member of the UK-wide Women Business Angel Taskforce. Sharing best practice through this forum enables angel groups to bring more women into the ecosystem. Just 15 per cent of angel investors are women currently and we would like to see that at least double. We are working to ensure the investor base is in time a more accurate reflection of society.
Raising awareness about different attitudes to risk and making angel investing accessible at times that suit women caregivers are some of the steps we are taking. We need more support for educational events to change attitudes towards discussing money and investment. It is something to be proud of that angel investors give back their time, expertise, and finance to support the innovation life blood of our enterprise ecosystem.