Firms offered 'one of UK's most generous set of incentives' to come to prime Scottish shopping street
Businesses are being offered "one of the most generous set of incentives available anywhere in the UK" to set up home on Aberdeen's main shopping street.
New occupiers taking on long-term vacant units on Union Street will benefit from up to two years free of rent and business rates under a support package. Grants of up to £35,000 are also being offered to incoming businesses as efforts to restore the "Granite Mile" to its former glory gather pace.
The community-led Our Union Street organisation, which is fronted by entrepreneur and former Wood Group boss Bob Keiller, was set-up in March to arrest soaring vacancy rates and plummeting footfall. Since then, the group is said to have received thousands of ideas and engaged with hundreds of local groups and organisations to plot a new future for the flagship street. Five key action areas will be published next month, but ahead of the launch the body has secured private funding to incentivise new businesses.
Keiller said the collective package on offer ranked as one of the best anywhere in the UK in a bid to "bring the sparkle back to the Granite Mile". Of the 43 vacant units on the street, all but two are eligible for "fresh start relief", which gives the occupier a 12-month period without having to pay business rates. Those grants will be topped up to two years, funded by Our Union Street, on eligible units where landlords agree to offer the equivalent of two years' rent free.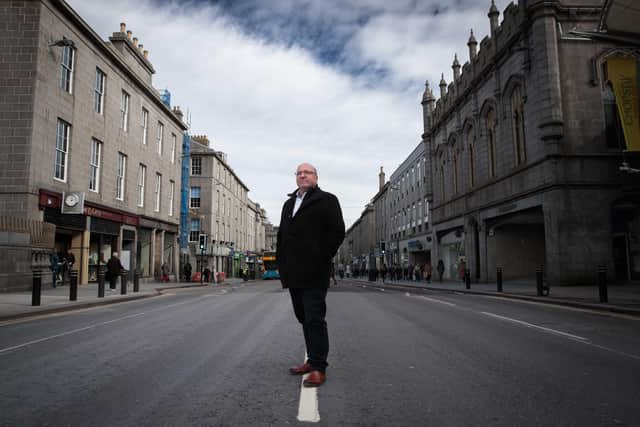 The support will supplement a new £500,000 empty shops grant scheme being provided by Aberdeen City Council between now and 2025. The scheme offers grant awards of up to 50 per cent of project costs, up to £35,000, towards eligible physical works required for internal reconfiguration of vacant shops to enable reoccupation by new businesses and tenants. Local companies are also offering additional sweeteners, including marketing support and free internet supply.
Keiller said: "We've spent several months listening to what the city wants - and people unanimously want to see the units which line Union Street brought back to life with new occupiers. We want to attract and incubate a vibrant new set of businesses to bring footfall, excitement and sparkle back to the Granite Mile. We believe the package put together here will catch the eye of business owners across the UK and we look forward to working with local landlords and property agents to create new beginnings for multiple businesses on our high street."
Our Union Street is a not-for-profit organisation and has been set up by Aberdeen & Grampian Chamber of Commerce, Aberdeen Inspired, Aberdeen City Council and Opportunity North East, with additional support from Shell, which recently relocated to the street. AB15 Limited - owned and run by Keiller and his business partner Derrick Thomson - is also funding the organisation, and both businessmen have committed to running the outfit free of charge.
Keiller said there had rarely been a better time to locate on Union Street after a sharp downward shift in rateable values.
Comments
 0 comments
Want to join the conversation? Please or to comment on this article.