Cost of living: Interest rates to rise within weeks despite inflation falling to 17-month low
Under-pressure borrowers and businesses face at least another quarter-point hike in interest rates despite a fall in headline inflation to its lowest level in 17 months.
Experts said that while the easing in price rises was welcome news, the Bank of England was unlikely to halt its monetary tightening policy any time soon as core inflation remained sticky. They also described the sharp fall in headline inflation as a "false dawn for savers", with only those willing to invest in the stock market likely to see stronger returns.
The latest figures from the Office for National Statistics (ONS) showed the annual rate of consumer price inflation cooled to 6.8 per cent in July, down from 7.9 per cent in June, and well below last autumn's peak of 11.1 per cent. July's result marks the lowest level since February 2022 due to a fall in energy prices and a slowdown in food price increases. However, there is a concern that recent upward movements in alcohol prices on the back of duty changes as well as rising fuel costs could feed into August's inflation rate.
For now, analysts believe that inflation is likely to ease to 5 per cent by the end of the year but it could be well into 2025 before it comes down to the central bank's 2 per cent target. Core inflation was unchanged in July at 6.9 per cent, with the falling cost of goods offset by higher service prices. David Baker, a partner at accounting and consulting group Mazars, said higher inflation in the UK "may be becoming endemic" as companies are operating in an environment where any input price increases can be passed through to consumers.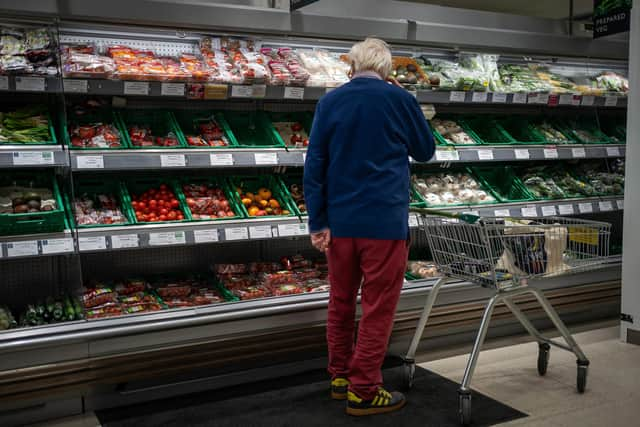 It is only a fortnight since Bank of England (BoE) policymakers voted for a quarter-point hike in the base rate to 5.25 per cent, marking the 14th interest rate increase in a row. Some analysts had been forecasting a further half-point hike in the base rate at the August meeting, which would have matched the shock increase in late June.
Oliver Rust, head of product at inflation data aggregator Truflation, said that with wage increases now outstripping price rises, UK consumers may finally have more disposable income to spend, which could prolong the battle against inflation. He added: "In this environment, the BoE can't afford to stop its monetary tightening policy any time soon. We believe at least another half-point interest rate hike is needed to begin getting inflation under control. However, the effects of this policy - just like the effects of Brexit - will take a while to come through, so the time to celebrate is still a long way off."
The EY Item Club said another rate rise when the BoE's monetary policy committee (MPC) meets next month was looking increasingly likely. The economic think-tank's chief economic advisor, Martin Beck, noted: "The EY Item Club thinks the MPC will stick to a standard [quarter-point] increase in the bank rate, rather than going bigger, and that a rise next month could prove the last in the current cycle. The latest leading indicators of inflation point to price pressures continuing to ease quickly."
Prime Minister Rishi Sunak pledged at the start of the year to cut inflation in half, from a level of just over 10 per cent, by the end of 2023. Economists have most recently forecast that the government will just achieve this, with the BoE currently projecting inflation to be around 4.9 per cent in the last three months of the year. However, the latest inflation figure was slightly higher than analysts' predictions for a reading of 6.7 per cent for the month. Soaring food inflation slowed down markedly, contributing to the reduction in the overall inflation rate. Food prices increased by an average of 14.9 per cent in July against the same month last year, easing back from 17.3 per cent growth for June.
Kevin Brown, savings specialist at Scottish Friendly, the Glasgow-based mutual, said: "The speed at which inflation has fallen over the past two months, down from 8.7 per cent in May to 6.8 per cent in July, is somewhat of a false dawn. Savers will be holding out hope that inflation does finally fall below the rate of interest being paid to them and brings to an end a two-year spell in which price rises have eaten into the value of their savings. For now, the only possible way for them to beat inflation is to invest their money in the stock market as there is the potential to generate higher returns."
Business groups said firms remained under intense pressure despite cooling inflation. The British Chambers of Commerce (BCC) warned that investment across all sectors was suffering because of the high cost of borrowing. Alex Veitch, director of policy at the BCC, said: "Businesses tell us that confidence is improving slightly as inflationary pressures ease. However, our latest quarterly economic survey showed most companies reported no improvement to sales, cash flow or investment. High interest rates are now of real concern to firms."
Martin McTague, national chairman of the Federation of Small Businesses (FSB), added: "The cost of doing business crisis still has a grip on the small business community, as prices for many key inputs, from energy to components and raw materials, remain far above where they were a year ago. Any reduction in inflation is good news, but the huge toll that spiralling prices have inflicted is still being keenly felt by small firms."
Comments
 0 comments
Want to join the conversation? Please or to comment on this article.