Check your data centre is supporting your journey to net zero, rather than hindering it - DataVita
Danny Quinn, MD of DataVita – which provides services including cloud computing from data centres in Chapelhall, Airdrie, and Glasgow city centre – on how firms can best address and improve their environmental impact if they have access to the right information.
Calculating an organisation's carbon footprint is by no means an easy feat – it is not as straightforward as looking at monthly energy bills to see how much has been used. To truly understand the emissions associated with any business requires in-depth analysis of its operations and different parts of its supply chain.
The terminology used by many experts to capture this is "scopes of emissions", which usually falls into three categories. Scope one covers emissions from sources that an organisation directly controls or owns – such as running boilers or a fleet of vehicles – while scope two refers to those caused indirectly, largely through how the energy it uses is produced.
For many businesses, however, scope three is where it becomes complicated. This covers emissions across your supply chain – for instance, any products or services you purchase as part of your operations. It is essentially anything that is not covered by the first two scopes, and research from Deloitte suggests that these emissions may account for as much as 70 per cent of some businesses' carbon footprint.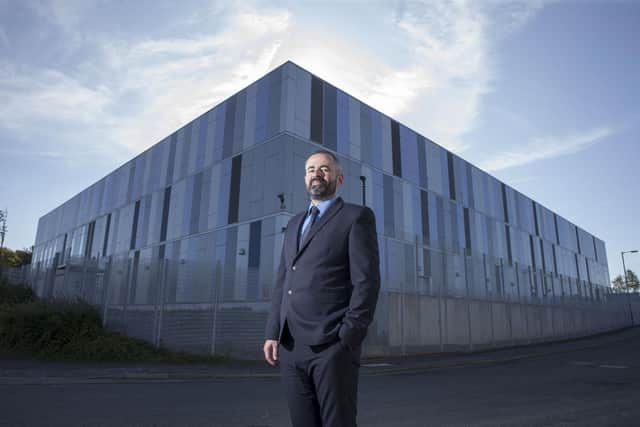 Information technology (IT) will represent a significant share of many organisations' scope three emissions, as they increasingly rely on outsourced tech for different aspects of their operations. Cloud computing alone is estimated to represent between 2.5 per cent and 3.7 per cent of global greenhouse gas emissions, but, for many individual businesses, the carbon footprint associated with their data centre services will largely depend on two crucial factors.
The first is the location of their data centre. While many people unfamiliar with the vagaries of the energy network may think the UK's energy mix is equal across the country, there are some stark regional differences. To capture those variations, the National Grid tracks the "carbon intensity" of each area, a measure of how clean the energy being used in that area is at any given time.
Intensity
As you would imagine, the more fossil fuels burned to produce the electricity being supplied to that region, the higher its carbon intensity. The carbon intensity of energy is measured as grams of carbon dioxide equivalent (CO2e) produced per kilowatt hour of electricity generated (gCO2e/kWh).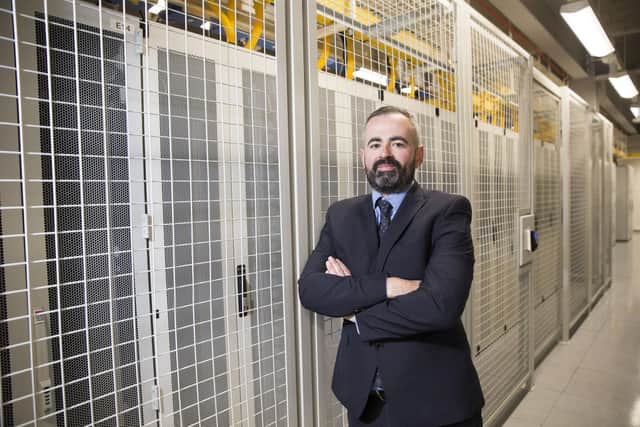 Our analysis shows there are huge differences across the country, which has a knock-on impact for any business trying to measure – or even reduce – its carbon footprint. Using National Grid figures, we found that South Scotland – which includes Scotland's most densely populated areas, and biggest concentration of business, in the Central Belt – had an average carbon intensity of 54.97 gCO2e/kWh during 2022.
London's was 3.67 times higher, at 202.07 gCO2e/kWh, while South Wales had the most carbon-intense energy at 322.22 gCO2e/kWh – nearly six times higher than South Scotland. During some quarters, the difference between the cleanest and least clean energy has been as much as 11 times.
These are not small differences. Such a large disparity can have a massive impact on the carbon footprint of energy-intensive industries based around the country. If we take a 200-rack, one-megawatt data centre in London, it would have produced 1.93 million more kilograms of CO2e during 2022 than an equivalent facility in South Scotland. Moving it north of the Border would have reduced its carbon footprint by 73 per cent.
If these reductions in carbon are extrapolated over hundreds of relocatable facilities, with varying power needs, we could make a significant difference to the emissions of not only individual organisations, but the entire country. The UK has set a target of hitting net zero by 2050, and Scotland five years before that – many businesses plan to reach that target much sooner.
Efficiency
The carbon intensity of the energy network is important, but so too is the energy efficiency of a data centre. Each facility will have its own score for what is known as power usage effectiveness (PUE), a measure of how much energy is used by the computing equipment in data centres. The ideal score – at least in theory – is 1.0, meaning the energy the centre consumes is optimally efficient.
However, again there are stark contrasts between different facilities. The industry average is a PUE of 2.0, which means each data centre uses as much energy in computing as it does to operate. At our DV1 facility in Chapelhall, outside Glasgow, we have taken steps to reduce the centre's PUE to just 1.18 – making it the most energy-efficient facility in Scotland and one of the top in the UK.
We have done that by taking full ownership of the data centre in 2021 and focusing our efforts on making it as sustainable as possible. One of those steps was to use "free cooling" technology at the facility, which harnesses Scotland's natural climate to maintain optimum temperatures, instead of energy-intensive air conditioning and refrigerant units.
We have plans to further enhance DV1's green credentials by taking it off-grid, generating our own electricity from wind and battery-powered back-up systems. This is all part our commitment to the Climate Neutral Data Centre Pact that we were the first Scottish IT business to sign back in 2021.
IT is a growing part of every organisation's carbon footprint. If we are serious about achieving net zero targets – as individual organisations or even as a nation – we need to know more about how our energy system, supply chains, and infrastructure contribute to each of our emissions. We can then use that information to make the right decisions when it comes to the critical, but power-hungry, services we increasingly rely on.
Comments
 0 comments
Want to join the conversation? Please or to comment on this article.