British Business Bank officially launches £150m fund to turbocharge growing Scottish firms
The British Business Bank has officially fired the starting gun on its £150 million Investment Fund for Scotland, in a bid to "create local opportunities" and boost productivity, innovation, and employment.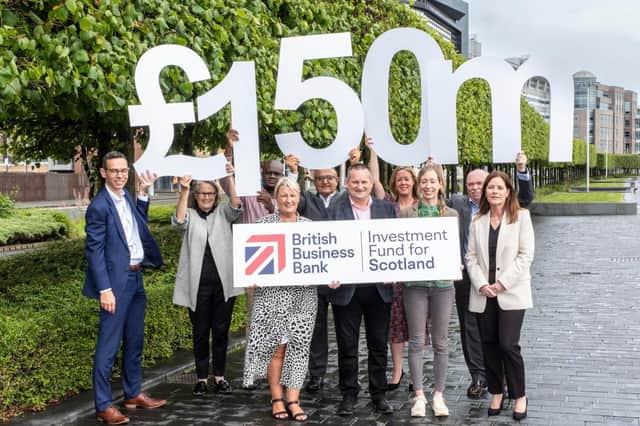 The state-backed lender has today officially launched the fund after flagging its creation earlier this year. It aims for the initiative to drive sustainable economic growth by supporting new and growing businesses across the whole of Scotland with suitable investment strategies.
The bank added that the fund will be the first solely UK government-backed investment fund for smaller businesses in Scotland, "helping to increase the supply and diversity of early-stage finance by providing options to firms that might otherwise not receive investment". Funding – with loans from £25,000 to £2 million and equity investments up to £5m – is designed to help businesses with activities including expansion, product or service innovation, new processes, skills development, and capital equipment.
Three fund managers have been appointed to manage the fund. DSL Business Finance will manage the smaller loans part (£25,000 to £100,000), The FSE Group will be responsible for larger loans (£100,000 to £2m), and Glasgow-based private equity investor Maven Capital Partners will manage equity deals (up to £5m).
Louis Taylor, chief executive of the British Business Bank, said: "With this fund for Scottish businesses, we hope to open the doors to new opportunities for a range of smaller firms looking to get started, grow, and develop across different sectors. Scotland is a nation of entrepreneurs and innovators, and recent success stories from spin-outs and early-stage businesses show that there is huge economic potential. We want to create local opportunities and generate an impact that spans beyond the fund, helping to boost productivity, innovation and employment."
Scottish Secretary Alister Jack praised the establishment of the Investment Fund for Scotland. He added: "This funding boost will be hugely important in giving smaller Scottish businesses the investment they need to grow. Scotland has some fantastic business success stories, and this new, additional fund will help create even more of them."
The British Business Bank, which in June said Scotland's smaller businesses had notched up a record year for equity investment, is also holding a series of information roadshows aimed at people working in the small business finance ecosystem including enterprise agencies, advisers, and accountants. The first of these will be held in Inverness on October 31, with the second in Edinburgh on November 1.
Among the Scottish businesses to already benefit from the British Business Bank's support is Aberdeen-based drug discovery company Elasmogen. It received funding from British Business Investments, a commercial subsidiary of the state-backed lender, through an EIS funding round undertaken by Deepbridge Capital.
Professor Caroline Barelle, chief executive of Elasmogen, said investment is key for the therapeutic drug discovery firm – which is developing antibody-like molecules (soloMERs) for autoimmune disease and cancer – to convert its technology into medicines for patients.
She added: "The investment from the Bank enabled us to progress our targeted soloMER-chemotherapy program into patient-derived studies of triple negative breast cancer, demonstrating rapid tumour reduction and regression. We have since progressed and expanded this program into a pipeline of first-in-class chemotherapy conjugated drugs, not only validating our soloMER technology, but bringing us closer towards the clinic."
Comments
 0 comments
Want to join the conversation? Please or to comment on this article.