Analysis: how prestigious index of UK start-ups is putting Scots innovation in limelight - and calling for more to appear next year
"There's just such a fabulous range of ideas and genuine innovation among them," say the compilers of a prestigious list, aiming to highlight the UK's 100 most disruptive start-ups, regarding the four Scottish names to feature.
The Startups 100 initiative says it showcases new businesses demonstrating innovation, solid financials, economic impact, and the ability to scale – and has previously selected Revolut, Bulb, Deliveroo and Notonthehighstreet as ones to watch, who all went on to become major corporate names.
Startups.co.uk that is behind the venture says that this year – which marks the 15th anniversary of the index – is one of the "most exciting yet, with the final list championing a huge range of inventive ideas". The four included Scottish start-ups comprise Touchlab, Pawprint, WhisperClaims, and Gigged.AI, with their respective remits encompassing robotics, reducing carbon emissions, research-and-development (R&D) tax claims, and recruitment.
The highest-ranked of these, at number 41, is Touchlab, which is based at the National Robotarium at Heriot-Watt University's Edinburgh campus. It is behind an e-skin system that is thinner than human skin and can be wrapped around hard or soft robots to sense pressure, location, and direction in real time, and it is eyeing great potential in fields such as dexterous grasping automation or nuclear decommissioning.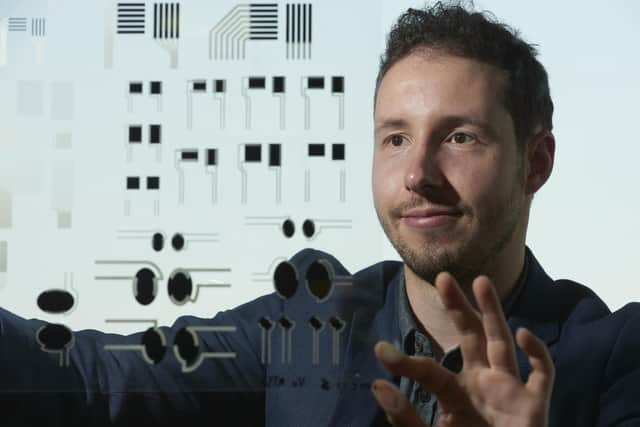 Founder and chief executive Dr Zaki Hussein told The Scotsman that the firm, whose achievements also include in 2020 winning the Higgs EDGE award for science, technology and engineering-focused businesses, is extremely happy to be included on the list. He added that it comes at a key time in its development as it seeks to capitalise on the strong education and robotics ecosystem in Scotland and help retain talented workers locally than leaving for, say, Silicon Valley and London. "I think there's a tremendous opportunity to keep things in Scotland and actually have a huge impact in this space globally."
Gratifying
He also said being included on the list not only boosts Touchlab's profile, but also helps it in acquiring talent, and generating investor interest. That ties in with Startups editor Richard Parris saying firms really embrace and benefit from being on the list, and add it to, say, their LinkedIn profile, while for companies who haven't yet received investment, it is a powerful tool to be able to take into funding meetings. What's more, he says it's gratifying to see some Startups 100 firms announce multi-million-pound funding boosts, as has just happened again, showing that "we did back the right horses here".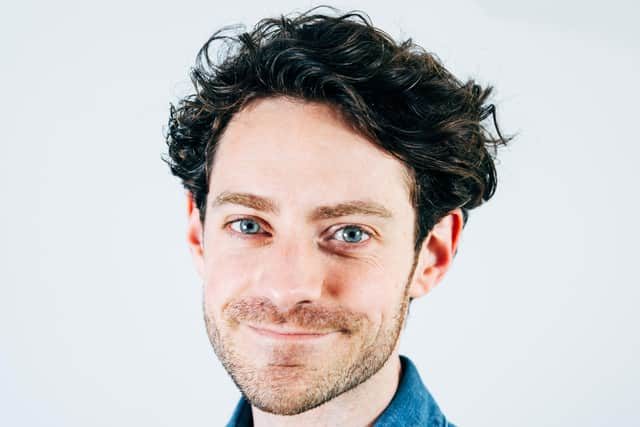 Next on the Startups 100 list, in 76th place, is Pawprint, which helps businesses achieve net-zero status by enabling employees to calculate and address their carbon footprint. It was founded by Christian Arno, who was inspired by his father's climate activism, and it has secured a client roster including Baillie Gifford, Skyscanner, Burness Paull, Tesco Bank, Royal London and Innocent, as well as having major crowdfunding success.
WhisperClaims, which is billed as a tech company "revolutionising" R&D tax claims, ranks at number 89 on the index. The Edinburgh-based firm was founded by Jen Badger, Mike Dean and Richard Edwards, who saw a gap in the market for automating the relevant process. They say that, its cloud-based platform is now used by more than 160 accountancy firms across the UK to easily prepare detailed reports for tax submission as well as support smaller companies with their dedicated panel of advisors.
The fourth Scottish company to feature is Gigged.AI, which is ranked 97th. The Glasgow-headquartered firm, which was founded by Rich Wilson and Craig Short, is focused on helping recruitment in the tech industry, harnessing artificial intelligence to match candidates with employers in under ten seconds. It says it has more than 5,000 freelancers signed up to the platform and at least 200 customers using it for hiring, while it has also secured the Tech Nation Rising Star award and received two acquisition approaches from major staffing firms.
Remarkable
Mr Parris praised the Scottish firms on the list. Regarding Touchlab's technology, for example, "the applications they talk through are really quite remarkable" such as sending drones into space that can react to things the way a human would – "it's an amazing little peek into the future".
He describes both Good.AI and Pawprint as "very, very clever tools", with the latter tapping into the fact that "people are thinking about sustainability, people are thinking about what impact they can make". Regarding WhisperClaims, the Startups editor states that it has great potential and offers a good example of "perfect innovation in a really niche area". He also hopes to see more firms from Scotland on next year's list. "I think seeing another Scottish company that you recognise will make some [others] think 'why didn't we apply this year? Let's do it next year'."
As for how to boost their chances, Mr Parris says: "Tell us your story. Tell us why you think what you're working on is genuinely unique, is different to what else is in there in the market. We do want to hear about numbers, we do want to hear about projections, and how far you think you can go. But we're really keen to hear the genuine passion of an entrepreneur, what made them so certain that they're going to drop the day job, and focus on this, and this is the future for them. Because I think if they really believe in it and it comes across, then we're more likely to believe in it too and it could find its way into our list."
Comments
Want to join the conversation? Please or to comment on this article.