Interview: Pathways review authors Ana Stewart and Mark Logan on their bid to 'transform' gender equality in entrepreneurship
Ana Stewart weighed up various factors before agreeing to lead the Pathways: A New Approach for Women in Entrepreneurship review, whose recommendations were published in February of this year.
She explains that after reflecting on her own longstanding experience of running businesses, and talking to various key names including eventual co-author Mark Logan, it became clear to it was her opportunity to "make an impact".
Her appointment by the Scottish Government's Kate Forbes to lead the study, which sought to examine and tackle women's under-participation in entrepreneurship, was announced in April 2022, and the completed report made 31 recommendations, such as integrating entrepreneurial education into schools and further education, and improving access to start-up and growth finance. It also observed how only one in five businesses in Scotland is female-led while start-ups founded by women received only 2 per cent of overall investment capital in the previous five years.
How would Ms Stewart characterise the reaction to the report's publication? "It's been overwhelming in terms of the engagement level, which has been fantastic." She welcomes the dialogue it has sparked – with positive as well as some "constructive thoughts on what we could be focusing more on, but overall, I couldn't have asked for more, really", coming after some questions were raised about the effectiveness of its recommendations. Ms Stewart also states that the review "seems to be resonating with lots of members of the ecosystem… I think it's a really promising sign that there's a real appetite for something to happen here in a positive way".
Jackie Waring, founder and chair of female founders' network AccelerateHER, founder of Investing Women Angels, and a key contributor to the Pathways document, hailed it on its publication as a "bold, exciting report that challenges the status quo", while she praised the efforts of Ms Stewart and Mr Logan.
Engagement
In terms of how the latter – chief entrepreneurial advisor to the Scottish Government and former chief operating officer at online travel giant Skyscanner – was brought on board to co-author the study, Ms Stewart says it was part of a bid to ensure that the conversation about female entrepreneurship "engages everyone in society and in the system".
That sentiment is echoed by Mr Logan, who himself undertook the high-profile, Holyrood-ordered Scottish Technology Ecosystem Review that was published in 2020, and saw the "complementary" potential of his and Ms Stewart's combined reach.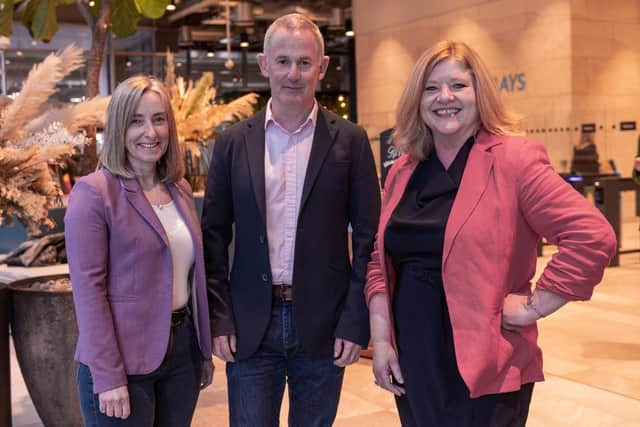 "One aspect of why I was very keen to be involved in [the Pathways review] is that, by far the largest-scale way to bring more talent into the ecosystem, and to have more companies flourishing is to take away the barriers [facing] women in entrepreneurship."
He adds that he has always seen that it is an "enormous" injustice that extreme under-participation by women in entrepreneurship has been "normalised", while he is adamant that men and women should all care about injustice to the same level. "It's not sufficient to say 'well, it doesn't affect me, therefore, I don't perceive a problem...' I think it's really important that men at least come to embrace the detail of this issue, and start to educate themselves about it... we [all] owe it to our daughters and granddaughters to take a more principled and more ambitious standpoint."
Ms Stewart says the report has tried to look with a fresh perspective at an issue that has already come in for much scrutiny, and tried to go back to the causes rather than symptoms, believing that otherwise "you will not prepare proportionate responses and interventions". She also states: "We're saying, 'how do we actually change this in a transformative way, not incremental', because it will default back to the norm if the societal situation doesn't change. We need to really shake things up."
Business-leader
The entrepreneur, whose current roles include since 2019 being a partner at Fife-based investment vehicle Eos Advisory, in 1995 founded fintech firm i-design, listing it on the Aim exchange in 2007 and later selling it to Nasdaq-listed ATM services company Cardtronics.
But Ms Stewart says she started much earlier in terms of developing skills that would later prove useful in business, for example, having been born to a Spanish mother, she would spend six weeks every summer in the country after a drive with her family in "an old rusty car all the way through Europe to get this little village". Despite neither side speaking each other's language, "my Spanish family would just throw me out into the open and say 'right, go and mix Ana...' But I would say I learned to then understand what was out there and what was going on elsewhere. And not to pigeonhole myself."
She also credits being a keen sportswoman with "learning to be resilient, and [dealing with] the highs and lows of being picked and not picked and winning and losing". However, she wasn't even allowed to play football at primary school as it wasn't an option for girls, but she is now a non-executive director at the Scottish Football Association – its first-ever female board member.
That turnaround in fortunes comes against the backdrop of the women's game having become increasingly mainstream and able to attract more investment. Does she see any parallels between the progress of her gender's representation in both the sport and in entrepreneurship?
"You could say it's almost a mirror, actually, in terms of stages and challenges. Don't get me wrong, there are ongoing challenges. But there are some big significant milestones being achieved there. And I believe that the work that we've done in this [Pathways] report is absolutely resonating, and creating the same atmosphere and environment, and promoting that to drive a much more collaborative approach to solving a problem that's not a woman's problem, it's a societal problem. And that has got to be remedied. Because it's for the benefit of everyone."
Comments
 0 comments
Want to join the conversation? Please or to comment on this article.