Aberdeenshire's Mackie's of Scotland cheers annual ice cream sales topping £20m
Mackie's of Scotland says it has scooped record revenues – including selling more than £20 million's worth of ice cream in a year for the first time.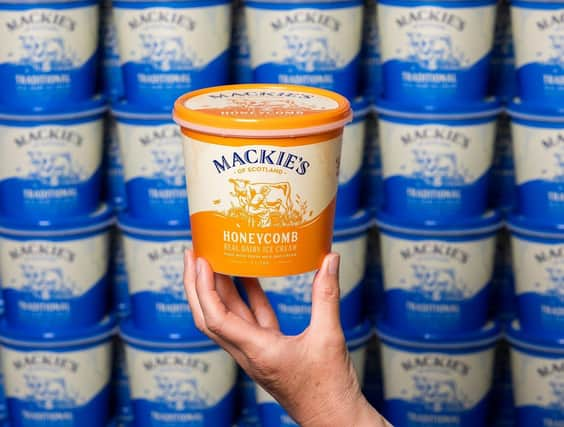 The family-owned firm, which also makes chocolate, says it has more than doubled its ice cream sales in ten years, with sales of that product alone reaching more than £20m in its last financial year, equivalent to more than 13.3 million litres – enough to fill more than five Olympic swimming pools.
Mackie's added that its strong sales figures in its 2022-23 financial year were underpinned by an 11 per cent jump in its market presence across the whole of the UK, where it says it is the largest independently owned ice cream manufacturer.
The growth has seen it add half a million customers across England, Wales, and Northern Ireland to its significant existing share in Scotland, where it occupies more than a fifth of the ice cream market.
The firm, which produces all its ice cream using fresh milk and cream on its fifth-generation family dairy farm, Westertown, near Inverurie in Aberdeenshire, said its most popular flavour, traditional (its one litre tub among the best-selling premium ice cream products in the UK) has been joined by its honeycomb variety on the shelves of Sainsbury's, Waitrose and Morrisons nationwide.
Earlier this year, Mackie's said its honeycomb flavour would be available in up to 245 Waitrose outlets from June, joining its traditional real dairy ice cream in the John Lewis-owned supermarket chain's freezers. That came after the family firm appeared on BBC's Inside the Factory programme, presented by Gregg Wallace, where the brand's process of making honeycomb ice cream was viewed by millions of people.
The latest growth comes after the business in 1986 noticed that with the rise of supermarket grocery shopping, the number of people having their milk delivered was in decline, and preferences for semi and skimmed varieties were resulting in an excess of cream at the family farm. It consequently began producing ice cream using its dairy herd and soon after selling to local shops and supermarkets, and later sold crisps, but then disposed of that division.
Strategy
Stuart Common, MD of Mackie's, praised the firm's increase in both sales and market share, adding: "While the cost-of-living crisis has pushed up the prices for our raw materials, we've taken every effort to limit price rises that are passed onto our customers, which has been reflected in reduced profits.
"We're thrilled to have returned such an impressive increase in our sales during a difficult period for the sector. The key for us now is to continue to grow our reach while ensuring our new customers become long-term advocates for us, as the economy settles."
Mackie's also highlighted the firm's sustainability initiatives, saying its "considerable" renewable energy generation capacity has insulated it somewhat from energy price rises, and it recently invested in a low-carbon refrigeration.
Common added: "Despite these being challenging times for all, we have worked hard to offset cost increases and the growth we've enjoyed shows that this was the right strategy."
Comments
 0 comments
Want to join the conversation? Please or to comment on this article.