Mackie's of Scotland: Record ice cream market share but soaring costs taking heavy toll
Ice cream maker Mackie's of Scotland has hailed its greatest ever UK market share after adding almost half a million customers, though surging costs have taken their toll on the bottom line.
Record increases in the cost of ingredients, haulage, feed and fertiliser have combined to make the outlook challenging and unpredictable for one of the country's most iconic food brands. The Aberdeenshire firm generated revenues of £17.7 million and a profit before tax of £1.7m, according to newly filed annual accounts for the year to the end of May 2022. While down sharply on the previous year's record £4.1m profit, the latest result is said to have surpassed initial forecasts. Sales have risen in the current year, but profit is forecast to fall further in light of steep cost increases.
Recently appointed managing director Stuart Common, who took the reins from family member Mac Mackie, told The Scotsman that he had "never experienced anything as tough as the past year" and said the business was absorbing as many of the cost hikes as possible, rather than passing them on to customers.
Last year's major breakthrough in the UK ice cream market came despite a tough time for the sector, as the overall market contracted by 7.4 per cent over the period. Mackie's said the growth of UK sales outwith its traditional Scottish market and its early adoption of renewable energy had helped it offset soaring cost pressures and allow it to build for the future. Consumer insights group Kantar Worldpanel reported that the ice cream maker's customer numbers in England, Wales and Northern Ireland climbed from 939,000 in 2021 to 1,424,000 last year.
The significant wider ice cream market shrinkage over the period has been attributed to rising cost pressures and market changes following surging take-home ice cream sales during the pandemic. The audited accounting period also saw Mackie's continuing commitment to investment being made back into the business, most notably the culmination of a £4.5m spend into one of Europe's most efficient and advanced low carbon refrigeration systems.
Currently partly operational and set to be fully deployed in the coming weeks, the cooling system will slash the firm's refrigeration-related energy usage by up to 80 per cent along with its carbon footprint. It will enable the company, which also produces chocolate bars, to make more efficient use of its vast renewable energy generation capacity, courtesy of its on-site 7,000-panel solar farm, four large-scale turbines and biomass plant.
Common said: "I have never seen a situation where everything we buy has risen across the board. We have attempted to keep a lid on that as much as we can. Some of the decisions made in years gone by are now coming to help us more than ever, such as investing in our own source of energy with four wind turbines and thousands of solar panels. We have also invested in making our own packaging on site. We have tried to tighten our belt as much as we can."
He noted that discount supermarket chains Lidl and Aldi had "really shaken things up" in recent years, limiting the ability of larger rivals to hike their prices. "If our price goes up by say 10p a customer will notice the change and they have a couple of options when standing at that shelf," Common said. "One is to buy a cheaper alternative product, very often an own-label one, and the other is not to buy ice cream at all. We have to be very guarded with what we do pricing wise. We are effectively still a challenger brand and across the UK we are up against some very big brands."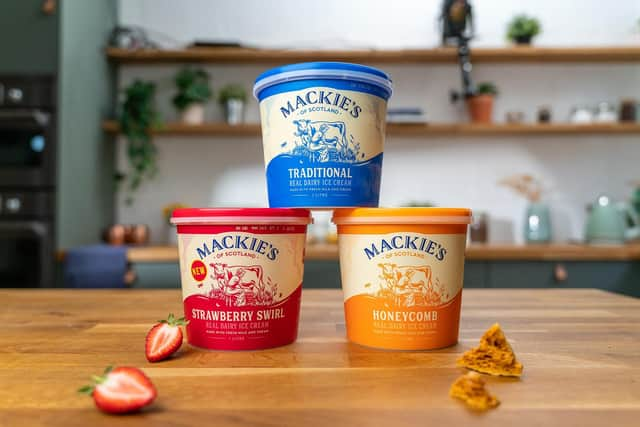 Mac Mackie, who is now the firm's executive chairman and one of three family owners of the business, said: "We are putting in place the foundations to be a bigger business and one that is even better equipped for growth in the years ahead. It's been a pivotal year in our history. We witnessed this encouraging step change in our sales and cut-through south of the Border, predominantly as a result of us winning and building on second-line listings for our honeycomb ice cream with a number of supermarkets, including Sainsbury's.
"For a long time, it's been the case that our Scottish customers have been able to choose from a wide range of our ice cream flavours, but those in the rest of the UK could typically only reliably get their hands on our best-selling 'traditional' flavoured real dairy ice cream. We're thrilled to be reaching new customers and determined to build on the success of these new listings. It's also been a very difficult year due to the scale of the cost increases we have been subject to. While this looks set to continue and worsen, we have robust plans in place to ensure the family business rides out the storm and is here to be successful for generations to come."
Common secured the pivotal MD role after working at the family business for more than 16 years, latterly as its sales and marketing director. The move will see Mac Mackie taking a strategic overview of the business and its development.
The new MD also pointed to the challenges of running a business in a more remote area of the country, noting: "In the North-east we need to look at life after oil, and the food and drink industry has a role to play in that. We need to innovate with new staff and bring them along on the journey."
Comments
 0 comments
Want to join the conversation? Please or to comment on this article.