Mackie's launches new indulgent flavour
A family-run ice cream brand has launched a new flavour after consumer research found it to be the nation's most appealing choice.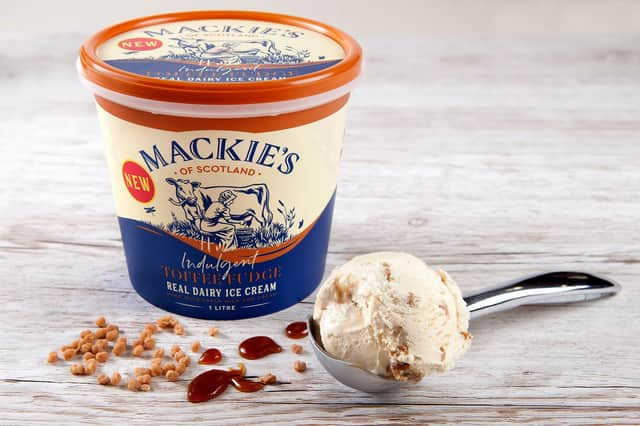 Mackie's of Scotland will see its new ice cream flavour, toffee fudge, hit shelves this month after it commissioned a thorough market research campaign which surveyed new and existing flavours with consumers.
The study was carried out by food and drink business consultants, Levercliff, and found that out of 26 different combinations, toffee fudge had the broadest appeal across the UK, with 40 per cent of people saying it was their preferred choice.
The ice cream will be available in Scottish Tesco stores, as well as Ocado across England and Wales.
Scottish Sainsbury's stores will also stock the flavour from mid-May.
Kirstin McNutt, Development Director with Mackie's oversaw the extensive market research project and subsequent flavour creation.
She said: "When developing the product, we gathered numerous amounts of data on trends, supplier ideas and market gap analysis, and ended up with a host of different flavour ideas.
"We narrowed it down to five flavour concepts, and our research found toffee fudge to be by far the most popular.
"The research insights also showed consumers really enjoy the textural experience of the ice cream.
"We want to provide our consumers with the flavours they love the most, and with our recent survey findings we believe our latest flavour will definitely be a crowd pleaser."
Produced on Mackie's farm, the flavour is created by using fresh milk from its own herd of dairy cows.
Mackie's also creates its toffee swirl using a new sauce making machine which has enabled the family-run business to make even more ingredients on the farm without external sourcing.
Kirstin said: "We aim to create as many of our ingredients on the farm as possible and our sauce making machine and freezing apparatus has helped to develop a deliciously smooth product which is packed full of rich textures."
Variations of the recipe were trialled in Mackie's 19.2 - the company's ice cream parlour in central Aberdeen.
The name reflects the 19.2 miles distance to the family farm where it has made ice cream since 1986.
Mackie's experiments with new flavours in the parlour and visitors can enjoy various seasonal specials in addition to being able to try new products destined for the retail range.
Mackie's of Scotland have been producing ice cream on its family farm since 1986, using wind and sun-powered renewable energy to power its dairy production.
Mackie's have produced luxury ice cream for generations, conducting a mullite consumer-backed experiments with new flavours over the years.
To find out more about Mackie's, please visit: www.mackies.co.uk