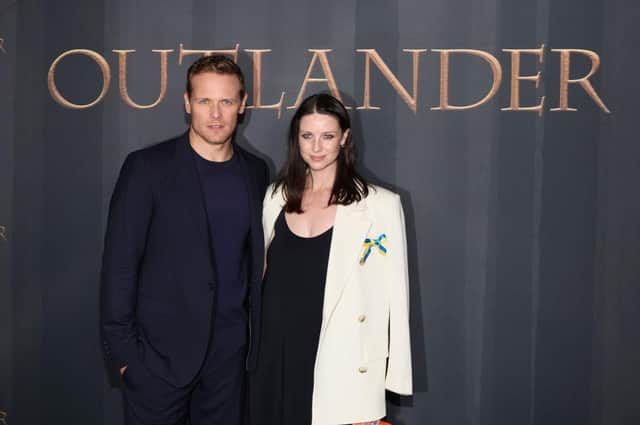 As fans wait for the imminent release of season 7 of Outlander – ending the 'droughtlander' since season 6 ended in May last year – it's been announced that the smash hit show is to come to a conclusion.
But it's not all bad news – as it's also been confirmed that there will be an 8th and final season before Jamie and Claire walk off into a Highland sunset.
The much-loved series – following former Second World War military nurse Claire Randall who travels back from 1945 to 1743 where she encounters, falls in love with, and marries Highland warrior Jamie Fraser – has millions of fans worldwide.
There are already 75 episodes in the can, based on the bestselling novels by American author Diana Gabaldon, although the last series had to be curtailed to just eight episodes due to the global pandemic.
Last time we saw the couple they were strugging with a huge amount of unrest as Jamie and Claire's grip on Fraser's Ridge became ever more fragile.
Here's everything we know about how it will end.
When will Outlander end and how many episodes are left?
It's now confirmed that there will also be a 10-episode 8th season, expected to be released in 2023.
So there are only 26 episodes to come, meaning the whole epic adventure will total a pleasing 101 episodes.
What have Starz said?
Speaking about Outlander coming to an end Kathryn Busby, president of original programming at Starz, said: "For nearly a decade Outlander has won the hearts of audiences worldwide and we're pleased to bring Claire and Jamie's epic love story to a proper conclusion. But before we close this chapter there is plenty of their passionate story to tell over the course of 26 new episodes and even more to explore of this dynamic world and its origin story. We're thrilled to continue to partner with Matthew Roberts, Maril Davis and Ronald Moore and can't wait to see where their alluring storytelling takes us next."
What has Sam Heughan said?
Heughan has been silent so far on the series ending, other than reposting a tweet on Twitter breaking the news with an applause emoji.
In an interview with men's luxury lifestyle magazine Square Mile he was mulling over what it would be like to walk away from the role for a final time, explaining: "What will I miss? I'll miss the camaraderie, the people, the routine. The routine is pretty tough, pretty full on. But there's something wonderful about it, going to work every day, you know you all are going to be f***ed but the end. It's hard work, it's full on, but you're all in it together. So I guess that camaraderie and being around people you enjoy being around."
What has Caitriona Balfe said about how Outlander should end?
Speaking to website Digital Spy before season 6 was released, Caitriona Balfe outlined how she would like to see the story be concluded.
She explained: "I think it has to be a Romeo and Juliet moment, right, where we are both together, or a Naoise and Deirdre moment where Jamie and Claire sort of lie down together and slowly drift off. I don't think one can survive without the other and I don't think Claire will leave him at all. Nobody is eternal, so at some point someone is going to have to croak it so they might as well do it together! Maybe they turn into turtles, something that lives for hundreds of years, and they travel together, under the sea – maybe that's the end…"
What is the prequel all about?
Season 8 will not be the end of the Outlander universe, with a prequel called 'Outlander: Blood of My Blood' already in production. It will follow the story of Jamie's parents, Brian Fraser and Ellen MacKenzie
Starz' Kathryn Busby said: "It is, at its heart, a love story. It will explore what lengths a person will go to find love in a time when love is considered a luxury, and when marriages are made strategically, often for political or financial gain. The title is a nod to Jamie Fraser's marriage vow to Claire and there will be several names and faces that Outlander fans will know and recognize. Jamie and Claire's TV story may be coming to an end with season 8, but Diana is continuing on with their literary journey in her wonderful book series and is working diligently on book 10. With Jamie and Claire, and now Brian and Ellen, there is still so much more to come in the Outlander universe, and we cannot wait to continue sharing these stories with our dedicated fans."
How to watch Outlander in the UK?
All seasons of Outlander - including the upcoming final two seasons – are available to watch in the UK on the Lionsgate+ streaming platform.
It's available as an app or as an add-on channel through Amazon Prime Video and Virgin TV.
It costs £4.99 per month but you can get a 30-day free trial through Amazon.