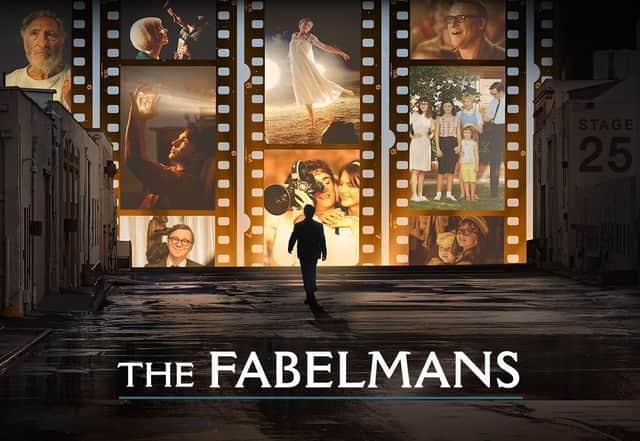 He has been long heralded as one of cinema's greatest ever directors and now audiences will see a glimpse into the life of Steven Spielberg in semi-autobiographical drama The Fabelmans, a story loosely based on the director's adolescence and early years as a filmmaker
Already released Stateside, British film fans have been patiently waiting to see the new Spielberg blockbuster for a number of weeks now, with The Fabelmans his first film since 2021's award winning West Side Story.
The drama was given its world premiere at the Toronto International Film Festival in September 2022 and won the People's Choice Award at the event.
What is The Fabelmans about
In short, The Fabelmans is said to be loosely based on the childhood of its director, showcasing his early passion for filmmaking.
Cited as a "deeply personal portrait of the 20th Century American childhood" the film portrays the life of the Fabelman family and, in particular, teenage wannabee moviemaker Sammy.
A coming of age tale, the film details a young man's discovery of a family secret in tandem with the power of film that helps us throughout our lives.
The Fabelmans review
Respected film site Rotten Tomatoes currently ranks the film at 91%, while user reviews are lower, it is still rated highly at 82%.
It has been largely praised by film critics across the globe, with top critic David Stratton of The Australian said the movie was "an affectionate and insightful peep into the inspiration and obsessions of a young filmmaker...", a sentiment that was echoed by Luke Goodsell of ABC News who hailed The Fabelmans as "warm, witty, and wonderfully moving".
Kiko Martinez of San Antonio Current noted "Spielberg's gift of intimate storytelling — especially when the subject is as delicate and meaningful to its creator as this semi-biopic — captures all the emotion and magic of making movies".
In the main, film critics have praised it unanimously so perhaps it is no surprise to see it as one of the big favourites for an Academy Award in the new year.
The Fabelmans cast
The line-up is absolutely jam packed with A-list actors. Gabriel LaBelle (The Predator) takes the lead role as Sammy Fabelman, a 16-year-old son of the family who has a desire to become a filmmaker – this character is based on Spielberg himself.
Paul Dano (Let There Be Blood) stars as Sammy's father Burt, with his mother Mitzi portrayed by Michelle Williams (Blue Valentine). The rest of Sammy's family are made up by Julia Butters (Once Upon A Time In Hollywood) who stars as his sister Reggie (based on Spielberg's real life sibling Anne) while Keeley Karsten takes the role of youngster sister Natalie, who is based on Nancy Spielberg.
There are roles for Seth Rogen (Knocked Up) who plays Bennie Loewy, Burt's co-worker and best friend who becomes a surrogate uncle to Sammy and Judd Hirsch (Taxi) as 'Uncle' Boris Schildkraut, Sammy's granduncle and a former film worker and circus lion tamer.
Also credited with roles are Sophia Kopera who stars as Sammy's third sister Lisa (based on his real life sister Sue), Jeannie Berlin, Robin Bartlett, Sam Rechner, Oakes Fegley, Chloe East and Isabelle Kusman amongst many more.
What is the runtime of The Fabelmans
Consistent with the bulk of Spielberg's films, The Fabelmans clocks in at over two hours with a runtime of 151 minutes. The BBFC have handed it a rating of 12A for racism, brief moderate violence, drug misuse, infrequent strong language.
When is The Fabelmans released in UK cinemas
US audiences have already seen the film launched in theatres after its release in November 2022, however, British fans have had to wait a little longer.
The Fabelmans is scheduled for release on January 27, with cinema chains Cineworld, Vue and Odeon currently allowing customers to book via their website.