FUBAR – which stands for F***ed Up Beyond All Repair/Recognition – was created by New York born writer Nick Santora for Netflix. Arnie himself has already excitedly told fans that his first ever action series will "kick ass – and make you laugh" and there has been no lack of anticipation for his first stint on Netflix.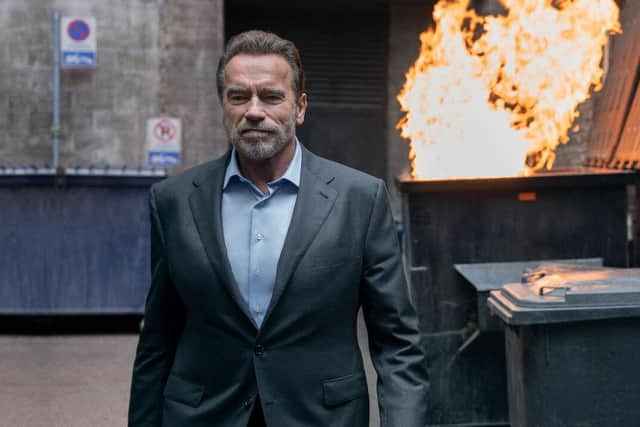 Believe it or not, despite his long history on the big screen, FUBAR will the Austrian's very first scripted television series and appears to be exactly what every Schwarzenegger has been waiting for.
Here's everything you need to know about FUBAR.
What is FUBAR about, FUBAR plot
FUBAR will star Schwarzenegger in the lead role as the character of Luke, who is a retired CIA operative. Working in secret, he discovers that his daughter is also a working as a CIA operative in secret and when the duo discover each other's secret, their relationship is thrown into real crisis.
Series creator Santora has commented that the series is his most "surreal" experience of his life, citing Schwarzenegger as one of his heroes as a child.
"I grew up watching Arnold Schwarzenegger films. I'd hit my dad up for a few bucks so I could race to the movies and see the biggest star in the world on the big screen, so creating the first scripted television project for Arnold is unbelievably exciting for me. The thing I always marvelled at was how Schwarzenegger could be funny while still kicking ass that's why I wanted FUBAR to be a hysterical, CIA-spy comedy mixed with heart-stopping action" Sanora told Netflix fans – exciting!
FUBAR Cast
Of course, Arnie is in the main role of Luke Brennan and he is joined by his on-screen daughter Monica Barbaro (Top Gun: Maverick) as Emma Brunner.
The well known face of comedy actor Jay Baruchel (This Is The End) as Carter, while Aparna Brielle (Jay and Silent Bob Reboot) is Tina. Elsewhere Andy Buckley (Dirty John) plays Donnie while Milan Carter, Fortune Feimster, Barbara Eve Harris, Gabriel Luna, Fabiana Udenio and Travis Van Winkle are all credited as main characters.
When is FUBAR released on Netflix UK, is FUBAR a movie or series, how many episodes are there of FUBAR
Fans of Arnie won't have to much longer to wait with the series due for release worldwide on May 25 via Netflix.
All eight episodes of the show will be available from approximately 8:01am on the morning of release. To watch the television series you must have a Netflix subscription, which can be signed up to here with prices starting at £4.99 per month.