Five Easter eggs you may have missed in Good Omens 2 including David Tennant's father-in-law
The second season of Good Omens was finally released last month, and it is packed full of references and hidden Easter eggs.
Originally based on the best-selling novel by Terry Pratchett and Neil Gaiman, Good Omens stars Michael Sheen and David Tennant as angel Aziraphale and demon Crowley, respectively.
Behind the camera, Gaiman serves not only as one of the show's writers but as co-showrunner alongside others such as Scottish director Douglas Mackinnon.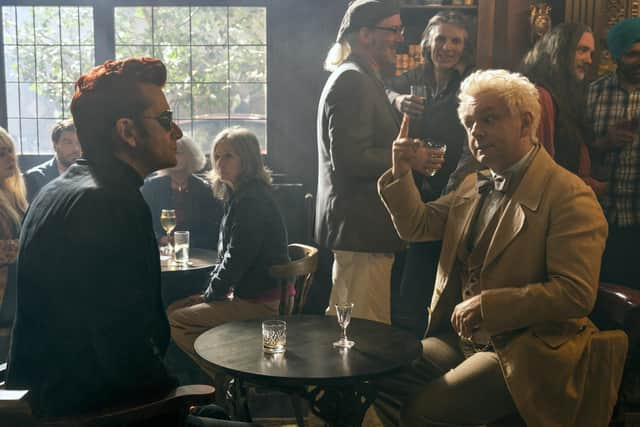 A family affair
During the episode two minisode, which tells the biblical story of Job, David Tennant was joined by his father-in-law Peter Davison, who played Job, while his son Ty Tennant portrayed Job's son Ennon.
Terry Pratchett
The show pays homage to the late Pratchett in various ways: his hat and scarf hanging in the bookshop, the first of his Discworld novels (The Colour of Magic) being discovered by Gabriel, and the inclusion of phrases such as 'seamstress', a euphemism Pratchett used to describe sex workers such as Mrs Sandwich, whose name is another reference.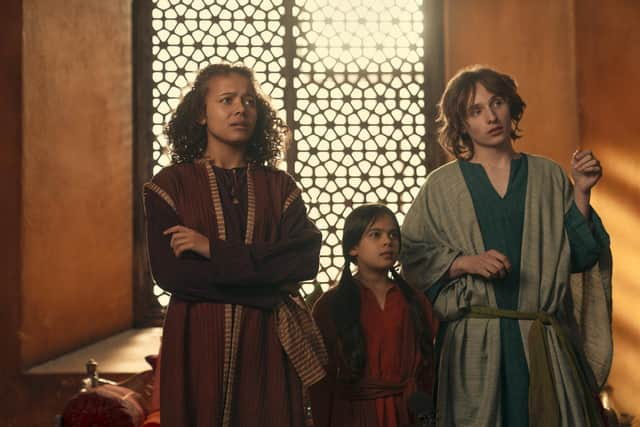 The turnip trick
During Aziraphale's magic show in episode four, one of his tricks involves a turnip. While the appearance of the neep on stage is largely unremarkable, the fact that it was technically a Swede (or rutabaga) caused mild confusion for those in other countries and Gaiman had to clarify the matter for a fan.
Mrs Sandwich's sign
The community in Soho plays a larger role during the second season, with shopkeepers Nina and Maggie the most prominent. While viewers can spot the "Terry" and "Neil" graffiti in the coffee shop, one of the more amusing Easter eggs is the sign on the door of Mrs Sandwich, the "seamstress". Inspired by notices which used to appear around Soho, the sign seemingly refers to Crowley: "Don't pay the guy with the blue glasses he doesn't work here!"
Whisky