Cocaine Bear: The real Cocaine Bear story, is Cocaine Bear a true story, Cocaine Bear rating, cast and runtime
Based on a bizarre true story, Cocaine Bear was launched in cinemas across the globe last week. But how much of the story is actually true?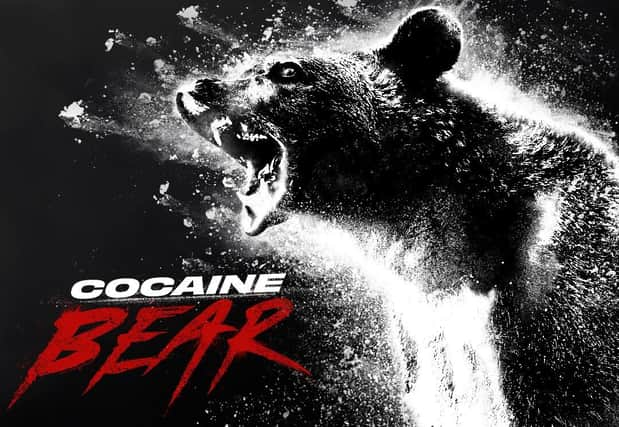 Directed by Elizabeth Banks, Cocaine Bear is set to be one of the biggest cinematic hits of the year and hit theatres across the globe a few days ago and has arrived with the potential to be the latest cult hit with movie goers.
But how much of it is actually true and – most importantly – when can we see it in UK cinemas?
Is Cocaine Bear a true story, real Cocaine Bear
The movie is loosely based on a true story because, in short, there was once a bear that unknowingly took the drug cocaine in the US state of Georgia in 1985. The American black bear actually ingested a full duffel bag of the illegal substance. However, unlike the film, the bear did not go on a cocaine fuelled killing spree – although the true story is probably just as bizarre.
In real life, the drug was actually dropped by a drug smuggler named Andrew Thornton who fell to his death when his parachute failed to open after he jumped out of a plane. The duffel bag of cocaine then landed in a forest in Georgia where it was discovered by the bear.
When the bear found the duffel bag of cocaine, reported to be worth up to $15 million, he ingested the entire contents and subsequently overdosed and died. Meanwhile Thornton was later found in a driveway in Knoxville, Tennessee.
Following Thornton's death and the discovery of his plane in the mountains of North Caroline, investigators traced his flight path and found a further NINE duffel bags of cocaine – though bag number 10 was taken by the bear, as we now know.
Cocaine Bear full cast
It may be a bizarre tale but this horror comedy hit has tons of recognisable names – including the late, great Ray Liotta (Goodfellas).
Alongside him is Golden Globe winner Keri Russell (Star Wars, Antlers) who plays Colette Matthews, the oldest son of rapper Ice Cube O'Shea Jackson Jr. (Straight Outta Compton) who stars as Howard, Alden Ehrenreich (Solo, Oppenheimer) as Marty, Christian Convery (Diary of a Wimpy Kid) as Henry.
There are also confirmed roles for Brooklynn Prince as Colette's daughter, Jesse Tyler Ferguson, Isiah Whitlock Jr. as Bob, Aaron Holliday as Stache, Margo Martindale, Matthew Rhys as Andrew C. Thornton II, Kristofer Hivju and Hannah Hoekstra.
When is Cocaine Bear released in the UK and showtimes
The black comedy is set to be one of the most highly anticipated movies of 2023 and out in cinema's across the country now. Book your seat at Cineworld via this link here.
Cocaine Bear age rating and run time
The horror comedy comes in at a fairly short and sweet time of 95 minutes and has been handed a certificate 15 by the BBFC for strong gore, violence, drug references, language.
Is Cocaine Bear on Netflix
Cocaine Bear is not available for streaming, though this may change once the film has had its theatrical release.