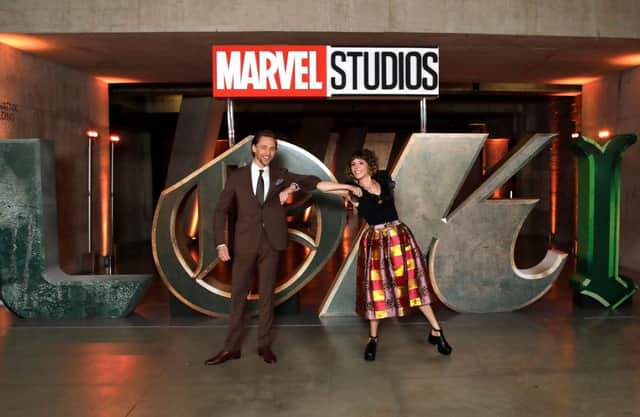 It was another mighty year for the seemingly all conquering Marvel Studios with a host of the 2022 releases storming the Box Office charts throughout the last 12 months.
As we dive in the Marvel's 2023, a number of we see some returning heroes embark on new adventures, while new characters are introduced to the Marvel Studios world.
Here are all the films premiering in cinemas and TV shows coming to Disney Plus from Marvel Studios in 2023:
What Marvel TV shows are coming out in 2023?
Marvel's Moon Girl and Devil Dinosaur – February 10
The animated television show follows a 13-year-old super-genius named Lunella after she accidentally brings a T-Rex into present-day New York City via a time vortex.
Marvel's What If...? (Season 2) - Early 2023 on Disney+
The second season of 'What If' sees the script get flipped on the Marvel Cinematic Universe once again, as story tellers reimagine the most popular Marvel hit films in unexpected ways.
Secret Invasion – Spring 2023 on Disney+
Based on the comics of the same name, this mini-series will star Samuel L. Jackson and has been developed by Kyle Bradstreet.
Echo – Summer 2023 on Disney+
Echo will see us revisit the character Maya Lopez when ruthless behaviour in the Big Apple lands her in trouble and forces her to face her past.
Loki (Season 2) – Summer 2023 on Disney+
This highly rated television hit returns for 2023 with mercurial villain Loki (Tom Hiddleston) continuing in the role as the God of Mischief.
Ironheart – Summer 2023 on Disney+
Originally created in Marvel Comics back in 2016, Ironheart will see a new superhero come to the fore with six episodes set to launch on the streamer in summer of 2023.
X-Men '97 – Fall 2023 on Disney+
The new series will see Marvel heroes such as The new series will include Rogue, Beast, Gambit, Jean Grey, Wolverine, Storm, Jubilee and Cyclops. Magneto landing on the Disney Plus later this year.
Agatha: Coven of Chaos – Winter 2023 on Disney+
Based on the Marvel Comics character Agatha Harkness, Agatha: Coven of Chaos appears to pit Scarlet Witch against Morgan Le Fay in the poster for the film, which is set to complete filming in May.
What Marvel films are coming out in 2023?
Ant-Man and the Wasp: Quantumania
The first Marvel Studios film set for release will see the return of the lovable Paul Rudd, who stars as Ant-Man. This two hour epic will be the 31st Marvel Cinematic Universe and serves as a sequel to Ant-Man (2015) and Ant-Man and the Wasp (2018).
The premise of the film will see Scott Lang and Hope van Dyne head onto a new adventure as they explore the Quantum Realm which will push to duo to their limits and pits them against Kang the Conqueror.
Guardians of the Galaxy Vol. 3
One of Marvel's biggest hits of the last decade returns for a third instalment as Chris Pratt once again takes the lead role as Star-Lord.
One of the most star studded Marvel blockbusters ever, the film will see David Bautista return in the role of Drax with Zoe Saldana as Gamora, Bradley Cooper as Rocket, Vin Diesel as Groot, Karen Gillan as Nebula and Pom Klementieff as Nebula return to their roles.
Spider-Man: Across the Spider-Verse
This animated Spiderman smash is set to launch as in cinemas exclusively this summer as Miles is asked by his love interest Gwen Stacy to help complete a mission to save every universe of Spider-People from a new villain that looks set to launch chaos across the globe.
The Marvels
Set to be Marvel Studio's big summer hit, The Marvels will take us on another Carol Danvers adventure after we first saw her in Captain America four years ago.
Set to be Directed by Nia DaCosta (Candyman), the movie will see a return for Teyonah Parris' as Monica Rambeau and Iman Vellani's Kamala Khan/Ms. Marvel alongside Nick Fury, who will be played by Samuel L. Jackson.
Kraven the Hunter
While we have a confirmed release date for Kraven The Hunter, much of the movie's plot is still shrouded in mystery – though we know Aaron Taylor-Johnson will star as big game hunter Sergei Kravinoff.
An enemy of Spider-Man in the comic book world, one of the film's writers has revealed that Kraven will come face-to-face with Spider-Man in the film, which is sure to cause lots of excitement for Marvel fans.