Great British Bake Off recap: Pastry week tests bakers with perfect pies and pithivier
Pastry Week in The Great British Bake off had contestants desperate to create perfect pies with no soggy bottoms.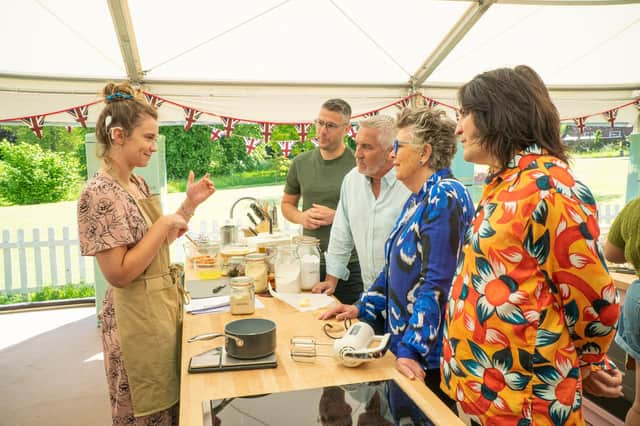 Fighting words during pastry week, but did they predict doom?
With two bakers leaving the tent after facing a savoury picnic pie signature, a dauphinoise pithivier technical and a sweet pie showstopper.
Signature Bake: Picnic pies
This week for the signature challenge the bakers were asked to make 12 individual savoury picnic pies using water crust pastry.
Bakers had to be on the look out for overfilling and underfilling their pies; too much filling and they risk springing a leak, too little and they risk leaving an air pocket.
Matty came out the gate with spanakopita-inspired pies with ricotta, feta, spinach and garlic. Alongside Cristy, Matty was one of two bakers who chose to lattice the top of their pies instead of using pastry lids.
Cristy's pies were made with creamy mushroom, garlic and leek then topped with a delicate lattice lid.
Dana, in a move which would turn out in her favour, created a potato dauphinoise filled pie, with caramelised onion and rosemary. Josh was creating a "post-match picnic pie" filled with sausage, cheese and pickle, with Tasha and Rowan also creating sausage inspired bakes.
Dan took inspiration from a spicy lamb keema, with Saku also incorporating spice into her mix with her – toned down for the judges – spicy tuna and quails egg pie.
Nicky went traditional with her pork and cheese pie mix – but she did have to start again as she was unhappy with how it went the first time round, putting her in trouble.
Saku faced the dreaded soggy bottom for her pies, though her flavours were praised. Similarly, Matt, Dan and Dana were also praised for their flavours, however, their inconsistent pastry stopped them from excellent results.
Other bakers who did well include Josh and Rowan, who was told if his pies had looked better he would have a "little triumph" on his hands.
Tasha was praised for her pies with their mustard bottoms which Prue called a "little work of genius", while Cristy blew the judges out of the water receiving the third Hollywood handshake of the series.
Technical Challenge: Dauphinoise potato and caramelised onion pithivier
Now, Dana had been very seriously asked by Paul during the signature challenge if her pies were like a pithivier.
Dana laughed, denying his statement but she would be the one with the last laugh considering what Paul's technical challenge would be.
The bakers were asked to create a dauphinoise potato and caramelised onion pithivier – something eerily similar to Dana's earlier bake.
Paul's warned the bakers that the textures inside and out of the pithivier had to be perfect – meaning, be careful of undercooking the potatoes on the inside.
The pie consisted of a rough puff pastry, usually created through lamination – folding layers of butter into the sheets of dough, refrigerating them, then repeating to create distinct pastry layers.
However, Josh, Nicky and Matty neglected to do this, given that the recipe called for them to grate the butter into the mix.
The panic and stress of the bakers was interrupted by Dan and Noel conferring on how scared they were of Saku after Dan considered getting into a rolling pin fight with her.
Not one to back down, Noel labelled Saku a Jedi after she whipped out her rolling pin in response.
The blue cheese sauce to accompany the pies was labelled "very pungent", but toward the end of the bake when time was called there were clearly some better than others.
Nicky said she was "so gutted", with Rowan describing his pastry by saying: "I've seen neater poos to be honest with you."
When it came to judging, Nicky came in ninth, Josh in eighth, and Matty in seventh.
Tasha came in third, Dana – unsurprisingly – came in second, while Dan came in first.
Showstopper: Decorative sweet pies
With several bakers needing to redeem themselves with their showstoppers, they were challenged with creating a display of decorative pies – Prue was hoping for around three pie types – using a sweet shortcrust pastry.
Cristy's bake was inspired by a woodlands scene utilising spiced apple, blueberry and a raspberry frangipane.
Rowan set out to create an Absolutely Fabulous series of pies, also using frangipane, much like Nicky who also used plum, apple and pear in her pies.
Dana's sweet pies were inspired by honey baklava with frangipane and pistachio, Saku's infographic pies were flavoured with pineapple and cherry, as well as apple and frangipane, while Dan took inspiration from South America with his creation.
Josh, rather sweetly, focused his showstopper on his late nan who had passed away two years to the date of filming. He learned how to bake from her and his decorative sunflower pies were made in her honour.
Tasha was hoping to impress with her "Sea or Ski" creation - which also featured decorative BSL fingerspelling – and Matty was also inspired by his love of skiing.
Rowan faced disaster during his bake however, and was unable to remove his pastry from the tin and toward the end of their time, Nicky and Rowan hugged clearly feeling the stress.
But how did the bakers do?
Cristy was praised for her "sensational display" and spot on flavour – not that she's ever struggled with how her bakes looked. She rounded off a great week with another excellent bake.
Tasha's "rough and ready" pies were in need of a glaze, though her flavours were praised even if the inside of her pastry was described as cake like on one of her pies.
Dan flavoured his pies using grape which was described as a very subtle flavour by Paul, and that it had been lost in his bake. One of Dana's pies were described as "rich" and very sweet, while the other was too sour.
Matty, unfortunately, faced raw pastry on his bakes, as did Saku.
Josh, however, received nothing but praise for his pies which Prue said she couldn't find fault in.
Predictably, Rowan's pies were a disaster, and Nicky didn't fare well either, with her pies ending up completely dry though her custard was good.
Who was Bake Off's Star Baker this week?
After a successful week in the tent, Cristy became Star Baker. Having received the third Hollywood Handshake of the series, it was a well deserved win.
Who left Bake Off?
Unfortunately, both Nicky and Rowan left the Bake Off tent this week, and as Nicky said: "You can't stay in after a bag of pants."
With both contestants fan favourites, it will be interesting to see what the situation inside the tent will look like with the infinitely cheery Nicky gone and a lack of sarcastic commentary from Rowan.
Comments
 0 comments
Want to join the conversation? Please or to comment on this article.