RuPaul's DragRace UK has been as fabulous, jaw-dropping and utterly hilarious as we would expect - thanks to Scottish queen, Lawrence Chaney.
The 24-year-old has dazzled in her purple frills and outrageously funny one-liners since she hit our screens in January.
On 18 March, the Glasgow gal was announced as the winner of season two, beating expected winner Bimini to the crown.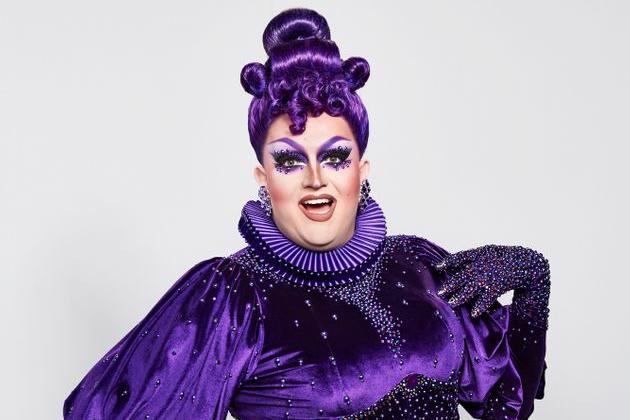 Lawrence Chaney was crowned superstar of RuPaul's DragRace UK season 2, the first Scottish Winner in any RuPaul season (Picture: BBC Three)
So, who is Lawrence Chaney and what was her reaction to winning? This is what you need to know.
Glasgow's very own drag royalty, Lawrence Chaney is the drag act of Helensburgh-born Lawrence Maidment.
Born in 1996, Lawrence has been performing drag since the age of 18, in and around the Glasgow drag scene.
The name Lawrence Chaney was thought up from Lawrence's love of silent movie actor, Lon Chaney. The actor was renowned for his groundbreaking artistry with makeup.
She gave a nod to her birthplace in maxi-challenge 'Queen of your hometown', with a Charles Rennie Macintosh's Hill House-inspired frock - with "extra-extranessss".
The 24-year-old has told how he grew up being bullied in school, but went on to become a popular comedic drag act.
Now, she is a witty, hilarious, purple-loving, slang talking, Irn Bru chugging, realness serving RuPaul superstar. And viewers loved every second of her.
What is Lawrence's style of drag?
Lawrence Chaney is known for her witty one-liners, such as "I'm like the Loch Ness monster, a legend."
The self proclaimed drag royalty has told how she is the 'Susan Boyle' of drag, but not quite - as she didn't come runner up to a more mainstream contestant, instead sashaying away with the crown firmly on her wig.
Lawrence plays to their strengths during their drag performances, which include comedy and impersonations.
She claimed her weaknesses are in dance and singing, jokingly telling RuPaul fan's: "I'm gay, I should be able to sing and dance," and referred to her "two left feet, that are made of pure wood," in a RadioTimes interview.
Despite this, she managed to blow us away with her performance on RuPaul's Top 40 chart hit, 'UK Hun?' with lyrics: "Dancing to a highland jig/ Lawrence Chaney's up in this gig/ From Helensburgh to Edinburgh/ Everywhere I go I'm snatching wigs/ I made my name in Glasgow city/ Can't sing or dance, but I'm so witty".
Lawrence has also suggested his drag act is 'silly', as opposed to his RuPaul Scottish sister, Ellie Diamond's "cool" look.
What has she said about being on RuPaul's DragRace UK?
She has spoken openly about the lack of recognition for the Scottish drag scene, and how Glaswegian queens pull together to produce creative performance on a low budget.
She told The Scotsman that showcasing Scottish drag "means the world to [her]."
"Me and Ellie Diamond represent Dundee drag, I represent Glasgow drag. I represent the queens that have helped me become the drag queen I am," she said.
"A lot of the time Scottish drag is very looked down upon and seen as 'just Scottish queens'. Let me tell you there's no 'just' about Scottish queens.
"And this is proof of that. We are very, very ambitious, and we have fought a long way to make it to London and to be represented all around the world."
She also told Vogue: "I don't have tonnes of money, we're all local queens [in Glasgow], so we've got to kind of make it work," adding, "me and my friends slap-dash all these runway looks together."
How did she react to winning?
Lawrence made it to the finals after ten weeks of lip-sync battles, parody performances, singing, dancing, and drama.
She was up against Dundee's Ellie Diamond, London queen Bimini Bon Boulash and Newport's Tayce in the finals.
Lawrence will now be flown to Hollywood to record her own mini-series with the producers of the BBC Three show.
Taking the crown, Lawrence said: "This is insane! It's incredible. Scotland babes, I brought the crown home."
Ultimate queen RuPaul told her: "Condragulations to our first Scottish queen, Laurence Chaney. Your charisma, uniqueness, nerve and talent have charmed the world.
"To our runners up, the incredible Bimini Bon Boulash and Tayce, I have a feeling we'll be seeing a lot more of you in the future. To all our amazing queens, thank you for sharing your much-needed love, light and laughter during these challenging times."
Top 10 one-liners from Lawrence Chaaaaahneeeeeh (as mumma Ru calls her)
- Lawrence: "I think Bimini is one of my gals, and me and my gals, we eat chicken nuggets together." Producer: *chuckles* "She's vegan." Lawrence: "OH F***."
- "That's not sexy...In the slightest... Ginny looks like a sex doll with googly eyes on her!" (about Ginny Lemon wearing both a breast plate and padding)
- "I wonder if there's more to Ginny Lemon that we maybe don't want a slice of?"
- "Get fed" in response to Bimini telling her what PMA stands for, "Personal Mental Attitude".
- "I'm fattered! Fat and shattered!"
- "I know I look very like Darcey Bussell, but I am terrified of a dancing challenge - and I can't sing for s***! I just sound like I'm being castrated."
- "If you're team Chaney watching, thank you babes! If you're not, yer Da sells Avon!"
- "I'll show YOU my sh*gpipes!"
- "I was never one that was terribly good in P.E., so I'm hoping right now that my mum can write me another sick note for this!"
Can I catch up on season 2 of RuPaul's DragRace UK?
All episodes of season two are available on BBC iPlayer.