Women take centre stage as gothic horror classic Dracula is reinvented in its Scottish birthplace
The classic vampire tale has been revived in Aberdeenshire
It was the gothic horror story that introduced the world to a terrifying blood-sucking character who would become a source of fear and fascination for more than 125 years.
Now Dracula is being reinvented for 21st-century audiences in Scotland – in a spectacular new stage production honouring the novel's little-known origins on the north-east coastline.
The National Theatre of Scotland has turned to Bram Stoker's original 1897 novel and brought Dracula back to Aberdeenshire, where the Irish author famously wrote much of the novel during annual visits to Cruden Bay, for its latest show.
The ruined remains of 16th-century Slains Castle, the clifftop landmark that inspired Count Dracula's castle in the book, has been recreated on stage at His Majesty's Theatre in Aberdeen, where the production – which features some characters speaking in the local Doric dialect – is launching this week before touring around Scotland.
Playwright Morna Pearson retells Stoker's vampire classic story through Mina Murray – the main female character pursuing Dracula in Stoker's original novel – after her arrival at a fictional psychiatric hospital for women in Aberdeenshire in 1890.
An all-women and non-binary ensemble has been cast in Dracula: Mina's Reckoning, which features Aberdeen-born Danielle Jam playing Mina, Ailsa Davidson as best friend Lucy and Liz Kettle as Dracula.
Jam, who will play Chris Guthrie in a stage adaptation of the Aberdeenshire-set novel Sunset Song next year, said: "Dracula is such a dark story. I was really excited about being able to delve into a really dark place.
"The part is monumental to me – it's such a challenging role. Mina's the most resilient person I've played. She goes through so much. Her central guide is her rage. It drives her and gives her the clarity to make decisions.
"In the original novel she's an incredibly clever, observant and brave woman, which wasn't seen a lot in literature written by men at the time. Her friendship with Lucy and her encounters with Dracula is at the heart of our story, which is told from her journals after she arrives at the asylum."
Kettle was cast in Dracula: Mina's Reckoning, which is directed by Sally Cookson, after starring in Macbeth (An Undoing), a new Zinnie Harris play premiered at the Royal Lyceum in Edinburgh earlier this year.
She said: "The original Dracula book is a real page-turner. When I went back to it, I couldn't put it down. It has a galloping last chapter as they pursue Dracula back to Transylvania.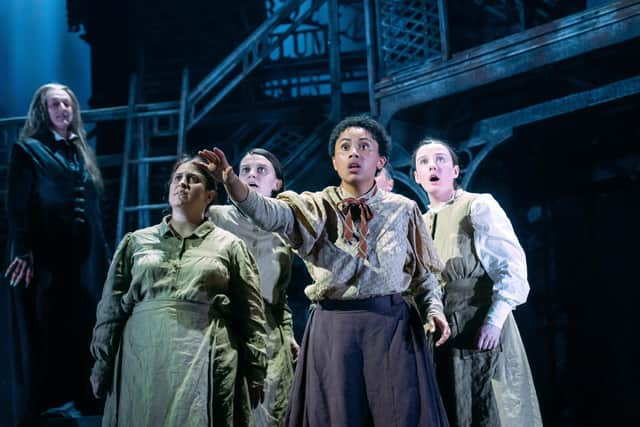 "Morna has kept in all the parts of the book that people will know, but has set it in an asylum in an era when this paternalistic and oppressive treatment was rife. For me, I think the echoes are very clear with our contemporary society at the moment.
"It's a bit of a wrestle with the original story and to some extent Dracula is a supporting character in this show. The story we're telling is really Mina's story."
Jam said: "Our show is told from the perspective of the marginalised groups of the time. The expectations of women to marry, have kids and not have a career, and the constraints on them, are very much part of our storyline.
"Mina wants to break out of all that. She wants to be able to have a career and see the world. In our version, the Dracula character is potentially offering a different kind of freedom that's tempting to people who don't feel like they belong in this world.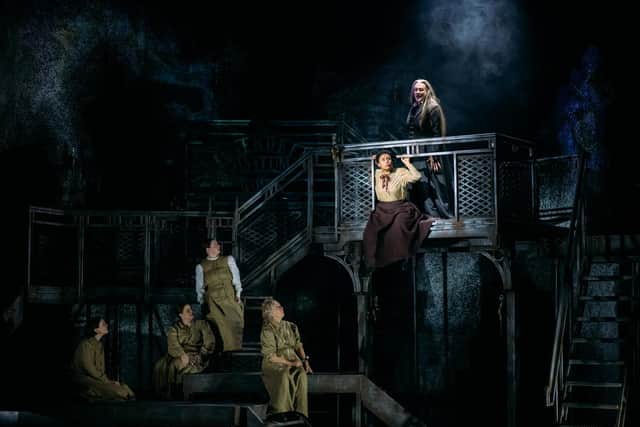 "Although it is firmly set in 1890, it definitely lends itself to today and how some people still feel that they're marginalised and have no power.
"All the characters from the book are in our story. We've all read it going into rehearsals and it's been at the centre of the whole process. We've really just given the female characters more of a voice. The classic vampire tale is still there, but Morna's done an incredible job of making it feel relatable."
Although Pearson's script is injected with moments of dark humour, Kettle and Jam are in no doubt they are telling a horror story.
Kettle said: "My instinct was that on the one hand this character was utterly charming, but on the other is capable of the most fantastic cruelty and is tyrannical. Dracula is many things. You're talking about a serial killer, a vampire, a romantic and an addict.
"I watched Anthony Hopkins in Silence of the Lambs. I hadn't seen it before, but I thought I should. He [Hannibal Lecter] is almost like a contemporary vampire. That film works on our imaginations, we're imagining the worst. I learnt a lot watching him. He does very little, but has a laser-like focus and stare. He's been watching you before you've even seen him.
"For me, Dracula is really just watching and waiting for the moment."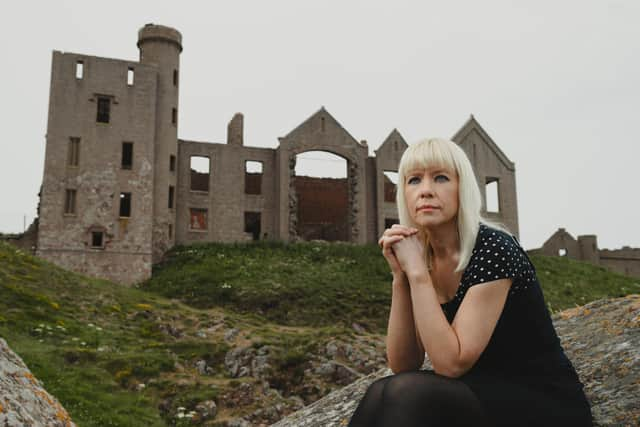 Jam said: "Morna is really great at writing dark stories which have a lot of humour in them. Some of our characters have great one-liners, but it's definitely a horror story.
"We're trying to make the show as engaging as possible. There's haunting music all the way through, a lot of blood, incredible lighting and a few jump-scares as well. We're trying to make it as much of an immersive experience as possible, so that people feel as if they are actually there."
Kettle paid her first visit to Cruden Bay and Slains Castle at the weekend, including stopping in at the Kilmarnock Arms Hotel, where Stoker stayed during his annual visits to the area.
She said: "I didn't say anything at all. But when nobody was looking, I signed the visitors' book and said I'd been in for 'a flying visit'. When I strode towards the castle I looked up at one point and shouted 'I'm hame'."
Dracula: Mina's Reckoning is at His Majesty's Theatre until September 9 before touring to Glasgow, Stirling, Inverness, Dundee and Edinburgh.
Comments
 0 comments
Want to join the conversation? Please or to comment on this article.