Morna Pearson on reimagining Dracula for the stage
In her new version of Dracula for the National Theatre of Scotland, Morna Pearson says she has tried to develop the female characters in the story "so nobody is disposable". Interview by Mark Fisher
Morna Pearson is partial to a bit of True Blood and Buffy The Vampire Slayer. That could be why she did not hesitate when the National Theatre Of Scotland (NTS) asked her if she would like to adapt Dracula for the stage. She said yes instantly.
Her first surprise, though, was to discover she had not read Bram Stoker's novel as she had believed. Not all of it, anyway. The book on her shelf was an abridged version she had borrowed from her high school library and never taken back. "I will return it," she laughs. Now she had reason to discover the classic story in its entirety.
"It's a book you can read multiple times and still get something out of," she says. "Because it's such a rich text, I trusted my initial impressions of it, although I could read it again today and think, 'Oh, I wish I'd done that bit.'"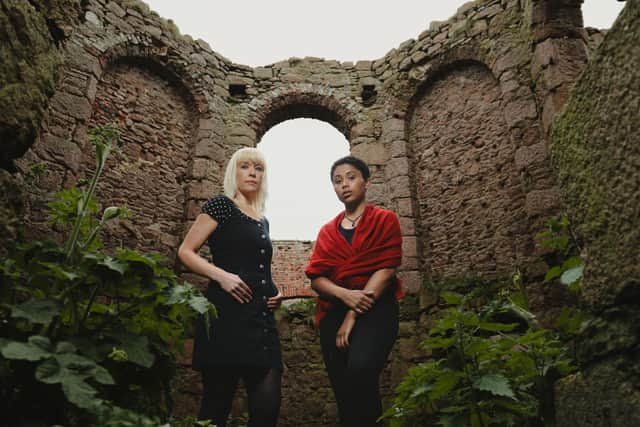 What she was drawn to was the novel's vision of a character who is addicted to his own authority. "It's about who has power, who doesn't have power and why," she says. "Dracula was a privileged man four centuries prior to the novel. A lot of people who hold power nowadays hold a lot of trauma from their early years and they can't let go of power – like Putin who is living in a weird bubble and projecting his fear on people. The roots of that are probably very easy to find in his childhood. Read any newspaper and its full of people who are wielding power in very irresponsible ways."
As a playwright, Pearson has an eye for black humour and a willingness to pry into dark corners. In her original plays, such as How To Disappear and The Artist Man And The Mother Woman, she has been drawn to socially excluded characters, damaged by their circumstances. There is only so much humour you can add to Stoker's novel ("It's been a challenge to balance the tone"), although the grotesque will be all present and correct.
She is making her mark by moving the story to Aberdeen and focusing on the female characters. With its new full title Dracula: Mina's Reckoning, she is turning the spotlight on Mina Murray, fiancée of Jonathan Harker, the solicitor contracted to help Count Dracula buy a house, as well as on Mina's friend Lucy Westenra.
"There is no male gaze in it," says Pearson about her all-female and non-binary version which stars Danielle Jam as Mina, Alisa Davidson as Lucy and Liz Kettle as Dracula. "We've tried to develop the female characters so nobody is disposable, like they usually are in horrors. The genre is good at exploring the horror of adolescence, which is the appeal of Buffy, and in this story, Mina is exploring the horror of being a woman in the 1890s. That's why the novel endures: every generation finds itself in some sort of existential horror."
In the original story, Dracula lands at Whitby, but Stoker began work on the novel during one of several long visits to Cruden Bay in Aberdeenshire. He is said to have used nearby Slains Castle, perched on the cliff edge overlooking the sea, as the inspiration for Dracula's castle. It means Elgin-born Pearson has good biographical justification for making the geographical shift, swapping London for Aberdeen and Whitby for Cruden Bay.
"In the novel, one of the fisherman characters speaks Doric, which obviously Stoker heard people speaking when he was in Cruden Bay writing it," she says. "The fact that he mostly wrote it in the north east felt like permission to take it back there."
Dracula, of course, has been endlessly adapted since its publication in 1897. In fact, even before the print edition came out, Stoker himself produced a stage adaptation called Dracula Or The Undead. In the early part of his career, he had been a theatre critic on the Dublin Evening Mail and went on to manage the Lyceum Theatre in London for nearly three decades. He seems to have understood the theatrical potential of his story, although he could have had no idea just how profoundly it would establish itself in the culture. From the first silent movie adaptation in 1921 to the newly released The Last Voyage of the Demeter, it has been endlessly re-imagined.
In writing her version, Pearson ignored the screen adaptations and returned to the original novel, which she views through the frame of a turn-of-the-century psychiatric hospital where Mina flees after her encounters with the undead. "There are things you think are in the novel and it turns out they were just in a few films," she says. "The book itself is more than enough. It presents so many options."
In rehearsals, she has been working closely with director Sally Cookson, who has enjoyed an extensive career with Bristol Old Vic and Travelling Light Theatre among others. "The way Sally works is very holistic," says Pearson. "Music, movement, visual design and the writing all work in tandem. The horror can come from any of those elements. We've had to find a creative language for horror on stage because it is hard to scare people. In theatre, we can't rely on the horror tropes – a rustle in the bushes and then a cat jumps out. You can't throw cats about the stage! But the novel is not full of jumps and scares. It is a slow anticipation building and that works well in theatre."
Dracula: Mina's Reckoning, His Majesty's Theatre, Aberdeen, 2–9 September and touring until 28 October.