The Scotsman Sessions #38: Robert Robertson
Welcome to The Scotsman Sessions. With the performing arts world shutting down for the foreseeable future, we are commissioning a series of short video performances from artists all around the country and releasing them on scotsman.com, with introductions from our critics. Here, Robert Robertson of Tide Lines performs a solo acoustic version of Innocent and Beautiful from the band's new album, Eye of the Storm
For Robert Robertson, singer with the Glasgow-based Highland band Tide Lines, singing from home is becoming a habit. Here he performs a solo acoustic version of Innocent and Beautiful, the band's single from their new album Eye of the Storm, while battened down against the virus in his family home in Fort William.
Just at the start of the lockdown, however, he was still in his flat in Glasgow's Partick district when he went live on Facebook, singing from the album and taking requests. His sofa session raised some six and a half thousand pounds for the homeless charity Simon Community Scotland.
"It's all very well us complaining about having to self-isolate," he says, "but homeless people don't have anywhere to self-isolate, so I just wanted to help in some way."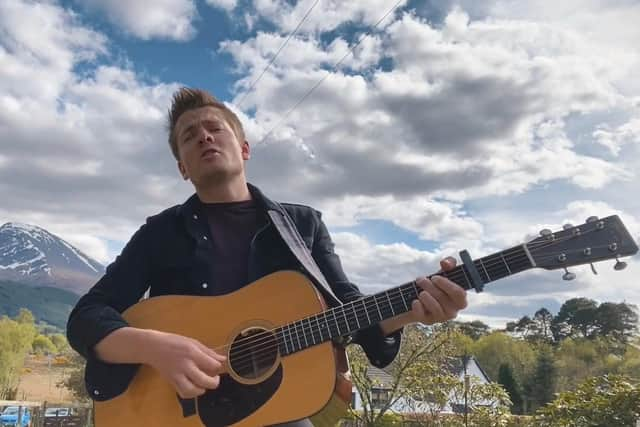 Robertson, a 2013 Mòd gold medallist, also features in a brief but engaging video in which, mindful of the lockdown balcony serenades emanating from the Continent, he starts singing a Gaelic song out his flat window. Immediately, further down the street a tenement window opens and woman starts singing the song back to him, the Partick Gaeltacht interacting with gusto.
Robertson's Scotsman Session choice, Innocent and Beautiful, is a suitably heart-lifting number for these dismal times. "We were originally going to choose another song to release as a single, but we changed it because we thought Innocent and Beautiful was the one that would cheer people up." Tide Lines' exuberant guitar and drum-driven folk-rock sound has won them a wide following, with sell-out gigs at Barrowland and elsewhere.
Their debut single, Far Side of the World, entered the UK download charts less than 24 hours after the band's launch in 2016. The songs on Eye of the Storm are largely written by Robertson and in English, although a powerful rendering of a Gaelic classic, Cànan nan Gàidheal, acknowledges their Highland roots.
See www.tidelinesband.com or visit their Facebook page for their Virtual World Tour.